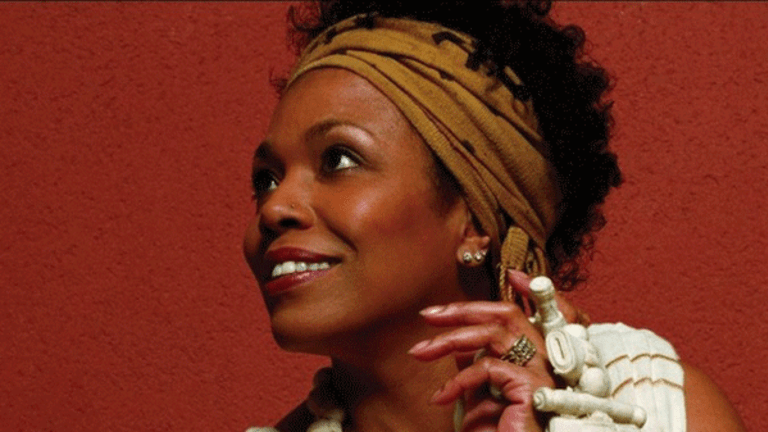 Dee Dee Bridgewater Speaks Out About Her Illegal Abortion
Dee Dee Bridgewater: "I remember being very humiliated, to the point that today. Thinking about it makes me want to cry."
I Am Saying To All Women, Stand Up For Your Rights
Dee Dee Bridgewater, an award-winning jazz singerwho hosts a syndicated NPR show, is publicly sharing the story of having an illegal abortion. Bridgewater describes the harrowing experience in a new video for the Center for Reproductive Rights' "Draw The Line" campaign, which is mobilizing Americans to fight back against the mounting attacks on abortion access.
"I remember being very humiliated, to the point that today, I haven't thought about this for years. Thinking about it makes me want to cry," Bridgewater says about the illegal procedure she had in 1968, before Roe v. Wade guaranteed women's right to choose.
Bridgewater describes going to a hotel room to meet a friend of hers who was a nurse. Her friend inserted a rubber hose into her body and told her to leave it there for the next several days. Two days later, Bridewater started to hemorrhage and was rushed to an emergency room.
"I just remember this excruciating pain," she says. "I am appalled that they are trying to take away the rights we fought so hard for…I am saying to all women, stand up for your rights. You are the one who should decide what you will do with your body. To take away our reproductive choice can hurt you."
Another video in the "Draw The Line" campaign features actor Mark Ruffalo recounting the story of his mother's illegal abortion. "I was appalled by it, and I saw the pain that it caused my mother. I can't stand aside, with two beautiful young girls of my own, and accept that we're going to return to those days," he says. "It becomes a moral issue."
Before Roe v. Wade, an estimated 1.2 million women resorted to illegal abortion every year. Unsafe abortions caused as many as 5,000 annual deaths — and women of color, like Bridgewater, were disproportionately at risk because they were more likely to lack the funds to travel to an area of the country where safe procedures were being performed. In the South, black women's mortality rate from illegal abortions was fourteen times higher than white women's.
Many of those economic and racial divides persist today, as states continue to chip away at women's access to legal abortion. For instance, in Texas, where a sweeping anti-abortion law is forcing dozens of clinics to shut down, impoverished Latina women who live on the Mexican border are resorting to buying abortion-inducing pillson the black market. And in Pennsylvania, poor immigrant women opted to patronize the unsanitary clinic run by illegal abortionist Kermit Gosnell — who has since been convicted of murder — because he dramatically reducedhis prices.
Like Bridgewater and Ruffalo, medical professionals have also encouraged lawmakers to avoid pulling the country back to time beforeRoe. Last year, a group of 100 OB-GYNs published an op-ed warning that abortion access has undergone a political regression that doctors who were alive during the 1970s did not think possible.
Tara Culp-Ressler
ThinkProgress