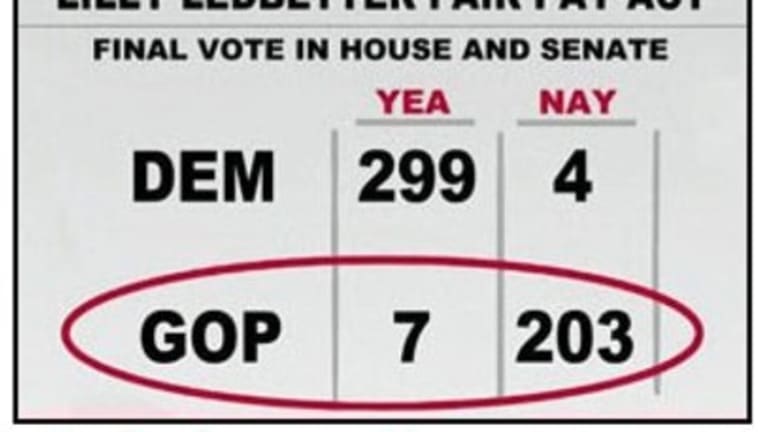 Lilly Ledbetter Fair Pay Act
Lilly Ledbetter Fair Pay Act
President Barack Obama signed his first act into law on January 29, 2009. The act, the Lilly Ledbetter Fair Pay Act, reverses a 2007 Supreme Court decision which held that employers are protected from lawsuits over race or gender pay discrimination if the claims are based on decisions made by the employer 180 days ago or more.
Lilly Ledbetter, the woman for which the act is named, was an employee of Goodyear Tire & Rubber Co for 19 years when she discovered she was not paid at the same rate as her male counterparts.
In 1979, Ledbetter was hired by Goodyear. She worked as a supervisor at Goodyear Tire and Rubber's plant in Gadsden, Alabama, from 1979 until her retirement in 1998.
She worked as an area manager for a good portion of her time at Goodyear, a position largely held by men. Initially, Ledbetter's salary was consistent with the salaries of the men who were performing similar work at the company. However, over time, Ledbetter's pay slipped in comparison to the pay of male area managers with equal or less seniority.
By the end of 1997, Ledbetter was the only woman working as an area manager and the pay discrepancy between Ledbetter and her 15 male counterparts was significant: Ledbetter was paid $3,727 per month; the lowest paid male area manager received $4,286 per month, the highest paid, $5,236.
Lilly Ledbetter became the plaintiff in the American employment discrimination case Ledbetter v. Goodyear Tire & Rubber Co. She has since become a women's equality activist.
Before signing the act, President Obama discussed the fundamental fairness at issue. He said, "making our economy work means making sure that it works for everybody" and "one of this nation's founding principles is that we are all created equal".
The President acknowledged the work of Lilly Ledbetter, Speaker Nancy Pelosi and others in getting this legislation, which has taken ten years, to pass.