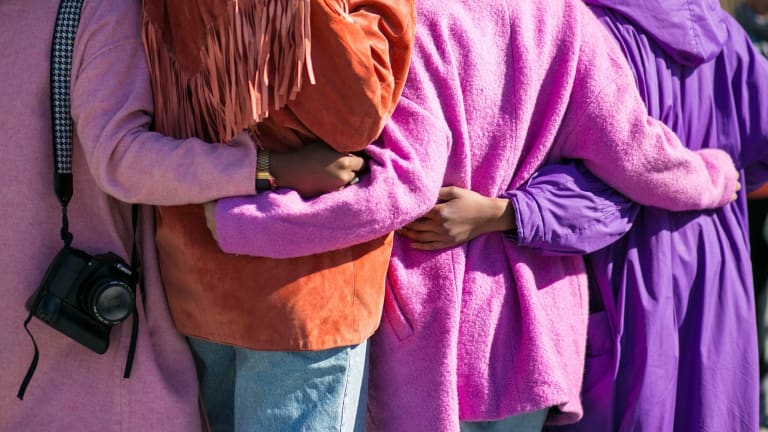 Mother's Day and Roe v Wade
The radical history of Mother's Day and its contrast to the Supreme Court and the leaked majority opinion on Roe vs. Wade.
This post is written in two parts, because I feel compelled to begin with some comments on the radical history of Mother's Day and its contrast to the Supreme Court and the leaked majority opinion on Roe vs. Wade.
Mother's Day Celebration
What I remember most about Mother's Day from my childhood are the peonies. We'd fill a vase with cut flowers and I'd try to rescue the ants crawling on their stems. After breakfast, we'd go to church, and the pastor would hand out carnations to all the mothers there, as well as to the oldest mother, the newest mother, the mother with the most children, the mother of missionaries, and so on. I remember people clapping, and lots of Hallmark cards. It was a very meaningful day to many people, when our community collectively paused to say "thank you" for hard work that was often overlooked and taken for granted. It was also a painful day for many people, including those whose mothers had died, those who were estranged from family, those who had lost children, those who regretted becoming parents, or those who weren't able to have children. So it was a strange day at church, with some folks showing up who usually didn't, and others staying away.
I suspect that this dynamic will be even more present for this Mother's Day, as headlines filled with news about the draft opinion overruling Roe v. Wade. But while you've likely been sorting through emails, articles, podcasts, memes, and protest invitations in response, I suspect that most of the churches in my city will be celebrating. Overturning Roe v. Wade has been a long term goal, and they've made no secret about that. And I suspect that these celebrations will be conflated with their observances of Mother's Day, repeating the idea that attacking reproductive rights and extolling patriarchal values supports mothers and families.
That is in stark contrast with the origins of Mother's Day, which did not begin with either the domestication of women or the commercialization of gratitude and love. For example, in 1858, Ann Maria Reeves Jarvis encouraged a Mother's Day movement to "promote sanitation in response to high infant mortality".  The holiday was also used as an opportunity to help reunite families separated by the American Civil War. And in 1870, Julia Ward Howe wrote a Mother's Day proclamation that called for mothers to bring an end to war by standing up to their husbands and teaching their children not to kill one another.
Feminist Disillusionment
By 1914, the feminist movement – and its demands - had grown in strength. Leaders were lobbying then President Woodrow Wilson to set aside the first Saturday in May each year as a "Women's Independence Day," "in recognition of the right and necessity that the women of the United States should become citizens in fact as well as in name." They were also organizing events across the USA to celebrate, demand the right to vote, and "read a woman's version of the Declaration of Independence".
But President Wilson wasn't ready to fully support suffrage. Instead, he proclaimed Mother's Day as a holiday, affirming the importance of women while stopping short of affirming their political and social identities and rights.
As Kimberly Hamlin wrote last year, this proclamation, along with the resulting commercialization of the holiday, didn't go over well:
"… shortly after Wilson declared Mother's Day a federal holiday in 1914, women like Jarvis [the daughter of Ann Maria] became disillusioned with the frivolous commercialization of what to her should have been a sacred and sincere commemoration. Indeed, in 1933, Jarvis even wrote President Franklin D. Roosevelt asking him to remove the federal mandate for Mother's Day. 
Why? Because instead of equality, health care, peace, safety and support, Mother's Day had become an occasion for vapid expressions of 'love and reverence,' increasingly characterized by flowers, brunch and store-bought cards. - more significantly, Jarvis's opposition signaled that celebrating motherhood had become symbolic, not substantive. One could even argue that Mother's Day provided a superficial placeholder in lieu of policies that actually would benefit mothers." 
I still love peonies, but the version of Mother's Day I experienced as a child was more consistent with this more superficial version than the fiery cries for equality and justice. 
It's strange to realize that, over one hundred years later, the superficial vision has survived and even flourished, often incubated in the patriarchal visions of fundamentalist religious communities. 
A few years ago, journalist – and mother Esther Vivas commented on that patriarchal ideal: "According to the traditional, patriarchal view, there are only two types of mother: the devoted, self-sacrificing mother and the bad mother". This binary has been a useful tool in preserving patriarchal power. And, in my experience, it has invigorated the anti-abortion movement for decades.
Reconnection
These insights bring us right back to the present day, when we also and still encounter these dynamics. With the draft opinion by the Supreme Court, a clear path towards increasingly restrictive laws on abortion, accompanied by harsher penalties, is opening up. What is less clear is any discernible way that this will actually benefit pregnant people, children, families, and communities. After all, it's well-known that outlawing abortion "doesn't end abortion, it just makes it less safe.
However, we do have a pretty good idea about the kinds of things that are likely to create safer, happier, and healthier communities. And it looks a lot more like the activism of Ann Maria Jarvis, promoting public health and sanitation, than it does the opinion of Justice Alito. The kind of policies that should be getting our attention and support, and that our politicians should be exploring and championing, are policies like:
comprehensive sex education
access to contraception
universal health care, including all pre- and post-natal care, as well as abortion
generous parental leave
access to parenting education and caregiving necessities, such as diapers, car seats, formula, etc.
wages and/or tax credits for unpaid housework and caregiving for parents who stay at home
universal childcare for parents who work away from home
universal preschool education.
As this list implies, we cannot separate reproductive rights from social, racial, and economic justice. Greater restrictions on reproductive rights, including abortion, will disproportionately harm marginalized communities, including poor, disabled, queer and trans folx, and people of color. 
There is no question that the stakes are high, and this Mother's Day has been infused with a greater political and social significance by the leak of the Supreme Court's draft opinion. Protests have already rippled across the nation, coupled with calls for a general strike. And this is fitting. As Hamlin wrote,
"This history [of Mother's Day] reveals women activists have never considered brunch and a card an adequate way to recognize the work done by American mothers, especially after a year in which they've done so much more of it. Returning Mother's Day to its original roots compels us to reflect on our nation's long-standing disregard for maternal and infant health — among the worst in the industrialized world, especially for women of color — along with our persistent refusal to enact legislation that would provide meaningful support for working mothers." 
There's a lot more to say, including all the impacts the Court's decision could have on other issues, from privacy to marriage equality. This will also involve facing and transforming patriarchal, racist, ableist, and other violently repressive ideas and institutions that survive today and continue to harm us. 
The news this week was hard, but we expected that something like this was coming. And although there is a lot of work ahead of us, it's not separated from the work we've been doing for a long time. So for today, we reconnect with each other, as well as all those whose hard work has brought us to this moment, named and unnamed. We take a deep breath, come back to the present moment, and resolve to keep working together to create communities where justice, wellbeing, and joy are real.