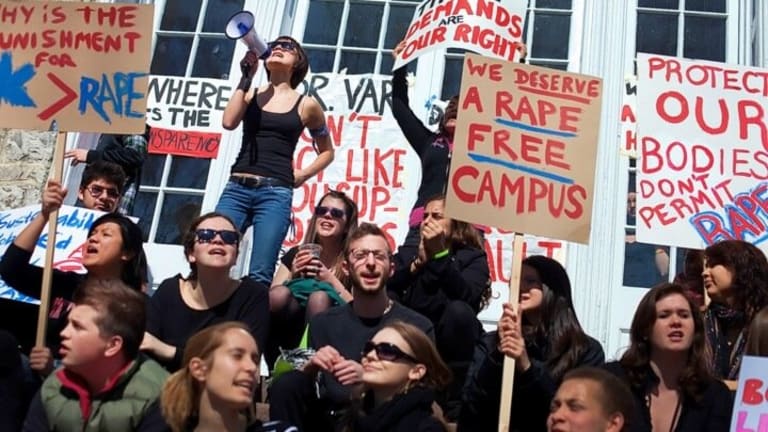 We Need to Improve See-Something Say-Something Laws in America
Kate Harveston: Many Americans are confident in the belief that the U.S. holds a place of moral leadership in the world today. But have we actually earned it?
Michigan sports doctor Larry Nassar abused nearly 300 underage girls before his story got out and landed him with half-a-dozen life sentences. This is the same country that puts tax breaks for oligarchs before children's healthcare.
Why does America keep failing its most vulnerable?
Fast food spokespeople like Jared Fogle, doctors like Larry Nassar and would-be congressmen like Roy Moore don't always rise above the sort of urges that result in international news. Therefore, it falls upon the courage of their victims and the robustness of our legal response to drive these characters from public life when we find them. That's not an entirely comforting safety net.
It also reduces our collective response to epidemic-scale sexual impropriety to impotence ranging from the merely dissatisfying to the literally infuriating, like taxpayer-funded settlement money to bail out America's grabbiest senators.
Many Americans are confident in the belief that the U.S. holds a place of moral leadership in the world today. But have we actually earned it?
As we have on several previous occasions when trusted Americans committed outrageous breaches of trust — the infamous Sandusky case from Penn State still makes local headlines, even today — we turn again to the ways in which legal obligation meets moral obligation when sexual impropriety comes to light. Many Americans are confident in the belief that the U.S. holds a place of moral leadership in the world today. But have we actually earned it?
How America Fails Its Victims
Sports doctors and other physicians are held to high standards of care, and patients are supposed to have legal protections in the event that malpractice is discovered. Larry Nassar's "lapses in judgment" resulted in more emotional trauma than physical trauma, which is perhaps the critical difference here. American lawmakers don't seem to think of the mind as a part of the human body.
What we need is a more complete cultural and legal understanding of the different types of harm and how to prevent them — particularly intentional ones.
Experts in the unpleasant legal realm of sexual abuse contend that abusers often go undetected not because our laws are insubstantial, but because they're terribly skilled at what they do. They are used to "grooming" their victims to make their intentions subtler. There is more than one guilty party in the Penn State/Sandusky catastrophe, but not all of the signals of abuse are easy to detect. Many of those same legal authorities argue we're leaving out huge portions of the national — and now international — conversation surrounding sexual misconduct.
Part of that conversation involves the cultural and social aspects of reporting — and underreporting — cases of abuse. You can see the familiar patterns between the lines: America's comparative prudishness about sex keeps parents and children alike entirely unprepared to bring the practical and emotional response needed when their well-being is threatened. America is gradually getting better at stamping out reckless forms of sexual education, but the work isn't done. Behavioral experts want parents to know it's okay to start talking with kids at very early ages about which forms of physical touching are appropriate and which are not.
Will this make some parents uncomfortable? Certainly. But giving our children practical knowledge about how to protect their own safety must become a higher priority — no matter how uncomfortable the topic.
See Something, Say Something, Title IX and Sexual Abuse
It has taken many years and shattered lives to elevate this issue into the mainstream, but changes to our laws are gradually giving us moral and legal obligations to do better. Some American states have taken it upon themselves to strengthen language in Title IX of the 1972 U.S. Education Amendments. Survivors of campus sexual assault have used the language in Title IX to successfully sue universities who knowingly hired faculty with histories of domestic or sexual violence and who later committed sexual abuses while employed there.
Laws like these are important because they add a layer of legal obligation for community leaders to speak up if they suspect wrongdoing. The state of New Jersey has specifically added language about liability in cases where institutional representatives "knew or should have known" about cases of sexual harassment but failed to take action."
The language in Title IX provides protections against "discrimination," including on the basis of gender, rather broadly. This makes its application in sexual abuse cases a thoughtful reinterpretation of the law and an encouraging shift in the wind.
You might even hear about Title IX having quietly "revolutionized" the world of women's sports. Given all that, it's clear our efforts are at least helping — all that's left is that social element. Larry Nassar's victims in Michigan could have benefited from Title IX if any of the parties who allegedly knew of his patterns of abuse felt sufficiently motivated to act on that knowledge. It's a cultural problem. It's about assuming somebody else will solve it.
It's clear we've got some of the tools we need today, but do we have the will?
Want to make your voice heard?
Sign the Compulsory Personal Safety Education Petition
Sign the Child Victims Act Petition
Kate Harveston