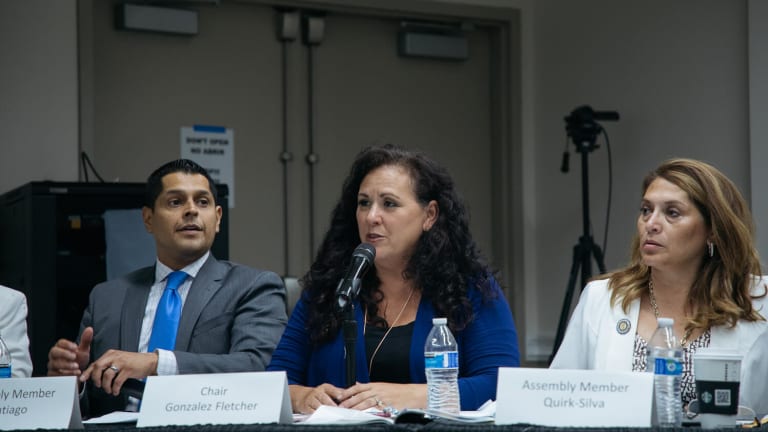 Hearing Shines a Light on Sexual Harassment in the Service Industry
The recent media spotlight on sexual harassment in Sacramento and Hollywood has created an opportunity to address the plight of low-wage workers.
Sandra Pezqueda has racked up some victories recently, but she is not resting easy.
She made the unlikely journey from dishwasher to Time magazine cover story, which featured Pezqueda inTime's 2017 Person of the Year issue for her role in fighting sexual harassment at the Terranea Resort, a luxury seaside hotel in Rancho Palos Verdes. In April she settled a lawsuit for $250,000 against Excellent Maintenance Service, the staffing agency that placed her in the Terranea's kitchen.
Pezqueda, who is 38 and a native of Mexico, spent Monday evening at a legislative committee hearing in Los Angeles, advocating for a law that would hold companies like the Terranea accountable for the actions of their contractors and temporary workers.
"Many women who work in the hotel industry do not have a voice at all. When they experience something bad, they are afraid to speak up because they might be blamed."
"I am proud that I can continue to advocate on behalf of other women," said the poised Pezqueda in Spanish through an interpreter. She described "one of the worst experiences of her life" – a male supervisor who worked for the staffing agency tried to kiss Pezqueda and pressure her for sex. Unlike the vast majority of women who face harassment in the workplace, Pezqueda took action. But her complaint to hotel management led to her firing in 2016, she said.
A sympathetic group of seven California state Assembly members listened to Pezqueda's testimony and that of three other service industry workers who spoke about some of the barriers that keep many sexual harassment victims in an industry largely staffed by immigrant workers from speaking out.
The chair of the California State Select Committee on Women in the Workforce, Assemblywoman Lorena Gonzalez Fletcher, has been combating sexual harassment since long before the #MeToo movement gained steam. The San Diego-based legislator spearheaded a 2016 bill to address sexual violence against janitorial workers after viewing a 2015 Frontline documentary, "Rape on the Night Shift," that she says shocked her into action.
The recent media spotlight on harassment in Sacramento and Hollywood has created an opportunity to address "what happens every single day for low-wage workers who, in many ways, are in a more precarious situation" than their counterparts in higher-paid occupations, Gonzalez Fletcher said after the packed hearing, which was held in the basement of the union hall belonging to UNITE HERE Local 11. (Disclosure: The union is a financial supporter of this website.)
Assembly Bill 3081, sponsored by Fletcher Gonzalez, would hold companies like the Terranea responsible for sexual harassment of contract workers, and is one of a series of #MeToo-inspired bills in the California legislature this year, some of which have drawn strong opposition from business groups.
The Terranea's management told the Los Angeles Times that Pezqueda's lawsuit and allegations "have nothing to do with" the resort. Excellent Maintenance Service reached a settlement with Pezqueda, but has denied wrongdoing.
Gonzalez Fletcher, the daughter of a former farmworker and a nurse, introduced another controversial bill earlier this year,Assembly Bill 3080, which would prohibit employers from requiring workers to sign agreements that force employment disputes into private arbitration proceedings. Mandatory arbitration agreements have proliferated over the last two decades and now cover 60 million workers nationwide, according to a study by the Economic Policy Institute.
The California Chamber of Commerce has labeled the bill banning forced arbitration a "job killer" that could "significantly expand employment litigation."
The Chamber has also opposed AB 3081, which labor advocates are calling "Sandra's Law," arguing that the liability for sexual harassment should rest with the contractor and not with the employer.
Companies already share in civil liability when their labor contractors fail to compensate workers or provide workers' compensation insurance.
A larger theme underscored the two-hour Monday hearing, which is the powerlessness of women workers in the service industry that, the hearing's participants said, could be remedied by unionization and diversity in hiring at all levels of companies.
"Only when we have gender balance at every level with every organization will we see sexual harassment really begin to disappear," said the Feminist Majority Foundation's executive director, Kathy Spillar, who was one of several experts to speak at the hearing.
Juana Melara, a Westin Long Beach housekeeper who was also featured in the Time magazine 2017 Person of the Year issue for speaking up about sexual harassment, addressed a similar issue. "Many women who work in the hotel industry do not have a voice at all," she said. "When they experience something bad, they are afraid to speak up because they might be blamed."
Melara recently helped negotiate a yet-to-be-ratified, first union contract with the Westin Long Beach that will provide "panic buttons" to housekeepers who often work in isolation while cleaning rooms. A legislative requirement that hotels throughout the state provide such buttons to their housekeeping staff members to protect them from sexual assault was also the subject of discussion on Monday.
Jessica Goodheart
Capital & Main