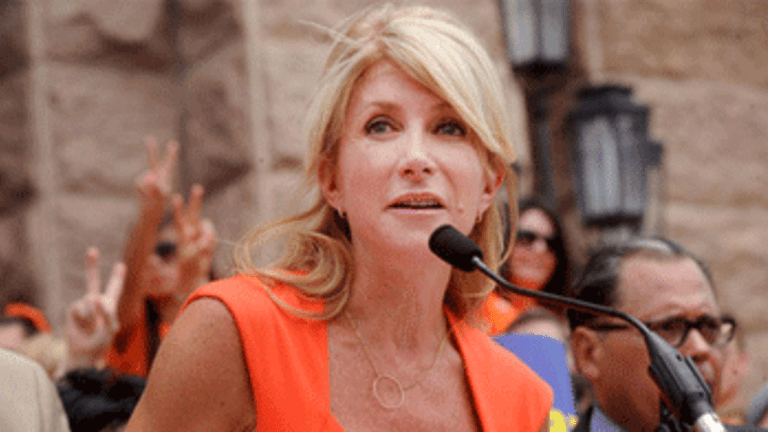 Abortion Can Cross Party Lines, at Least for Women
Victoria Defrancesco Soto: The political take-home for Wendy Davis and others like her is that some Republican women may just cross over and vote Democratic.
Texas is center stage for abortion politics, starring Wendy Davis as the leading lady and Rick Perry opposite her.
Wendy Davis' protagonist role in the Texas abortion drama shot her to political fame. Overnight she became a Democratic sensation – and on Thursday gubernatorial candidate – as a result of her marathon filibuster to stop restrictive pro-choice legislation.
Governor Perry's leading role is not a new one – he's starred in other abortion political dramas. Back in 2011 he fast-tracked a sonogram abortion bill by designating it an emergency legislative priority. This bill, now law, requires women seeking an abortion to undergo a transvaginal-ultrasound and then wait 24 hours after the procedure to have an abortion.
It's a movie we've seen many times before- entrenched partisan warfare between pro-life Republicans and pro-choice Democrats.
Or is it?
Could the abortion battle lines fall somewhere else, say along gender lines? That possibility was inadvertently suggested a couple of days ago by none other than Governor Rick Perry's wife, Anita Perry.
In an interview with the Texas Tribune she responded to a question about abortion saying, "I see it as a woman's right, if they want to do that, that is their decision; they have to live with that decision."
Anita Perry basically said that it should be a woman's right to choose. This from a woman whose husband believes it isn't a woman's right. Surely she must have misspoken. And according to her husband, Governor Perry, she did, "from time to time we'll stick the wrong word in the wrong place and you pounce on it."
But I don't buy it.
Just because the Governor has a tendency to stick the wrong words in the wrong places doesn't mean others do. My money is with Anita Perry meaning what she said about abortion being a woman's choice. And if that is the case can we chalk her position up to being the exception that confirms the Republicans as pro-lifers rule?
No. Every First Lady in the past 50 years, including the wives of Republican presidents, have been pro-choice. This includes First Lady Laura Bush, whose husband signed into law the partial birth abortion ban. Texas First Lady Anita Perry is in good company.
It's interesting that with the exception of former Vice Presidential candidate Sarah Palin, there are no other high-profile Republican women leading the anti-choice charge. It's all men fighting the battle against abortion.
Aside from being an interesting factoid, the discrepancy in positions between Republican men in leadership and their wives points to a larger discrepancy in the electorate. In Texas, a recent University of Texas/Texas Tribune poll shows that female Republicans are nine percent more likely than their male counterparts to believe that abortion should be legal. And among Independents that gap jumps to 19 points, with 41 percent of women believing that abortion should always be available compared to 22 percent of men.
The political take-home for Wendy Davis and others like her is that some Republican women may just cross over and vote Democratic. Davis has a record of being pro-business and strong on education. With this moderate platform she could well pull over non-Democratic pro-choice women. And hey, maybe even Anita Perry in the secrecy of the voting booth may just decide to support her husband's arch-nemesis and back a woman's right to choose.
Victoria Defrancesco Soto
Dr. VMDS
Friday, 4 October 2013