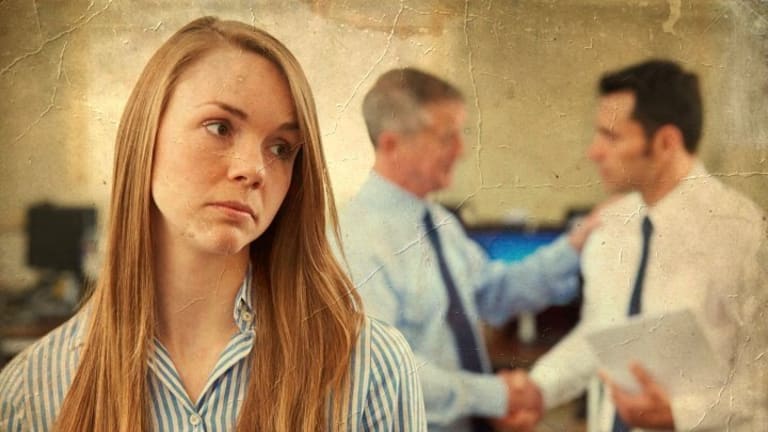 Ending Workplace Discrimination Against Women
Alyssa Abel: Women need leaders who respect their needs because they still earn less money than their male counterparts, which gives them less financial freedom.
Women now make up at least half if not more of the workforce, so why do they still face discrimination on the clock? From the initial interview to breaking the glass ceiling, females still face significant hurdles to equality.
While laws protect people from discrimination based on their gender, ideals don't always translate into practice. Women continue to earn less than their male counterparts, and the ranks of top management still primarily consist of men. In order to address workforce gender disparity, it's important to learn more about it. What problems persist for women in the workplace, and how can society and individuals address them?
The Ongoing Problem of Workplace Discrimination 
You can see the ongoing problem of gender discrimination in the workplace by taking a look at who occupies the corner office. Despite decades of various legislative measures to promote equality, women still make up only 5% of the CEOs on the Fortune 500 list.
Females in leadership roles matter because they bring a unique perspective to the workforce. They are more likely to address the needs of the women they supervise, be it through implementing more flextime options for working parents or generous family leave packages.
Women need leaders who respect their needs because they still earn less money than their male counterparts, which gives them less financial freedom.
Women need leaders who respect their needs because they still earn less money than their male counterparts, which gives them less financial freedom. As of the second quarter of 2019, women make only 81.4% of what their male colleagues do, and that's if they don't fall into a second minority group. African-American women earn only 62.5% of what a male makes, and Hispanic women only 54.4%.
Workplace discrimination against women starts at the job interview. The Pregnancy Discrimination Act amendment to Title VII of the Civil Rights Act of 1964 prohibits discrimination against pregnant women. However, if someone arrives at an interview visibly pregnant, nothing stops the hiring manager from thinking, "Is she going to leave when she gives birth? Will she return?" Plus, decision-makers can always notate other reasons for selecting a different candidate.
While both men and women can experience gender discrimination, women face it in much higher numbers. In 2019, men filed 16.8% of all sexual harassment claims, while women made up the remainder. Unfortunately, this figure only includes those with the courage to come forward. Many others suffer in silence, sometimes leaving positions or fearing the impact on their careers if they file a suit. While retaliation is illegal, legal proceedings remain a matter of public record.
How Women Can Fight Workplace Discrimination 
One thing women can do to reduce discrimination is to research potential employers carefully. Sites such as Fairygodboss offer lists of top employers for women based on reports from former and current employees. High rankers include Pariveda Solutions, Quicken Loans Inc. and Boston Scientific. They can also peruse public records to investigate whether former staff members filed harassment lawsuits. A single incident may indicate a bad apple who has since left, but multiple accounts should give applicants pause.
If you experience discrimination in your current role, your first stop should be the HR department. Some organizations allow you to fill out anonymous reports if you fear retaliation. However, your representative might have additional questions. If you are fortunate enough to belong to a union, they will understand women's rights in the workplace and can offer assistance.
If you can't get satisfaction through your company, you can file a suit through your state board or the Equal Employment Opportunity Commission. You must act quickly, though, which is challenging when emotions run high. You need to obey the 180-day statute of limitations or risk losing your right to recompense.
What Society Should Do About Gender Discrimination
Society as a whole can do more to end discrimination against women in the workplace. One measure that would make an enormous difference would be the federal implementation of a nationwide family leave policy — similar to many European countries. This action would protect women who still do the majority of childcare, as well as provide guidelines for companies to follow.
Additionally, media outlets can highlight women in leadership roles and encourage more females to enter traditionally male-dominated fields, such as STEM. Individual companies can implement flextime arrangements to help working parents of both genders. They can also compete for top talent by offering generous benefits packages that cover workers' families and include amenities like onsite daycare centers.
Ending Gender Discrimination and Protecting Women's Rights in the Workplace
In 2020, gender discrimination in the workplace shouldn't exist — but it does. As supporters of equal rights, we need to protect those rights, and, in doing so, stand up for all females until society achieves true equality.
Alyssa Abel
Alyssa Abel is an education and career writer who focuses on emerging methodologies, effective learning and equitable practices. Read more of her work on her blog, Syllabusy.