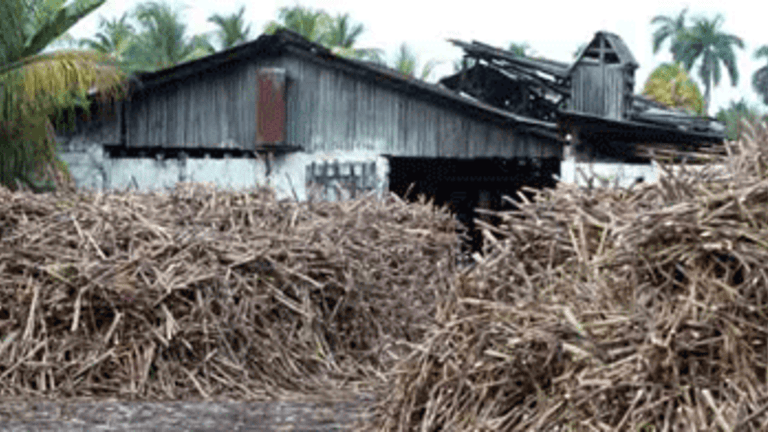 Haitians Poisoned: Fake Clairin
Ayiti Kale Je: When will government authorities recognize that one of the main causes of "liquid death" and so many other crimes and tragedies is the result of their blind embrace of savage neoliberal policies?
Editor's Note: This is part 3 of a three-part series looking at the ongoing scandal in Haiti over villages poised with methyl alcohol. See part 1, "Haitians Poisoned: Liquid Death," part 2 "Haitians Poisoned: And Justice?" part 3 "Haitians Poisoned: Fake Clairin," and also Georgianne Nienaber's report from a year ago: "Death in a Bottle for a Handful of Haitian Coins", men, women, and babies were falling ill with no apparent epidemiologic reason.
The tragedy of the Fond Baptiste "methanolized" clairin isn't the first "fake clairin" to put people's lives – and livelihoods – in danger.
About 15 years ago, cane planters and distillers pulled out machetes and blocked truckloads of ethanol flooding across the Haitian-Dominican border.
"The problem started in 1996… A couple of big industrialists and major landowners were importing ethanol from the Dominican Republic," Michelle Montas remembered in a recent interview with Haiti Grassroots Watch (HGW).
At the time, Montas was News Director for Radio Haïti Inter, owned by her now-late husband, Jean Dominique. "They were selling that ethanol as 'clairin' and it was making people sick… [as well as] undercutting real clairin on the market."
At the time, according to the biweekly Haiti Info, there were 150 to 200 "gildivs" or distilleries around Léogâne. Their production – using locally grown cane – accounted for about one-fourth of the country's clairin. To make "fake clairin," mixers were cutting the imported ethanol with water and "seasoning" it with a little real clairin. Back then, a gallon of "fake clairin" sold for 20-25 gourdes, whereas a gallon of the real thing sold for 50 gourdes.
Why was foreign-produced ethanol suddenly flooding Haiti in 1996?
Ethanol was only one of hundreds of foreign-produced foods and beverages that rapidly swamped the country beginning in late 1995 due to a newly voted tariff regime.
Under pressure from Washington, and as part of the deal that allowed him to return to Haiti after the bloody three-year (1991-1994) coup d'état, President Jean-Bertrand Aristide agreed to get parliament to cut tariffs on foreign sugar, ethanol and scores of other products. Once the law was voted, the average tariff went from around 50 percent to about 2.9 percent, according to a 2006 study by Christian Aid. [See chart below]
Evolution of tariffs on selected commodities
| | | |
| --- | --- | --- |
| | Before 1995 | 2010 (January) |
| Rice | 50 % | 3 % |
| Corn | 50 % | 15 % |
| Beans | 50 % | 3.5 % |
| Wheat Flour | 50 % | 3.5 % |
Source: USAID, 2010
At a press conference in 1996, then-Minister of Commerce Fresnel Germain defended the lowered tariffs, saying that his government (René Préval had by now become president) was "in favor of modernization" and "free competition."
According to Germain, the tariffs on alcohol were now either five or zero percent: the non-denatured alcohol tariff had been cut from 20 percent to five percent, and for denatured alcohol, down to zero.
Non-denatured alcohol is "pure alcohol" or ethanol and can be consumed, whereas denatured alcohol is ethanol that has been mixed with additives – like mineral oil or methanol (wood alcohol) – that make it not consumable and, in some cases, highly toxic.
When Germain looked into the "fake clairin" affair, he discovered that the major alcohol importers apparently weren't satisfied with paying even the measly five percent tariff to the government. The importers were claiming that all of their alcohol imports "denatured."
"Everyone who imports alcohol could call it 'denatured alcohol' so they don't have to pay duties!" Germain said, angrily, at the October 11, 1996, press conference. But he also said his ministry was virtually powerless, because it did not "have a structure or laboratory that could make an analysis of products being imported."
Realizing that the government was going to do nothing, planters and distillers took matters into their own hands.
"There was a big mobilization because that ethanol was doing more than make people sick! It was also destroying the clairin and cane industries," Montas remembered. "Farmers came from other parts of Haiti and they blocked the highway."
But the importers fought back. That same week, an anonymous "agronomist" took out a full-page advertisement (at the cost of US$165, according to Haiti Info) in Le Nouvelliste daily newspaper extolling the virtues of "alimentary alcohol" as safer than the alcohol made a local distilleries that could – according to the anonymous "agronomist" – cause "nerve lesions" and "varieties of paralysis."
(Actually, methanol and denatured alcohol cause those injuries, not locally produced clairin or locally produced ethanol.)
"The most recent law voted by the parliament in favor of modernization offers a good example of the government's new orientation in favor of free competition," the ad clucked.
At the time, everyone seemed to know who the importers were.
Edner Désir of the Association of Planters and Distillers of Léogâne told Haiti Info that the two major importers were industrialists Fritz Mevs and Dr. Reginald Boulos. Montas remembers that her radio's news reports also named those names.
"We said their names," Montas said. "But nothing ever happened. Not at the level of the Ministry of Commerce, not at the level of the Ministry of Justice."
Today, there are three or four importers of ethanol, and all imports are supposedly registered with the Ministry of Commerce, supposedly in order to assure imported ethanol does not compete with clairin. But there seems to be little control. Foreign ethanol – and methanol, apparently – continue to ravage of the local sugar and clairin industries. Many farmers have switched to plantains or let land lie fallow. Some distilleries have closed down.
Last January, Léogâne residents attacked a truckload of ethanol and set some of the barrels on fire. At meetings, on the airwaves and in newspapers, distillers, planters and local officials pleaded with the central to stop the flood of Dominican and Brazilian ethanol.
"We can't let Léogâne's sugarcane and clairin production die out! They are the spinal cord of our region," Wilson St. Juste, vice mayor, told Le Nouvelliste on January 19.
The government's reaction? To hold a press conference and declare that "ethanol" does not pose "any danger" to human health, without noting that there are two kinds of ethanol – denatured and non-denatured.
In addition, Minister of Health Dr. Florence D. Guillaume also promised that "an inter-ministry commission" had been formed to look into the toll that foreign ethanol has taken on local production.
Senator Wesner Polycarpe also said that one solution would be to train farmers in many different areas. But will "training" raise tariffs or halt imports?
What can be expected from yet another "commission"?
Will it convince Haiti's powerful to suddenly cease their imports and forego their massive profits?
When will government authorities recognize that one of the main causes of "liquid death" and so many other crimes and tragedies is the result of their blind embrace of savage neoliberal policies?