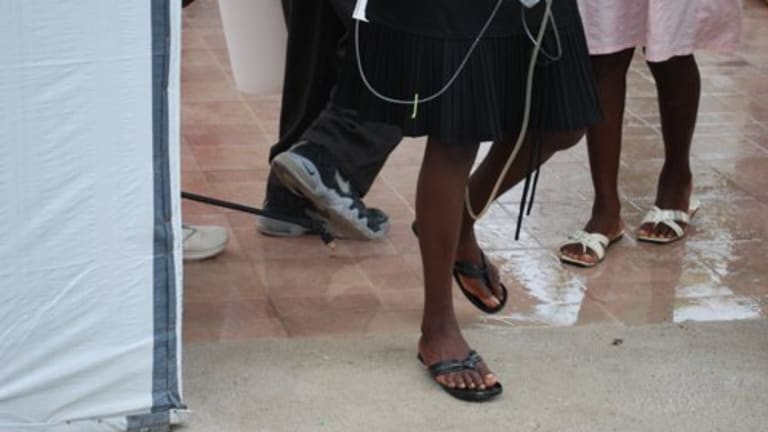 Are Haiti's Cholera Victims Warren Buffett's "Girls in the Convertible?"
Georgianne Nienaber: In the case of Haiti, where experts agree cholera was introduced to the water system by UN troops, it would seem that the United Nations would certainly have the social responsibility to rectify the destruction of the Haitian waterways.
Global reinsurer Swiss Re announced a cholera insurance offering for Haitian women entrepreneurs at a September meeting of the Clinton Global Initiative (CGI) in New York. Swiss Re is partnering with the non -government charities (NGOs) Fonkoze USA and Mercy Corps to develop a benefit plan that ensures real time payouts once a pre-defined set of criteria are met , including "hospital admissions and observable weather factors linked to cholera outbreaks." The press release makes the misleading statement that, "Cholera first appeared in Haiti after the heavy rains in the fall of 2010."
The minutiae of this story goes beyond "heavy rains" and the offer of cholera insurance. It is a narrative that crosses into the grey existential realms of morality. It requires an examination of duty, individual rights, guilt, reparation and international malfeasance. The players are neither good nor bad, but the Haitian people will bear the consequences of decisions made in the halls of financial power.
Despite Swiss Re's brief statement that cholera appeared after heavy October rains, reports by the Centers for Disease Control, the United Nations and others confirm that United Nations' troops from Nepal contaminated the Artibonite River system because of a faulty septic system that pumped sewage contaminated with the bacterium Vibrio cholera directly into the Meille River near the central plateau city of Mirebalais.
Notwithstanding initial United Nations denials and CDC affirmations, the contagion quickly spread through the fertile Artibonite Valley and the local prison, On October 14, 2011, the cumulative number of reported cholera cases was 473,649, of which 251,885 (53%) were hospitalized and 6,631 persons had died. The global attack rate is 4.6%, with 7.8% in Port-au-Prince at last count. OCHA predicts 75,000 new cases by the end of the year.
On the surface, "cholera insurance" appears prudent until one asks a few important questions. Critics ask why Haitians should pay for cholera insurance when the United Nations has yet to make reparations for a disease it introduced to a country that had never before experienced this strain of cholera and no other cholera infections for over a century. Cholera is entirely preventable and treatable, but treatment must be swift and aggressive. Why are there no plans by either the Clinton Global Initiative or organizations that benefit from its funding to either fix the water delivery system once and for all, provide water filtrations systems in remote areas, and/or place permanent cholera treatment centers in every village in Haiti? Former president Bill Clinton is also the United Nations Special Envoy to Haiti, but he has offered no guidance.
The Washington Post published an editorial board opinion piece that suggests a $20 million vaccination program is imperative, while noting that unless infrastructure is repaired, cholera will remain a constant threat.
The country's emphasis must remain on infrastructure and public education, so that more Haitians have access to clean water and understand the critical importance of basic sanitation and cleanliness. There can be no letup in the efforts that have been made to treat cholera victims in slums and rural areas with oral rehydration salts and other interventions that are highly effective in saving lives.
Regine Barjon, President, BioTek Solutions, Inc./Biotek Haiti S.A., recently provided testimony at a joint hearing of the Western Hemisphere and International Development Subcommittees of the Senate Foreign Relations Committee. Regarding the advisability of cholera insurance, Barjon, in an email, expressed the need for infrastructure as a priority.
We must first acknowledge that the main causes of cholera is the lack of access to potable water for most Haitians and the inability of the State to provide adequate waste collection services, which it cannot afford due in part to an insufficient tax pool. Though I strongly believe that addressing cholera is the right and human thing to do, I am hoping that we can start looking beyond mere containment towards establishing the necessary foundation that will prevent future outbreaks and reduce the Haitian population's vulnerability to any such illnesses.
Fonkoze is Haiti's largest micro finance organization. Founded in 1994 as Fondasyon Kole Zépol by Father Joseph Philippe, the Grameen Foundation recipient currently has 50,533 women borrowers with an outstanding loan balance of 409,376,655 (HTG Haitian Gourdes) or US $10,021,257. The Grameen Foundation has been supporting microfinance activities in Haiti since 2003. It has no formal ties with the Grameen Bank, which was started in 1976 in Bangladesh as a means of supplying small loans (micro-credit) to the poor who had no collateral. Grameen gives Fonkoze high marks and positive assessments for its work in Haiti.
Within 24 hours of the January 12, 2010 earthquake that paralyzed Haiti, Fonkoze mobilized and was able to secure approval to acquire $2 million of cash from accounts in the City National Bank of New Jersey. The money was shipped to Haiti on a US military C-17, providing critical cash infusion for members. Haiti's major banking institutions were shut down and cash was virtually unavailable.
Swiss Re is also partnered with Fonkoze in a natural catastrophe micro insurance program that provides protection to women clients against work losses due to earthquakes, floods and hurricanes. The policy paid out following very heavy rains in late May and early June 2012 in the southwest part of Haiti. A total of 3,815 clients received insurance benefits, according to James Kurz, Fonkoze's senior financial analyst.
Kurz explained in an email that the price of the current work loss policy is 3% of the value of the client's loan. "They pay the premium at the time of the disbursement. So for example, a client taking a $250 loan would pay $7.50 when they receive their loan." The actual price of the insurance is about 5% of the value of the loan, so Fonkoze is currently subsidizing a portion of the price. "We are working on lowering the cost and setting a roadmap to decrease the subsidy over time," Kurz said.
Under the current plan, if a client made payments AFTER the catastrophic event and is eligible, she receives reimbursement of those payments. She does not receive reimbursement of payments made before the event. The policies covers damage to the clients' home, business assets and inventory. A qualifying claim results in: repayment of the client's outstanding loan balance; a $125 cash payout to help with emergency expenses; and a new loan if and when the client is ready, Kurz said.
The other insurance Fonkoze offers is credit/life. "If a client dies, their loan is forgiven and their beneficiary receives a $125 cash payout," Kurz added.
The current catastrophic policy does not include cholera insurance, which is still under development. "The commitment that the partners made at CGI was to develop a cholera product, test it, roll it out with Fonkoze's clients, and then share the results with the world," Kurz says. That means that it is very early. We don't know exactly how the product will work, or what the price will be."
Since Swiss Re is already partnered with Fonkoze in catastrophic insurance, Kurz said it is "extremely unlikely" that Swiss Re would not be the reinsurer for cholera claims.
Kurz confirmed that obtaining work loss insurance is a pre-condition for receiving a loan from Fonkoze. Since there is no current cholera insurance available, the only model is the current insurance program for earthquakes, floods and hurricanes.
Swiss Re describes "observable weather factors" that will be linked to the proposed cholera insurance. There are observable "triggers" which determine how reinsurance pays out. The amount of rain, wind, or ground shaking is what determines whether Fonkoze receives a reinsurance payout.
The price of the catastrophic insurance is currently subsidized. But we are intending to change that two different ways: First, we are looking at ways to lower the cost of the insurance. Second, over time we expect to slowly ask our clients to pay the full price. It is very unlikely that we will ask our clients to pay more than the price of Fonkoze's cost.
All Haitian insurance partners are members of the Micro insurance Catastrophe Risk Organization (MiCRO). MiCRO was established in Barbados in 2011 and currently offers hurricane, rain and earthquake coverage to the borrowers of Fonkoze. Swiss Re currently serves MiCRO as its sole reinsurer. MiCRO's founding partners include Swiss Re, Caribbean Risk Managers Limited (CaribRM), GC Micro Risk Solutions (GC Micro), Mercy Corps and Fonkoze.
Other organizations that implement a catastrophe insurance policy from MiCRO might make different choices. They could potentially include a profit margin if they so choose, but Kurz says this is not a part of Fonkoze's plan.
When asked to review the Washington Post opinion piece, Kurz agreed that health care organizations and others should "stop cholera in Haiti in all of the ways that have worked in other countries."
In 2008 M-CRIL's Microfinance Rating questioned Fonkoze's "financial performance," calling it "weak raising questions about its sustainability (which limits its rating grade)."
When asked about regulation, Kurz said, "MiCRO is compliant and organized under Barbadian law and is legally selling insurance through the "frontier" Alternative Insurance Company of Haiti (AIC). Still, MiCRO is not subject to any US regulatory laws.
As a "reinsurer," Swiss Re is second in the world with over 30 billion dollars in assets. Swiss Re assumes a portion of an insurance risk for payment of a fee.
Insurance is a profit-driven business and designing a reinsurance program for micro insurance incorporates standard business principles, even though micro insurance vendors may operate in undeveloped or natural disaster areas. Considerations include establishing demand in the market for the insurance product; determining what risks can be insured; and devising a risk management process to ensure the product's viability.
As a reinsurer, Swiss Re's reinsurance contracts become effective only when the insurance company (in this case Fonkoze) has made a payment to the original policyholder. Reinsurance provides a way for the insurance company to protect itself from financial disaster and ruin by passing on the risk to other companies. Insurance literature mentions loss control combining loss prevention and loss minimization as the blueprint for success.
Zahid Qureshi, of the International Cooperative and Mutual Insurance Federation (ICMIF), UK writes " Carefully conceived investment in loss prevention can easily pay for itself through reduced claims. Indeed, incentives in insurance are structured in such a way as to encourage private sector risk carriers to undertake development initiatives -- such as promoting safe drinking water and appropriate sanitation-not to fulfill a social responsibility, but because it makes financial sense."
In the case of Haiti, where experts agree cholera was introduced to the water system by UN troops, it would seem that the United Nations would certainly have the social responsibility to rectify the destruction of the Haitian waterways.
Fonkoze did not want to comment on the issue of UN reparations, but Kurz offered that Fonkoze is working in the context of what is happening today. "The reality is that the Haitian people are at risk of cholera. Even if they survive, the disease can cause them tremendous financial hardship and strip them of years' worth of hard work getting out of poverty," he says.
Critics ask whether cholera has introduced a profit motive for international reinsurers.
Controversial American investment guru Warren Buffett bailed out Swiss Re in 2009 for 3 billion Swiss francs ($2.6 billion). At the same time, Buffett invested $5 billion in Goldman Sachs and $3 billion in General Electric, receiving lucrative terms in both cases, according to financial analysis published in the New York Times, The Wall Street Journal and other financial publications.
Buffett has been in the news lately because of the equally controversial "Buffett rule." President Barack Obama coined the term as part of his deficit reduction plan to raise taxes on wealthy Americans. Buffett has maintained that he does not pay enough income tax under current US tax laws and that it is his duty to do so.
At the time of the bailout, Buffett's holding company, Berkshire Hathaway, already had significant business ties with Swiss Re. "In January 2008, it entered a quota share arrangement with Swiss Re through which it acquired 20 percent of its new and renewed property and casualty business in exchange and acquired 3 percent of its shares at the same time," according to the New York Times. 
Recently the Wall Street Journal quoted Buffett's remarks in his annual letter to Berkshire shareholders in February 2011. Buffett called "unwelcome" the repayments of crisis-era investments he made in GE, Goldman Sachs, and Swiss Re.
"All three of the companies redeeming must pay us a premium to do so - in aggregate about $1.4 billion -but all of the redemptions are nevertheless unwelcome," Buffett wrote to investors. "After they occur, our earning power will be significantly reduced."
WSJ says Buffett's Swiss Re investment "padded Buffett's wallet by roughly $1 billion."
Buffett's letter to investors can be found on the Internet at and indicates that Buffett is certainly was not bailing out Swiss Re to be socially responsible. Investors want a profit.
Grousing about the early payback of lucrative loans from Swiss Re, among others, Buffett wrote to shareholders at Berkshire Hathaway "all of the redemptions are nevertheless unwelcome." Worrying that repayments and reduced earning power due to low interest rates, Buffett was optimistic about "getting lucky and finding an opportunity to use some of our cash hoard at decent returns."
Writing, "That day can't come too soon for me," Buffett "updated Aesop," quipping "a girl in a convertible is worth five in the phone book." (Page 18, second paragraph, last sentence)
Are Fonkoze and Mercy Corps unwittingly helping major stockholders in the reinsurance firm Swiss Re turn Haitian women into Buffett's "girl (s) in the convertible?"
Certainly Haitians will be faced with the certainty of contracting cholera, possibly forever, unless cholera mitigation steps are taken.
Recovery from cholera is predicated on admission to a medical facility or immediate diagnosis and treatment. Haiti has a glaring lack of medical facilities to diagnose and treat people, since most of the medical infrastructure was destroyed in the earthquake. Cholera insurance is not being offered to the percentage of population likely to contract cholera, the uneducated and rural peasants.
Swiss Re's press says the cholera micro insurance policy will allow women who borrow from Fonkoze to receive an amendment to their loan contracts compensating them through loan reductions and emergency cash. "We expect this cholera policy will help to ensure that the infection of an income provider does not result in destitution for the entire family," said Michel Liès, Swiss Re Chairman of Global Partnerships. "We also anticipate that the index we develop for MiCRO can potentially be applied to other infectious diseases in other parts of the world," he added.
But Fonkoze's women will not have any real choice if the cholera insurance is based upon the model already in place for hurricane and natural disaster insurance. The analogy might be akin to being forced to buy car insurance that is above and beyond the insurance you already have on the odd chance you might become disabled.
If reinsurer Swiss Re or the Clinton Global Initiative want to protect Haitian women from defaulting on their business loans, why not give them Clorox or Aquatabs or filtration systems equal in value to the cost of the insurance?
Why is cholera the main focus? What about other diseases such as malaria and dengue fever? TB and HIV/AIDS are far more likely to lead to chronic disability and prevent Haitian women from paying back their loans.
Statistics might provide some guidance.
The United Nations predicts up to 400,000 cases of cholera per year, with a 1.4 percent mortality rate or 11,000 deaths. The Haitian population is 9.7 million people. Therefore, the risk of infection per year is 400,000 divided by 9 million or 4.1 percent. The risk of dying from cholera per year is equal to the infection rate multiplied by the mortality rate, or 57 people per 10,000 dying from cholera every year (.57 percent).
But it will not be healthy young women entrepreneurs dying. It will be the chronically ill, elderly, and infants as well as rural peasants with no access to water purification. Maternal mortality rates in Haiti are 68 per 10,000 (.68 percent), which is greater than the risk of dying of cholera. A woman's' risk of dying from any pregnancy in her lifetime is 1 in 17. (5.9 percent), or ten times the risk of dying from cholera per year. (World Health Organization Mortality Country Fact Sheet)
In 2010, 15 percent of the poor market women served by Fonkoze left the program because of expenses related to health issues," said Carine Roenen, Director of Fonkoze.
As a result, in November, Fonkoze and Global Partnerships (GP), a Seattle-based nonprofit social investor, announced a strategic initiative with Linked Foundation a Carpinteria, California-based private foundation, to improve women's health in Haiti.
"The three groups are partnering to design and implement a package of essential health services intended to ultimately reach more than 50,000 Fonkoze clients -- poor and ultra-poor women throughout Haiti--over the next three years," according to a press release.
There are no details, but it is much less of a risk to insure a woman against cholera than to insure her against death from pregnancy. Insurance companies are generally risk-adverse. So it remains to be seen what the cost/risk analysis will be for Haiti's poor.
One has to wonder if Buffett, who has said that he is willing to pay more taxes to benefit middle class Americans, will potentially make a portion of his investment income through Swiss Re and by implication, Haitian women who are buying insurance.
So what is the answer? Barjon offers that the Government of Haiti needs to address the issues of self-sufficiency and a robust private sector, thereby providing the means to infrastructure.
This can only be done by building a large enough tax base to pay for and provide basic services to all Haitians such as: potable water, basic health care, education, good roads to facilitate commerce including improved food transport and distribution to eradicate food insecurity; and energy and security for the population at large. All of this can only stem from the establishment of a viable private sector and a self-sufficient Haitian economy which will invite foreign investment.
In the end, clean water protection through sanitation infrastructure is a human right and a moral imperative. There is no grey area.
Georgianne Nienaber