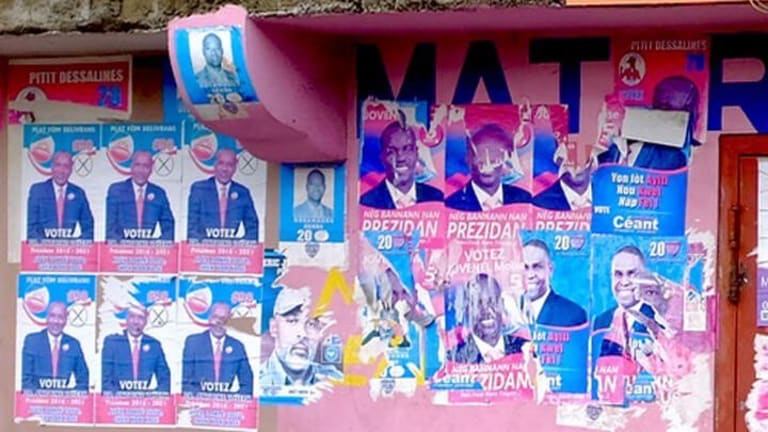 Haiti's Political and Electoral Crisis Worsens
Georgianne Nienaber: Haiti has a long history of provisional governments gone terribly wrong. A recent problematic example can be viewed as prophecy and a warning about U.S. and other foreign involvement.
It was inevitable, but not necessary, that it would eventually come to this.
Haiti's scheduled January 24 Presidential election has been postponed. The Provisional Electoral Council (CEP) made the announcement on Friday as violence escalated over charges of fraud made by opposition candidate Jude Celestin. Celestin was facing Michel (Sweet Mickey) Martelly's hand picked successor, colorfully and derisively named the "Banana Man," Jovenel Moise. What comes next is anyone's guess, but a provisional government looms on the horizon. It seems all the chickens have come home to roost after U.S. meddling and vote changing in the previous 2010 Presidential election, which installed Martelly under the watchful eyes of then Secretary of State Hillary Clinton and her "aide-de-camp," Cheryl Mills.
The vote fixing and fraud in that fateful Presidential election, held in the death grip of the 2010 earthquake, has been extensively chronicled in many sources. The most gripping and astounding resides in former OAS Ambassador Ricardo Seitenfus' account, which offers first-hand testimony in his book, International Crossroads and Failures in Haiti.
The Brazilian professor details international collusion in Haiti's 2010 elections and discussions by a "core group," including Special Representative of the Secretary-General of the United Nations and MINUSTAH chief Edmond Mulet, along with then U.S Ambassador Kenneth Merten, of a coup to force President Rene Preval from office. Ballot box tinkering guaranteed candidate Jude Celestin would not advance to the runoff election. Martelly won the March 2011 runoff with less than 17 percent of eligible voters participating, defeating conservative former first lady Mirlande Manigat.
In an interview with Radio Television Caraibes this week Seitenfus was blunt. "Since Mrs. Clinton was well involved in 2010-2011 decisions, if we started badly, we must end well. That is to say, February 7 President Michel Martelly must leave, and should have a new president," he said.
Now, Jude Celestin is once again in the race and has forced the hand of international agents by refusing to participate in what is widely regarded as another fraudulent election process.
Two years ago, Celestin's opponent, "Neg Bannann" Moise, dispossessed as many as 800 peasants and destroyed houses and crops in the Trou-du-Nord zone. What remains is a private banana plantation owned by Moïse's company, Agritrans. It cannot be stressed enough that Moïse is the hand picked candidate of Martelly's "Bald Party."
The firm stand of the man who refuses to run, Celestin, has encouraged civil society, including business and church leaders, to conclude a vote postponement is in the best interests of Haiti. The Senate also supported a non-binding motion to postpone.
In a passionate speech to the nation this week, Celestin said "...whatever the person who will participate in this January 24, is a traitor to the Nation...When I would be President, I would be legally, constitutionally, with the Haitian people, I refuse to participate in this masquerade that has only one goal, swallow snakes to the entire Haitian population (sic), stop taking us for idiots."
It ironically fell to Pierre-Louis Opont, the president of Haiti's CEP, to make the cancellation announcement for this election.
Opont conveniently waited almost five years to cry foul -- until the release of the Hilary Clinton emails left little doubt that votes were either switched or manipulated to advance Martelly in 2010. Last July Opont accused the OAS, the United States, and specifically Cheryl Mills, the Chief of State for Secretary of State Hillary Clinton in the fraud. Opont says he gave the official vote count to the group of OAS international observers and the group then gave results different than what were passed to them.
In a collusion of history and personality, Celestin's defiance in the face of international pressure to participate in what he considers another rigged election has resulted in this standoff. If the elections do not go forward, a provisional government might be the only option.
Will the United States and the "core group" try to use MINUSTAH to enforce its agenda?
Haiti has a long history of provisional governments gone terribly wrong. A recent problematic example can be viewed as prophecy and a warning about U.S. and other foreign involvement.
In 1956 Haiti's President Paul E. Magloire, a veteran of the ruling junta of the Revolution of 1946, disputed the termination date of his stay in office. Riots ensued, martial law followed and resulted in a general shut down of Port-au-Prince. Magloire fled to Jamaica, leaving the army in charge. The following period resulted in three provisional presidents. One resigned and the army deposed the others. François (Papa Doc) Duvalier, an administrator of U.S. aid, eventually emerged as the military favorite. Haitians will remember Duvalier's reign and organization of the dreaded Tontons Macoutes; a private force responsible for terrorizing and assassinating alleged foes of the regime. Touton Macoutes translates, roughly, to "bogeymen."
The tales of provisional governments are cautionary ones and history's parallels can offer valuable instruction as well.
President Michel Martelly is required to leave office on February 7 under the Haiti constitution. The question is will he, or will he flee the country like Magloire and others before him, taking whatever riches he can haul in a suitcase?
The Miami Herald reported Opont and the CEP "could not guarantee either the security of poll workers or the country's 5.8 million registered voters in runoffs for six senators, 27 deputies and a President." 8 Haitian national observation organizations out of 10 refuse to observe the elections of this Sunday while Prime Minister Paul Evans maintained that "Electoral observation is a citizen approach, it can not be political."
I was in Haiti in early December and the pyres of protest were built, but as yet unlit.
The leaders of Haiti's 18th century slave rebellion are forever memorialized in stone within walking distance of the streets where protests began to simmer this October. General. Jean-Jacques Dessalines towers over Champ de Mars, where six years ago, thousands of tents and hundreds of thousands of earthquake survivors huddled in misery. Dessaline's arm is raised in victory as he sits astride his noble Iberian stallion with its flowing long mane and muscles tensed and battle-ready. Henri Christophe and Toussaint Louverture, the latter with his arm resting on a drawn sword, join Dessalines as symbolic survivors of earthquake of 2010 that threatened to catapult the poorest nation in the western hemisphere into inescapable catastrophe.
Another stone survivor is nearby. Neg Mawon, often translated in English as the "Unknown Slave," despite the shackles around his ankle, defiantly blows a conch shell, summoning all to battle.
Let's hope that another battle does not come to pass with more hand ringing from the international community.
Saturday offered little relief from frustration in Port-au-Prince as tires burned and stones flew.
Georgianne Nienaber
OpEdNews