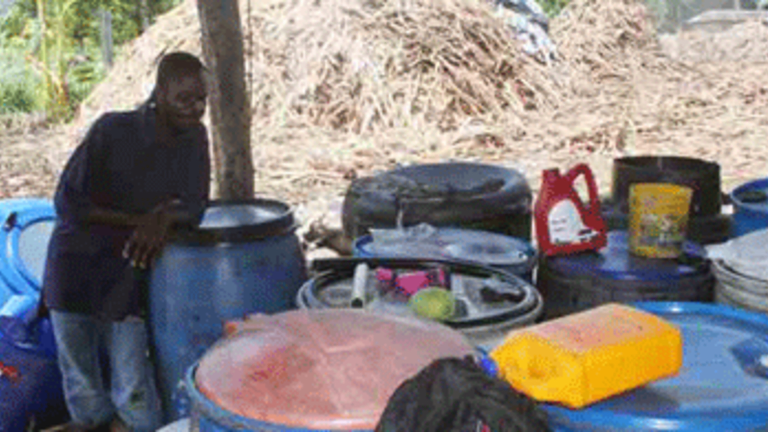 Haitians Poisoned: And Justice?
Ayiti Kale Je: With the complete failure of the government to fulfill its obligations, who would dare to sip one of Haiti's traditional drinks, made from homegrown sugar cane? Who will take the risk of being poisoned? Not the privileged, who drink fine, sweet rum or imported whiskies.
Editor's Note:This is part 2 of a three-part series looking at the ongoing scandal in Haiti over villages poised with methyl alcohol. See part 1, "Haitians Poisoned: Liquid Death," part 2 "Haitians Poisoned: And Justice?" part 3 "Haitians Poisoned: Fake Clairin," and also Georgianne Nienaber's report from a year ago: "Death in a Bottle for a Handful of Haitian Coins", men, women, and babies were falling ill with no apparent epidemiologic reason.
Officially, Haitian consumers are not left on their own, subject to the brutality of the marketplace. They are protected by the Office of Quality Control and Consumer Protection. At least, on paper.
The agency – part of the Ministry of Commerce – has 22 employees with "many services," according to Michelle Paultre, the director.
However, they lack a laboratory, and they lack sufficient resources, according to Paultre, who has headed the agency since 1988.
"Ideally we would have inspectors in the streets every day, but that is not always the case, nor is it always possible," deplored Paultre, who met with Haiti Grassroots Watch (HGW) in her office at the Ministry.
Paultre also said the agency lacks vehicles that would allow for investigations and more frequent supervision. And the country lacks up to date regulations. Verifications are done based on the regulations in other countries, she noted.
"We need to establish a statutory framework in Haiti so that we can really control quality. We need legislation that will place the responsibility on the businesspeople and the producers," she recommended.
According to the director, the most common tasks executed by her teams are verification of gas pump measurements, some checks at supermarkets, and quality inspections of coffee and cacao for export.
Generally, the teams don't work in public marketplaces unless there are "consumer complaints," she said. They undertake investigations "if there is a situation that puts people in danger."
Asked about the "methanolized" clairin, Paultre admitted that her office was aware of the crisis and had even sent a delegation into the field. The team worked "to find, to identify the sellers, but… we couldn't find him…" she said.
"I think the Ministry of Health and other authorities – like the police – intervened," she added. "You should find out. Those are the two authorities indicated to take the affair in hand," she added.
"When it comes to carrying out investigations, [our] ministry is not the one to do it," she said, as an excuse, and despite the fact that she had – just a few minutes earlier –said her administration carries out investigations "if there is a situation that puts people in danger."
In short, the Office of Quality Control and Consumer Protection did not do more than a minimal inquiry into the lack of control, nor did it do anything to protect consumers of clairin – last year, today or in the future.
But, she insisted helpfully, in these kinds of situations, "the ministry can remain concerned and can ask the population to be careful. We broadcast information to the public so that the consumer can protect himself."
And Justice?
The director of the Office of Quality Control and Consumer Protection admits she hasn't done anything, and recommends that consumers "self-protect."
When it comes to justice, situation is much the same.
A year after the death of at least 12 people and permanent damage inflicted on at least 30 others, HGW could find no evidence of any police investigation or legal proceedings, even though two ministers and other authorities have thrown out the now infamous "an investigation is underway" response to inquiries.
Questioned by a US journalist over a year ago, Dr. Gabriel Timothée, General Director of the Ministry of Public Health and Population swore that enquiries would begin soon.
"The ministries of Justice and of Commerce are going to launch an investigation," he told reporter Georgienne Nienaber in January 2011.
Over recent months, HGW tried many times to follow up with Dr. Timothée. An interview was never granted.
More recently, questioned during a press conference, the new Minister of Health, Dr. Florence D. Guillaume, repeated Timothée's claims, and told journalists that an investigation was "underway."
However, there are many reasons to doubt that affirmation.
Questioned by HGW on February 17, 2012, about the case, the new Commissaire du gouvernment (like the US Attorney General), Jean Renel Sénateus, said: "I don't know about any Fond Baptiste affair."
The second Greffier (a kind of legal registrar) of the Port-au-Prince Parquet (public prosecutor's office) – responsible for all of the dossiers sent to the Commissaire for official investigations – confirmed that there was no dossier on the Font Baptiste deaths at the Parquet.
The lack of judicial action is a flagrant violation of Haiti's Code d'instruction criminelle or Criminal Code. Articles 9 through 13 are clear: government authorities are obligated to take action.
According to Article 10, police are responsible for searching for criminals "in crimes, misdemeanors and violations that have affected people or property."
HGW decided to go back to Arcahaie, "capital" of the commune in which Fond Baptiste is located, to find out what the authorities did last year.
Police officer Edner Vertilus – who works at the Arcahaie station – told journalists, "No, police officers did not go up the mountain to Fond Baptiste because none of the relatives of the victims filed a complaint."
A police officer who does not understand Haiti's Criminal Code? It's possible, but what about his supervisors and other authorities?
According to Article 11, "Justices of the peace (who act as detectives) or their substitutes will investigate crimes, offenses and violations throughout the commune..."
Article 12 is even clearer about the government's responsibilities:
"When the affair is something that should be brought before the court – either correctional or criminal – the justices of the peace or their substitutes will send to their superior – who will represent the government – all of the relevant information and evidence…"
However, when the HGW journalists questioned the head Justice of the peace at the Regional Tribunal for the Commune of Arcahaie, Claudy Henry-Claude, he clipped: "We didn't follow-up this affair."
"There was no investigation on this affair because we did not go up to the communal section of Fond Baptiste," he said, unashamed, in an interview on December 22, 2011.
The police officer confirmed the story.
"We did not go into the field when the Ministry of Health delegation from Port-au-Prince was visiting Fond Baptiste on February 18, 2011," Vertilus said.
Why?
"That delegation was supposed to come and pick up a team of police officers who were supposed to do evidence-gathering, but they didn't do that. So in other words, that delegation only undertook medical tasks. There was no legal or judicial representation that would have assured legal action," explained Vertilus, who also appeared unashamed at the complete abdication of judicial and police authorities.
In short, in addition to openly violating the Criminal Code, a justice of the peace and a police officer explain that there was no investigation because the Ministry of Health delegation did not give them a ride up the mountain.
The authorities lack of action represents a violation of law, according to lawyer Patrice Florvilus.
"The Commissaire du gouvernment and his assistant are obligated to look for the guilty when it is a case of crimes and offenses," Florvilus explained in an interview last month.
"They don't need to wait for victims' family members to file a complaint. They simply need to be made aware of the incident in order to open an investigation."
What explanation might there be for this violation of Haitian law?
Interviewed last October on the subject, Dr. Jean Evans Vital-Herne, who works for the Ministry of Health in Léogâne – site of another scandal involving "fake clairin" [see "Fake Clairin"] – hinted at one possible explanation.
"Well, this thing is… very political, very, very, because they know who is responsible for selling it [sic], do you understand me? They know the seller, and even take his defense, but they are the ones who are supposed to be doing something about it. This is why there has been no judicial action," the doctor said, without further elaboration.
HGW could not confirm Vital-Herne's theory, but it adds an interesting element.
No truth, no control, no protection, no justice…
Who is Vital-Herne's "seller"? Where are the investigations promised by Drs. Timothée and Guillaume? Who is going to reprimand the police and judicial officials who didn't do their duties? And who is going to take care of the families who have lost a relative? Who will look after the people can no longer see or walk?
The government failed at every level, but this is nothing new to the people of Fond Baptiste.
The widow Jesula Fernius lost her husband in the tragedy. Their eighth child is not even two years old. Her husband – a mason – drank his clairin on a Thursday. Less than two days later, he died.
"He said he couldn't see anything," she remembered. "He got to a pick-up truck that took him to the hospital, but then he said his heart hurt, and then he couldn't even walk."
And then he died.
With her husband gone, Fernius had to take most of her children out of school.
"I have eight children. What a waste," she said.
To survive, she sells rum and other drinks, but not clairin.
"A lot of merchants still sell clairin in Fond Baptiste, as if they can't remember what happened. They say the adulterated clairin is not around any more, so there is no reason to worry."
Really?
With the complete failure of the government to fulfill its obligations, who would dare to sip one of Haiti's traditional drinks, made from homegrown sugar cane? Who will take the risk of being poisoned? Not the privileged, who drink fine, sweet rum or imported whiskies.
The victims next time will be the same as last time – the majority, the popular masses… ignored, excluded and oppressed.