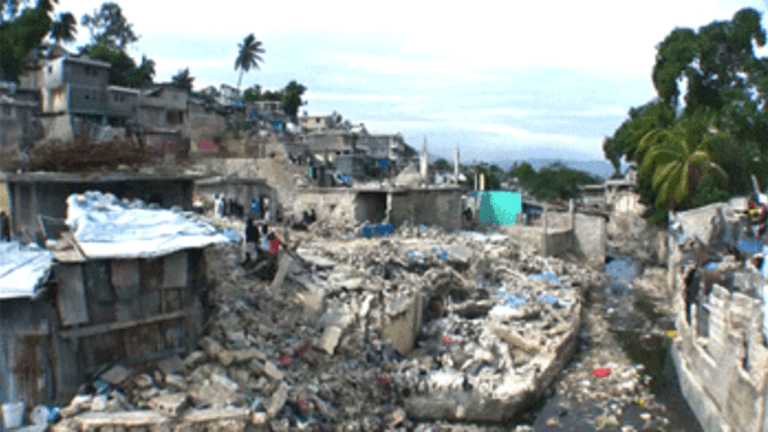 Sex for Work in Haiti
Georgianne Nienaber: Could it be true that transactional sex, kickbacks, and other "favors" are de facto requirements for Haitians applying for work that is funded by USAID?
Could it be true that transactional sex, kickbacks, and other "favors" are de facto requirements for Haitians applying for work that is funded by USAID?
When journalism students from the State University of Haiti heard rumors about possible corruption in a "Cash for Work" program funded by USAID and implemented by the non-profit Cooperative Housing Foundation (CHF) International, they decided to investigate the Silver Spring, Maryland, organization's project in the Ravine Pintade neighborhood.
Thursday morning CHF went on radio in Haiti to respond, "as it is important that our Haitian partners know how seriously we take any such allegations," said Director of Communications, David Humphries, in an email.
The Haitian Press this week picked up the story of the two-month investigation, which was conducted in conjunction with Haiti Grassroots Watch -- a partnership of the Haitian online news agency AlterPresse, the Society for the Animation of Social Communication (SAKS), and community radio.
Like many neighborhoods in Port-au-Prince, Ravine Pintade was a humanitarian disaster long before the January 2010 earthquake. Aptly named, the neighborhood consisted of 1,000 shacks and huts perched on the edges of a ravine. There are many neighborhoods similar to this in the capitol, and the geography demonstrates why the shacks were so vulnerable and unable to withstand the earthquake.
CHF and other NGOs funded by USAID use the Cash For Work program to remove rubble in Port-au-Prince. The program is controversial at best, as shown in this overview video produced by Ayiti Kale Je in 2010.
In our own visits to Port-au-Prince in January 2011, workers used five-gallon pails to attack mountains of rubble, while bulldozers stood idly nearby.
In Ravine Pintade, Ayiti Kale Je asks who is actually receiving "cash for work," or in some cases "sex for work?"
According to the investigation, 30% of the Cash For Work beneficiaries said they had to pay a kickback for their jobs, 10% of women beneficiaries said "their friends" had to give sexual favors to get a position, and residents said "the program has caused strife, between inhabitants and foremen
During the multiple visits to work sites, journalists noted that the majority of workers did not appear to be typical "vulnerable" residents (older, etc.). Instead, they were young men and women who appeared to be well-fed and in excellent health. The workers said they were chosen by the foremen, who themselves have been chosen because they are the supposed "leaders" of the neighborhood, according to CHF. These young men decide who will, and who will not, get "cash."
Allegedly, the foreman draws up a list of potential workers, and then asks each one for 500 gourdes (US$12.50) each on the side.
Women reported that they have traded sex for jobs.
"The foremen have the habit of buying the consciences of the women, and demanding that they have sex with them in order to get a job," one woman told Ayiti Kale Je investigators, who said, "Even though it wasn't possible to confirm the denunciations of beneficiaries and residents about the sexual exploitation, on many occasions journalists noted that certain foremen hassled women at the work sites."
To be absolutely clear, investigators could not "prove" the anecdotal allegations.
"The journalists could not confirm the claims made by Ravine Pintade residents. However, because various stories resemble one another, and because studies from other institutions in Haiti and abroad speak of similar corruption and other problems, the journalists assume that there are at least elements of truth in the stories they heard," the story read.
Where there is smoke, there is usually fire, and this is not the first time that allegations of corruption and sexual harassment by aid workers as well as United Nations personnel have surfaced in Haiti.
In February 2011, United Nations Development program (UNDP) conducted interviews with 16 organizations in Haiti (WFP, Oxfam, Save the Children, ALL Hands, Fosac, Mercy Corps, Christian Aid, Catholic Relief Services, American Red Cross, British Red Cross, Lutheran World Foundation, Fonkoze, Unibank, Voila, Digicel, and ACTED). The interviews were part of a fact-finding mission for the "UNDP Lessons Learned in Cash Programming in Haiti." Save the Children reported instances of sexual favors being traded for spots on the work lists.
In another report, vulnerable populations in Haiti, as well as persons receiving aid in Kenya and Thailand say they feel at risk of sexual exploitation by humanitarian workers who are meant to help them, according to a report published by the Geneva-based Human Accountability Partnership (HAP) in December 2010.
The study reported sexual incidents involving paid international and national aid workers as well as volunteers. The report gave the example of Haiti, but did not single out CHF.
"The person in charge of making the list of people eligible for the cash-for-work schemes will put your name on the list in exchange for sex," according to a women's group in Haiti.
The study used food insecurity as the motivating factor for vulnerable populations. Findings showed 100% of the participants had been directly involved in or witnessed "transactional sex."
Women and adolescent girls are engaging in sexual exchanges because that cannot access humanitarian aid and support from national authorities, local and international actors. In particular the more insecure women or adolescent girls are, the more inclined they are to engage in extreme coping mechanisms, including transactional sex.
In an attempt to gauge the value of "cash for work," Ayiti Kale Je reported hitting a stone wall when CHF refused to answer questions about their program costs
CHF representatives declined to answer questions about the cost of their Cash For Wok (CFW) program. However, a USAID audit dated September 24, 2010, noted that at the time, CHF was managing a budget of $1.6 million for CFW jobs alone. According to the audit, between February and June 2010, CHF gave 4,530 people work for a total cost of $543,563. However, the audit did not note how much CHF was paid for administration, supervisor salaries, vehicles, office space, local and foreign employees, and overhead.
Forbes' list of the top 200 US charities names "top person" Michael Doyle and "top pay" of $653,920 in CHF. In the fine print, Forbes says top pay, which includes benefits, one-time payments and deferred compensation, is based on latest available information. In some cases, sum is for a different year. Top pay may not be that of listed top person."
Charity Navigator lists Doyle as CEO with a compensation package of $445,596 and company assets of $73,626,322.
An OIG audit of USAID's funding for shelter construction in Haiti lists 16 grants, totaling $139 million that were awarded from January 2010 through June 2010. CHF International (DFD-G-00-10-00103-00) received $29,644,058, of which $21,247,615 was dispersed at the time of the audit. The audit is significant because USAID/OFDA "did not fund significant rubble removal activities in conjunction with its shelter grants. Some grants included funding for rubble removal through cash-for-work activities, which did not include heavy machinery."
CHF Responds and Takes Allegations Seriously
David Humphries, Director of Communications, for CHF in Silver Spring, Maryland responded to the Ayiti Kale Je report by phone and email today. Saying CHF was aware of the report, Humphries promised CHF would initiate its own investigation of the allegations of sexual misconduct and kickbacks in its Cash For Work program. "Any corruption is one hundred percent unacceptable," he said.
Adding that he was uncertain of the accuracy of the allegations, CHF was investigating, since any impropriety "will not be tolerated."
CHF is investigating the complaints made in the article and will act in partnership with the community and the authorities to remove any offenders from their positions. Our position is clear: even if only 1% of the allegations are true, that 1% is unacceptable. Any incidents at all of corruption or exploitation are unacceptable...

In light of the allegations we are stepping up our protection for our community partners. In order to combat the potential of any corruption or sexual exploitation, CHF's Ravine Pintade implementing partner, Project Concern International, will be conducting awareness training against sexual harassment and exploitation for men and women engaged in the Cash for Work project. We are also setting up a hotline for people to complain about abuses anonymously and will do targeted outreach to vulnerable members of the community. CHF never has and never will tolerate corruption or sexual exploitation of its workers in any shape or form.
In any case, Ayiti Kale Je should be commended for stepping up to the plate and bringing these corruption charges to light. Until now, the allegations of sexual and monetary misconduct by aid organizations have been buried in obscure government audits and humanitarian organization file reports. Let's be confident that CHF conducts a full investigation in cooperation with Haitian grassroots organizations which are doing the real "heavy lifting" as the search for accountability continues in Haiti.
The controversy brings to mind U.S. Senators Robert Menendez (D-NJ) and Ben Cardin (D-Md.) co-chairing a joint hearing of the Western Hemisphere and International Development Subcommittees of the Senate Foreign Relations Committee. The topic of the hearing was "Rebuilding Haiti in the Martelly Era. Participants were asked for three solutions to Haiti's reconstruction problems, provided they could "wave a magic wand."
In response to the televised hearing, Haitian activist and founder of the Haitian Lawyer's Leadership Network (HLLN), Ezili Danto, had this response about the mythical magic wand and the morass of international exacerbation of Haiti's misery:
"If I had a magic wand - I'd wish a world where Christopher Columbus and Bartholomew De la Casas had not been born and the indigenous world and planet [were] left in peace," she writes.
Haiti Grassroots Watch is a partnership of AlterPresse, the Society of the Animation of Social Communication (SAKS), the Network of Women Community Radio Broadcasters (REFRAKA) and community radio stations from the Association of Haitian Community Media.
Georgianne Nienaber