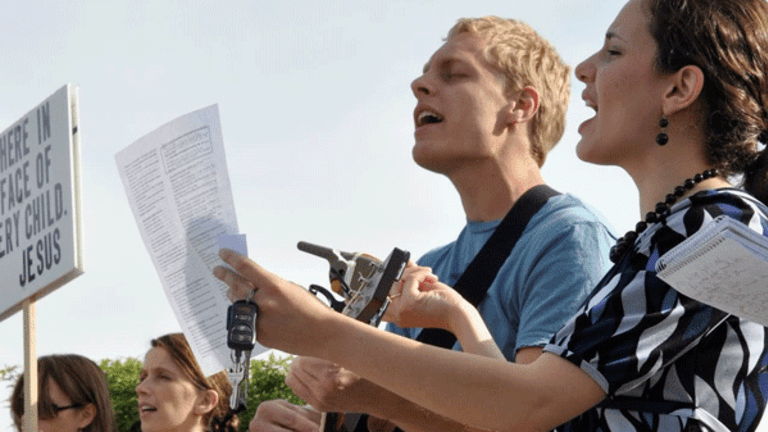 After Failing To Pass Anti-Gay Bill, Arizona Turns Its Attention To Attacking Abortion Rights
Attacking Abortion Rights: After Brewer's widely publicized veto, lawmakers in Arizona advanced new legislation to attack abortion rights.
All eyes were on Arizona this past week, after the legislature approved an anti-gay bill that would allow businesses to discriminate against LGBT individuals under the guise of preserving religious liberty. The intense national backlash culminated in Gov. Jan Brewer's (R) decision to veto the legislation. But that doesn't mean the lawmakers in the Grand Canyon State are putting controversial social issues to rest.
Just one day after Brewer's widely publicized veto, lawmakers in Arizona advanced new legislation to attack abortion rights. HB 2284, misleadingly named the "Women's Health Protection Act," would allow for surprise inspections at abortion clinics to try to catch them violating state law. The measure also stipulates that abortion clinics need to "report whenever an infant is born alive after a botched abortion and report what is done to save that child's life," inflammatory language that the anti-choice community often deploys to suggest that some doctors are committing infanticide.
HB 2284 is being spearheaded by the Center for Arizona Policy, or CAP, the same right-wing group that was behind the controversial "right to discriminate" bill.
State lawmakers gave the measure preliminary approval on Thursday. "I mean, for goodness' sake, we even do unannounced inspections of Burger King and McDonald's, but we're not allowing them at abortion clinics?" Rep. Debbie Lesko (R), the bill's sponsor, said during the legislative hearing on the measure.
In reality, Lesko's legislation is seeking to solve a problem that doesn't actually exist. Abortion is already one of the safest medical procedures in the country, and the clinics that perform these procedures are alreadyhighly regulated. There's no good reason to single out abortion providers for this additional red tape. Enacting these type of laws simply gives abortion opponents the opportunity to trigger state investigations — and, depending on the political affiliations of the people who serve on state health boards, this can be an avenue to force clinics out of business.
"As an organization, we support bills that truly protect patient safety, but House Bill 2284 opens the door to provider and patient harassment," Jodi Liggett, the director of public policy for Planned Parenthood Arizona, told ThinkProgress in a statement.
HB 2284 is part of a coordinated strategy to close abortion clinics that'sadvancing across the country. And it's also a clear reminder that, regardless of Brewer's recent veto, the fight against "religious liberty" legislation isn't over. This line of argument is driving efforts to restrict LGBT rights in other states across the country — and it's directly related to attacks on reproductive freedom, too.
Anti-choice legislation often stems from the same right-wing worldview that rejects LGBT rights. Indeed, those are the two issues that the "pro-life and pro-family" Center for Arizona Policy is primarily concerned about — and HB 2284 is hardly the right-wing group's first foray into abortion policy. CAP also spearheaded the state's 20-week abortion ban, a restrictive measure that's been repeatedly blocked in court. It was the primary impetus behind another anti-choice law that got thrown out by the courts, an effort to strip Medicaid funding from Planned Parenthood because of its affiliation with abortion. Most recently, CAP even threatened to torpedo Medicaid expansion in the state by pushing to defund Planned Parenthood.
On the surface, the state-level push to restrict abortion tends to be framed in terms of "keeping women safe" rather than specifically in terms of religious liberty. But the argument that businesses should have the right to deny services because of their religious beliefs is also doing significant damage to this aspect of women's health care. For instance, the one in six American patients who are served in Catholic hospitals can't receive any type of abortion care there, even in cases of dire emergency. This past December, the ACLU sued the U.S. Conference of Catholic Bishops, arguing that those harsh restrictions are forcing hospitals to deliver substandard care to their patients.
This issue extends far beyond Catholic-affiliated institutions. The currentlegal fight over Obamacare's contraceptive provision, which allows insured women to have access to birth control at no additional cost to them, is based on the notion that for-profit companies have the "religious liberty" to refuse health care services. And the lawmakers who advocate for abortion restrictions aren't necessarily shy about articulating theirpolicy positions from an explicitly conservative religious framework.
"When it comes to attempts to use religion as a cloak for discrimination against the LGBT community and against women's reproductive rights, the fight isn't over. We're seeing these attacks across the country," Sharon Levin, the director of federal reproductive rights policy for the National Women's Law Center, told ThinkProgress. "And toward the end of March, at the Supreme Court of the United States, business will be making the same arguments that were made in Arizona — pushing to allow for-profit businesses to evade complying with a law that would require contraceptive coverage."
Cecile Richards, the president of Planned Parenthood, echoes those sentiments. "This didn't start with Arizona, and it won't end with Arizona," Richards writes in an op-ed recently published in the Huffington Post. "This most recent legislation is part of an orchestrated and radical effort to extend religious liberties to corporations — to treat private businesses like churches under the law, by giving them the right to refuse services, deny health care coverage, and discriminate against people."
According to Levin, there are important parallels to draw between the recent controversy in Arizona and the broader conservative push to twist religious liberty into something that doesn't resemble what that term has typically encompassed. That certainly impacts the LGBT community, but also ends up hurting other groups, too.
"Religious liberty is not about harming others and imposing your religion on them," she noted. "It's critical to think about, as people did in response to the Arizona bill, about who is really being harmed here and what's the harm that's being done. Here, it's women."
Tara Culp-Ressler
ThinkProgress
Subscribe to LA Progressive's daily newsletter
* indicates required
Email Address *


First Name

Last Name

Email Format
Powered by MailChimp