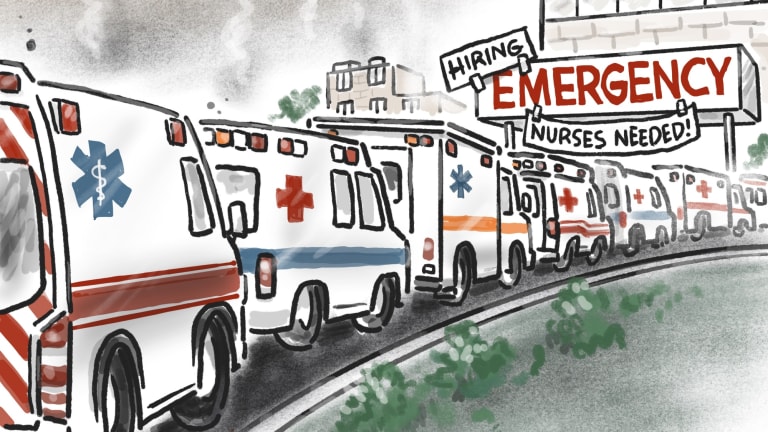 California's Nursing Home Crisis Worsens
Though optimistic, both Oronia and Polk say that they would not entrust a family member or loved one to the facility where they work given what they've seen.
Normally, Robert Oronia works overnights, from 11 p.m. to 7 the next morning. But lately the certified nursing assistant (CNA) has been logging a lot of 12-hour shifts at Stoney Point Healthcare Center in Chatsworth. He says he could work back-to-back shifts, 16 straight hours, if he wanted, because the need for staffing is there. Some of his colleagues do that. "But I don't," Oronia says, "because that's when accidents happen."
Short staffing situations are becoming common, Oronia says — and the patient mix is changing, too. Normally a center specializing in caring for older patients with Alzheimer's and other forms of dementia, Stoney Point is "now handling a lot of straight mental health cases, and we've got patients who are hitting workers," Oronia says. One of them swung a metal chair at him, and he put his arms up to deflect the blow. The resulting injuries put him on disability for a month.
"You've got to want to help people if you're going to do this job," he says.
Oronia, 48, has been a CNA for six years. His hourly wage: $15.60.
Long before the pandemic revealed the worst of it to the public, the crisis in California's nursing homes and skilled care facilities showed itself to be very real. In addition to the staggering death toll, stories from the field during COVID's most vicious months included accounts of dangerous work practices, unsanitary conditions and a lack of basic supplies, including personal protective equipment for the health care professionals themselves — all problems that existed in the industry years before this health emergency.
But on a macro level, workers and legislators say, the issues amount to the same two things over and over: inadequate compensation and staffing. And until something changes on those fronts, nursing homes likely will continue to lose workers — and thus the ability to care for some of the state's most vulnerable older patients.
For those reasons, a new effort to oversee the facilities in California has a chance to gain momentum. Pushed by SEIU Local 2015, which represents more than 400,000 nursing home and home care workers in the state, the proposal would create a standards board empowered to establish mandatory minimum wage and staffing levels, improve employee access to health care and sick leave, and enforce certain training requirements for nursing home workers. (Disclosure: SEIU is a financial supporter of Capital & Main.)
"We're dealing with death by a thousand cuts in these facilities," state Sen. Henry Stern (D-West San Fernando Valley) told Capital & Main. "Too many patients are sitting in their own diaper, pushing call buttons that don't get answered. It's simply necessary to get some standards in place."
Stern and Assemblymember Miguel Santiago (D-Los Angeles) are asking that the state's budget for the coming year include funding to set up a 16-member board under the auspices of the California Health and Human Services Agency, with public health executives, nursing home workers and other stakeholders given seats at the table. The California Department of Industrial Relations allows for the creation of wage boards such as the one being proposed.
"We're going to be noisy about it," said Stern, who last year authored a bill signed by Gov. Newsom that forces nursing homes to reveal more about their corporate structures and financials. "We think the budget is the right way to do this, rather than waiting on a piece of legislation, and this is the budget time right now," Stern added.
The state's 1,200 skilled nursing facilities (SNFs) receive about $5.45 billion annually from the state, much of it coming through Medi-Cal, California's version of Medicaid. It is a high-stakes game of disbursement: The nursing homes' chief lobbyist, the California Association of Health Facilities, has given roughly $2 million in contributions and spent $5.67 million lobbying legislators over the past 10 years, according to records on file with the California Secretary of State's office.
At the same time, scrutiny of the ownership of SNFs has increased in the face of growing private equity investment in the largely for-profit businesses. About one in 10 California nursing homes are now owned by private equity investors, according to the California Health Care Foundation. Such ownership has been linked to lower quality care and higher costs.
On the ground level, the industry is in turmoil. Several SNF workers interviewed by Capital & Main told of awful conditions at their facilities, with some patients waiting an hour or more after ringing a call button for help and others simply dialing 911 after a sustained period with no response from overwhelmed staffers. Some workers asked that their names not be used for fear of retaliation by their employers.
In response to polling by SEIU Local 2015, half of the union's nursing home employees recently said they were likely to leave their current jobs within a year. The reasons most cited: low wages, poor working conditions and dire staffing levels, all of which became more obvious problems as COVID hit.
"The pandemic exacerbated what I would call a preexisting condition," says Kim Evon, SEIU Local 2015's executive vice president. "Staffing was already not up to snuff — folks were always short-staffed — and people are not paid commensurate with the value they provide every day. The pandemic just took that crisis and blew it up."
The union estimates that the long-term care industry has lost more than 420,000 jobs across the U.S. since early 2020, when COVID was first visited on patients and workers there. Nationally, more than 200,000 patients and staff at long-term care facilities have died from the virus, and the Kaiser Family Foundation says that's likely an undercount because of incomplete reporting and data collection by states.
While pandemic-related reports of alarming nursing home conditions shocked some, those employed at such care facilities aren't nearly as surprised. Charisma Polk, who works as a rehabilitation aide at Lawndale Healthcare and Wellness Centre, says that when she began several years ago, a CNA working double shifts was a rare sight.
Now, "One CNA I know worked doubles four days in a week," says Polk, 45. "And a lot of them have gone from caring for eight or so patients in a shift to being responsible for 14 or 15. The system is pretty much broken — even the basic standard of care is inadequate because of the low staffing levels. The pay is so poor that a lot of people just won't work here." Polk, who began at $13.50 an hour and now makes $17.50, is part of an effort to unionize employees at the Lawndale facility.
According to data compiled by the UC Berkeley Labor Center, 80% of the estimated 145,000 skilled nursing facility workers in California (as of 2019) are women, and 72% are people of color. More than half, about 80,000, earn less than $20 an hour.
Perhaps unsurprisingly, the job turnover rate is sky-high. The Labor Center put the annual turnover rate in California at 68% overall and 75% for workers with a high school education or less, as they tend to hold the lowest-paying jobs.
That turnover means fewer employees have a long-term interest in their patients, workers say — yet many who remain in their jobs do so because of the connections they form with patients. "Many of the workers say they stay because they don't know what will happen to the people they're caring for if they leave," Evon says. "They love these people and do everything they can for them. I'm in awe of their dedication, because the emotional and physical toll is unbelievable."
Like any significant reform effort, the move to create a standards board faced immediate pushback. In this case, the California Association of Health Facilities effectively called the proposal a stunt and attempted to swap it out for the lobbying organization's own plan to get the state to pay for mandated minimums for CNAs, topping out at $25 per hour by 2025.
"Our CAHF proposals for SNF financing are very concrete, and focus on higher wages and staffing levels, workforce development, and clinical standards, for all of our caregivers, all of which will increase quality," association CEO Craig Cornett said in an email exchange. "Although our proposals may eventually be somewhat consistent with the SEIU proposal, we don't really know yet because the SEIU proposal seems to be about setting up a board/framework, and we don't think that the SNF sector has time to wait for a new entity to look at these issues."
Notably, the lobbyist's proposed wage increase would apply to CNAs only, while union leaders want minimum wages for all nursing home workers to begin at $20 per hour regardless of their classification. "CAHF's proposal also comes with little to no accountability in an industry that has been plagued by profiteering, abuse and corporate shell games," said Terry Carter, SEIU Local 2015's communications director. Carter referred to the increasingly common practice among SNF owners of using "related party" payments — setting up related companies to pay themselves exorbitant management and administrative fees, much of which originate in taxpayer-funded state disbursements.
Longer term, Stern is among those who wonders why in-home care for the elderly isn't more thoroughly supported by the state. "I don't know why we favor the facilities option over everything else," the senator said, blanching at the waivers to SNF staffing levels that he said have been "rubber stamped" for years.
Immediately, raising wages may be the best hope for slowing the turnover rate and enticing new care workers into the field. The Berkeley Labor Center cites studies showing that a 10% increase in sector-specific wages can decrease job turnover by 14.5%.
Robert Oronia isn't ready to call it a career. Just back from his month of disability, he is optimistic about the creation of a standards board. "I want to see where this takes us," Oronia said. "I heard that they'll have a seat at the table for those who are actually working in the field. If they can promise that, I'll support it."
Still, both Oronia and Charisma Polk say that they would not entrust a family member or loved one to the facility where they work given what they've seen there. "Pardon my language, but hell, no," Polk said. "I get stressed just going into work because it's such a battle just to care for our patients. But I've got to try to help make it better. We can do better than this."
This article was originally published on Capital & Main.