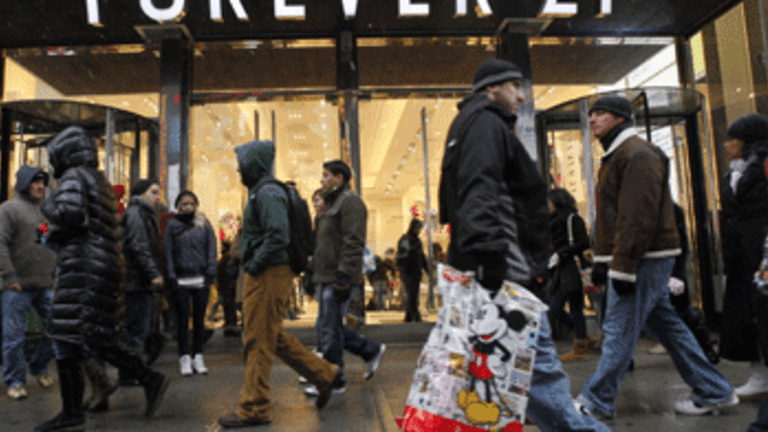 Forever 21: Another Big Bucks Company Weasling Out of Employee Health Insurance
Julie Driscoll: Forever 21 has joined the list of companies chorusing, "Of course it's not about Obamacare, we're just reassessing our employee needs," while slashing employees' hours, benefits and pay.
Uber-rich corporations are jumping through hoops to avoid having to provide health insurance coverage to their employees under the Affordable Care Act (and keep in mind, this mandate only applies to companies with 50+ employees, which aren't generally "mom and pops"). And Forever 21 has joined the list of companies chorusing, "Of course it's not about Obamacare, we're just reassessing our employee needs," while slashing employees' hours, benefits and pay.
As noted by Jena McGregor over at washingtonpost.com, "Forever 21 prints John 3:16 on its shopping bags, reportedly keeps Biblesat company headquarters, and was founded by the deeply religious Do Won Chang and Jin Sook, who don't shy away from their faith."
AOL reports that"Forever 21 is a privately held company, believed to be worth $3 billion. The owners are well-known for their Christian beliefs, and their stores sell T-shirts with slogans such as, 'I want to believe / to have hope / and to love / God will guide your soul.'"
While the powers that be at Forever 21 may not shy away from whatever it is they call faith, they appear to be fleeing that whole "doing the right thing" thing. A memo that was leaked this week from F21′s HR flunkie stated, "Forever 21 recently audited its staffing levels, staffing needs and payroll in conjunction with reviewing its overall operating budget. As a result, we are reducing a number of full-time non-management positions."
Thefrisky.com notes, "All employees who received the memo will be reduced to a schedule to not exceed 29.5 hours per week. Why is that the magic number? Because under President Obama's Affordable Care Act, mid- and large-sized employers are required to pay for health insurance for employees who work 30 hours or more. Forever 21 thinks it can get around this simply by reducing its technically-full time staff to part-time positions."
Technically, corporations can get around providing health insurance by cutting hours. But, as Papa John's, Regal Cinema ($334 profits in 2012), Applebee's, Jimmy John's and various restaurant chains were made remarkably aware – by ferocious backlash on social media and boycott threats – consumers don't like to see big businesses pad the bottom line on the backs of already underpaid workers.
The thing is, nearly 90% of the country's employers say that the Affordable Care Act won't cause them to downsize or reduce staff or hours; and a part of the ACA little-mentioned by naysayers and such is that if a business already offers health insurance to its employees, and has less than 25 employees, that company will be eligible for tax credits. As Bill Keller of keller.blogs.nytimes.comnoted, " . . . I'm skeptical that many savvy businessmen would turn down a good opportunity to expand simply to avoid offering workers health insurance. If the value of the new business is greater than the employer's share of an insurance plan or a fine, you go for it, right? That's called capitalism."
The latest trend of big companies entrenched in Republican dogma to reduce staff, cut hours or engage in other shenanigans to avoid having to provide health insurance to employees under the ACA is tantamount to cutting off the nose to spite the face. What we're seeing is proof that corporations may not really be people too, but they can be every bit as spiteful: Spiteful against President Obama (a pox on his re-election!), spiteful and bitter over the fruitless efforts of House Republicans (40 fruitless efforts, to be exact) to repeal Obamacare (a pox on this pesky law of the land!), spiteful over the fact that, as Republicans watch in dismay, Americans are greedily gulping the goodies of the ACA that are already in effect (a pox on young adults being covered on parents' health insurance!).
Forever 21 may very well be as immature as its clothing styles; and its denial that its business decision has anything to do with the ACA is a bunch of rubbish.
So, we wearily pile Forever 21 onto the growing scrapheap of companies we, progressives, boycott because these companies just can't seem to do the right thing. Ever. No matter, evidently, how many biblical verses they display on their bags.
Julie Driscoll
Smoking Hot Politics
Saturday, 24 August 2013