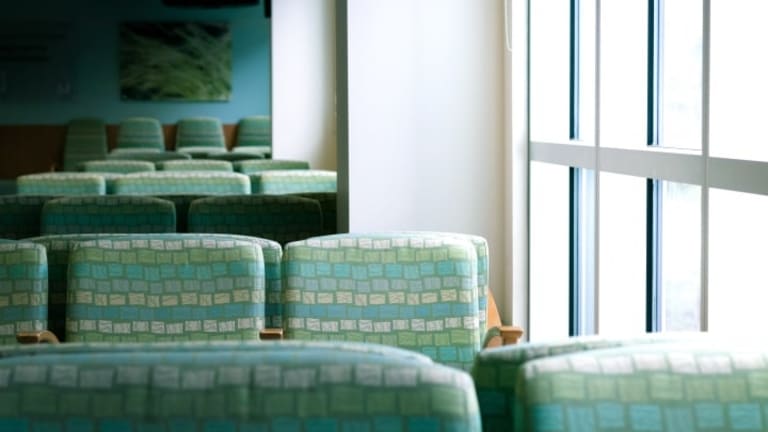 Georgia and Medicaid: Kemp's New Health Care Plan
Mark Kreidler: Medicaid expansion is a popular facet of the ACA, and one that continues to be denied to Georgia residents. With Kemp at the wheel, it's a long way off.
When Georgia Gov. Brian Kemp unveiled his plan in mid-October to ditch the Affordable Care Act and steer low-income residents down a different pathway to coverage, both he and the Trump administration hailed the moves as a way to get more Georgians – perhaps 50,000 of them – insured through Medicaid.
But Kemp and the Georgia Legislature have had the Medicaid option available to them for some time. In fact, they've had the ability to get such insurance extended to nearly 600,000residents, a twelvefold increase over the Georgia Pathways and Access plan that was approved and lauded by the Trump-staffed federal Centers for Medicare and Medicaid Services.
So what was the holdup? It's very simple: Georgia legislators won't approve Medicaid expansion, despite strong evidence that expanding Medicaid coverage would provide a more efficient, less costly system for the state. In promoting his plan, Kemp has made statements directly contradicted by his fiscal experts.
Medicaid expansion is a popular facet of the ACA, and one that continues to be denied to Georgia residents. With Kemp at the wheel, it's a long way off.
It's not a new phenomenon. According to the Kaiser Family Foundation, 12 states still have refused to expand Medicaid eligibility as provided for under the ACA, and that count includes a full bloc of Southeast region states: Tennessee, the Carolinas, Florida, Alabama, Mississippi and Kemp's home state of Georgia.
By no coincidence, those seven states rank among the top 10 in the U.S. for having the highest rates of uninsured people. All except Georgia also went red in the November presidential election, and Georgia itself remains under Republican leadership on the state level. Among the 10 states with the worst rates of uninsured in the country, only Nevada has implemented Medicaid expansion.
Beginning in 2014, the ACA provided for states to enroll in Medicaid residents with annual incomes anywhere below 138% of the poverty level, providing federal subsidies to those between 100% and 400% of the poverty level. Following its implementation, the number of nonelderly uninsured Americans declined by 20 million, reaching a historic low in 2016 before slowly climbing back up during each year of Donald Trump's presidency.
But the brokered Medicaid expansion deal carried an important clause: States could choose for themselves whether to participate or not. And years later, the Dirty Dozen, including Georgia, still refuse to expand coverage.
Kemp's plan, then, was hatched as Georgia's uninsured rate in 2019 stood at 13.4% — the third-worst among the 50 states and District of Columbia. It almost certainly has increased during the COVID-19 pandemic of 2020.
Under his plan, Georgians who make up to 100% of the federal poverty level – $12,760 for a one-person household – can apply for health insurance through Medicaid, provided they can document 80 hours per month of qualifying activity. Such activity includes working at a job, training for one, receiving higher education and performing community service.
Under those conditions, the state would either pay for the person's employer-sponsored insurance plan or enroll them in Medicaid, with the resident paying a nominal premium based on a sliding-fee scale. Beyond that, the Pathways and Access program would divert roughly 500,000 Georgians out of the ACA exchange and instead direct them to private insurance company offerings.
The plan, Kemp said in an October signing ceremony, will allow "thousands of hard working Georgians to finally have health insurance coverage, while making health insurance affordable for millions, millions more." Trump's CMS administrator, Seema Verma, praised Georgia's "market driven, innovative approach."
Of course, it's an approach that leaves hundreds of thousands of low-income Georgians on the outside looking in. And Kemp's Medicaid based plan comes nowhere near to providing the kind of insurance coverage that the ACA Medicaid expansion already offers in other states.
Georgia Republicans have long objected to Medicaid expansion, claiming it would be far too expensive. In touting his plan, Kemp claimed that a full expansion under the ACA would cost nearly $550 million per year, while Pathways and Access will cost $218 million.
But his state's own fiscal analysts have found that claim to be untrue. The Georgia Department of Audits and Accounts estimated that the cost of an expanded Medicaid program through the ACA would be between $188 million and $213 million, while covering nearly 600,000 qualifying Georgians by its second year.
"It's not as expensive as the governor has stated," Laura Harker, of the Georgia Budget and Policy Institute, told the Georgia Recorder. "You're looking at a comparable level there as far as cost, but [with Kemp's plan] not covering nearly as many people."
There's also the real concern that in a move to direct private insurance sales, pre-existing conditions for patients would not be covered. That much is currently mandated under the ACA, a flashpoint for many of the giant health insurers who've long opposed the system.
Those insurers initially responded by writing plans for the exchange that included huge deductibles and offered skimpy co-insurance, though in the past few years more companies have joined the exchange or ramped up more competitive offerings.
Either way, Medicaid expansion has proved an immensely popular facet of the ACA – one that continues to be denied to Georgia residents. With Kemp at the wheel, the ideal of full expansion remains beyond the state's reach. Instead, it's the Kemp plan that is going forward.
"This action would be problematic at any time," the American Heart Association and 17 other patient and consumer groups said in a statement released on the day of Kemp's ceremonial signing. "But it's truly beyond comprehension that – in the midst of pandemic and recession – the federal government and Georgia are teaming up to reduce low-income residents' access to health care."
Mark Kreidler
Capital & Main