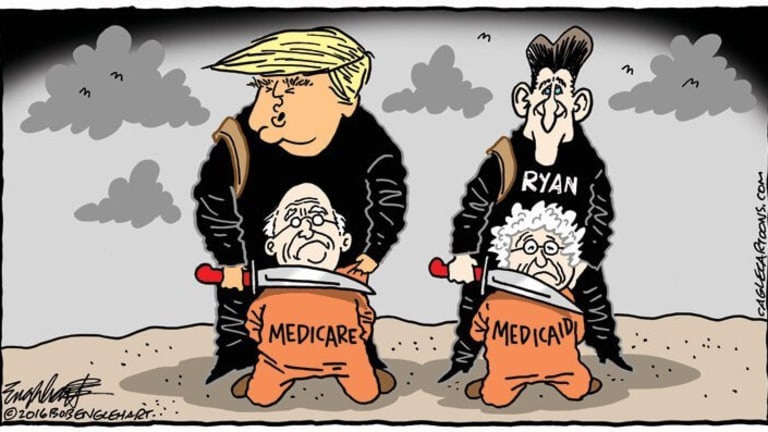 Goodbye Medicare
Peter Cavanaugh: President-Elect Trump is now stating that he is about to "modernize" Medicare with the help of House Speaker Paul Ryan.
At the risk of appearing unduly self-aggrandizing, perhaps even petulantly annoying, please allow me to repeat an observation originally expressed on April 2nd, 2015 in The Sierra Star, a McClatchy publication serving the Yosemite region.
"Now – only one man stands in their way.No matter whom you voted for or how much it's become fashionable to publicly despise his name in certain circles as a sign of fraternal conviviality, without Barack Obama — you can kiss Medicare, as we know it, goodbye."
I was writing about how Barack Obama alone could be counted on to block any efforts by a new Republican Congress to gut Medicare.
Obviously, this will no longer be true after January 20, 2017.
Ominously, the writing's on the wall.
President-Elect Trump is now stating that he is about to "modernize" Medicare with the help of House Speaker Paul Ryan.
President-Elect Trump is now stating that he is about to "modernize" Medicare with the help of House Speaker Paul Ryan.
Ryan's been trying to phase out Medicare and replace it with private insurance for several years. It will be based on a voucher system. Everyone will get a certain amount of money from the government to buy the best policies available on a free market, "free" in this instance potentially meaning unregulated – and expensive. If your voucher won't cover the cost of adequate protection, maybe that serves you right for not setting aside enough retirement money back when you could. It's really your own fault. Don't blame the Speaker of the House. He hopes you've learned your lesson.
Mr. Ryan will finally enjoy a unified Republican government under Trump's leadership or lack thereof and has signaled he will rush things along to realize his goal of establishing a "patient-centered health system" – whatever that might be -- other than warm and fuzzy words that suggest everything and promise nothing.
But wait. Trump has guaranteed he wouldn't touch Medicare.
Oops. Looks like the joke's on us.
The Trump transition team has now gone on record unequivocally stating that the boss should certainly not be taken "literally" for "things he says in public." Those are just words. Such clarification was presented to representatives of Japanese Prime Minister Shinzo Abe before Abe's hastily arranged meeting with Donald last Thursday. Shinzo was trusting that perhaps Tokyo won't have to built their own nuclear weapons after all. Are there kits for that sort of thing?
They got together at Trump Tower, now informally designated as a new "White House North" – where President Trump apparently will be spending most weekends back in the glitter and gold of his mighty erection -- away from the depressing slums of our nation's capitol city, including a certain decrepit old building at 1600 Pennsylvania Avenue. It doesn't have escalators. Call in the bulldozers.
Melania has already announced that she and Barron won't be moving to Washington. Unfashionable.
The only horrible thing about New York to Trump & Company is that residents of Manhattan insolently voted for Hillary Clinton over the Trump/Pence ticket 86.4% to 9.9%. That's not a typo. But that's why Vice President-Elect Mike "Poodle" Pence shouldn't have been particularly surprised when he encountered considerable booing Friday night when he sat way down front at the Richard Rogers Theater. He wanted up close enjoyment of the red-hot Broadway hit, "Hamilton". Poodle got more than he came for.
At the conclusion of the musical, Brandon Victor Dixon (in the major role of Aaron Burr) acknowledged that Pence was in attendance, thanked him for being there and added an appeal to "uphold our American values and to work on behalf of all of us." The audience broke out in applause and cheers. Not the Trumpster.
In yet another dazzling display of tenuous temperament and shrieking insecurities, Trump tweeted from the Tower:
"Our wonderful future V.P. Mike Pence was harassed last night at the theater by the cast of "Hamilton". This should not happen. Apologize!" Sunday morning he upped the ante. "The cast and producers of "Hamilton" which I hear is highly overrated, should immediately apologize to Mike Pence for their terrible behavior."
Sunday's thin-skinned twitter fest also took another shot at NBC's "Saturday Night Live". Tweeted Trump:
 "I watched parts of "Saturday Night Live" last night. It is a totally one-sided, biased show – nothing funny at all."
 [dc]H[/dc]ere's what's not funny. Donald John Trump has not received any sort of meaningful mandate, nor does he reflect the majority will of the American people. He is President-Elect only due to an antiquated, archaic legal technicality known as The Electoral College, having lost popular support by well over a million and a half votes. His transition team shows every sign of backward motion at blinding speed. We are being shattered.
"Here comes the night.
The long and lonely night" – Van Morrison (1965)
Peter Cavanaugh