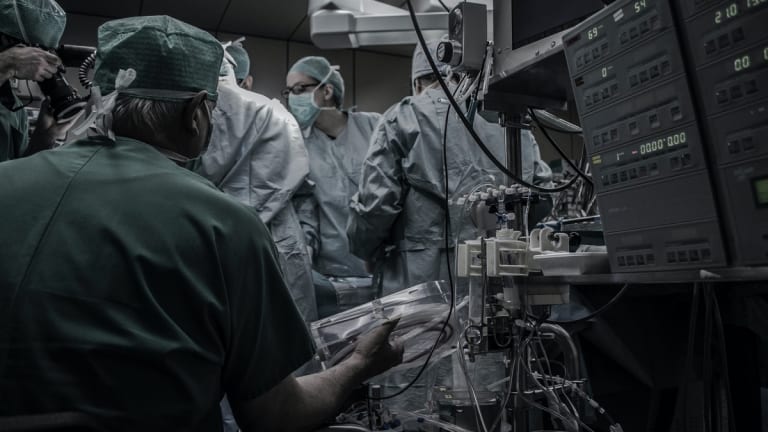 Health Care Coverage, Love and Insurance Companies in the Time of COVID
Brian Biery: The benefits of AB1400 are lengthy and include the streamlining of administration: all health care providers would bill just one entity in a single-payer system.
With every ache or sniffle, an overwhelming anxiety builds in one's mind: is it the coronavirus? Did COVID finally track me down in its relentless pursuit of identifying human hosts to infect? The enormous anxiety that one would face in that moment is agonizing for anyone. However, imagine if you were one of the state's 3.2 million residents who is uninsured, or one of another 12 million who is under-insured. Then the fear is not only one of debilitating illness, but also of financial ruin.
The Affordable Care Act, as much as it was intended to provide health care for as many Americans as possible, still has significant gaps which leave the 15 million Californians (roughly one-third of the state's population) vulnerable to high health care costs and the potential for substandard treatment. Covered California, the ACA's state system organizer, has similar challenges with its structure of levels of coverage that are based on one's income level and ability to pay its monthly fees.
One of the greatest issues for folks who are insured at the lowest levels of Covered California are copays and deductibles. A friend recently described that she scheduled a long postponed knee surgery for December 28. When asked why she squeezed it in to the end of the year during the holiday season, she replied bluntly that it was because of her insurance company's deductible policy. She had spent enough on medical bills that year to reach full coverage by paying more than $6,500 in deductible fees to that point. If she waited until after Dec. 31, then she would have to start all over to cover her deductible of $6,500, so she was rushing to schedule the knee operation so that her health care provider would pay for it.
The benefits of AB1400 are lengthy and include the streamlining of administration: all health care providers would bill just one entity in a single-payer system.
Another peculiar aspect of CC's health insurance plan options is the notion of 'coinsurance', or what you are required to pay for service, as opposed to the health care plan insurance company. For the Bronze levels the 'coinsurance' level, or out-of-pocket cost, is extremely different than for the other 'metal' levels. For example, for many of the Bronze categories a patient could pay 40%-60% of the cost for any procedure, whereas at the Silver level it would be around 20%, and Gold or Platinum would generally be zero.
What does this all mean? The key to determining affordability is assessing the total costs per year for maintaining your plan: the premium (monthly payments), deductibles and out-of-pocket (coinsurance) costs. For a person who is making about $15 an hour who selects even the Bronze category, this could mean that one would pay nearly $8,000 in a year in out-of-pocket costs (deductibles, copays, coinsurance) if one had a bad back, an infection and a serious illnesses, like COVID, during the year. For that level wage earner that amount is about 25% of gross earnings. When considering the costs of rent, food, transportation, clothes, and any other essential expenses, that doesn't leave much left over to live on. 
So what can we do about the high cost of health care insurance and coverage in the state of California? Well, actually quite a bit! In the State Assembly this week there is a bill that is proposing comprehensive health care for all. A novel idea that has been embraced by many other countries around the world, AB1400 would create a single-payer health care coverage system for all residents. In other words, one entity - a single payer - collects all health care fees and pays for all costs of health care.
The benefits of AB1400 are lengthy and include the streamlining of administration: all health care providers would bill just one entity in a single-payer system. In addition, all California residents would be covered! There would be no uncovered or under-insured community members; everyone would have access to health care, which is a benefit not only for the individual, but also the community, especially during a global pandemic. What would also be eliminated are copays, coinsurance, deductibles, premiums and there would be no further talk about "in network" or "out of network" in the selection of providers.
In the past few months two of my friends' families have started GoFundMe campaigns and used social media to try to raise the $10,000 to $20,000 needed to receive treatment for their serious illnesses. What does it say about a society where people are forced to try any means possible to collect the funds necessary to take care of their loved ones? Why is it that in a state that boasted 189 billionaires in '21 and yet there are tens of thousands of people who can't even visit a doctor for a check-up because they are not covered by health care in California!?
It is time for a change in how we take care of each other's health! We have the chance to end inequitable access to health care, disparities in health outcomes and to improve administrative efficiency with the passage of AB1400. How will your Assembly Member vote on this issue? 
Brian Biery