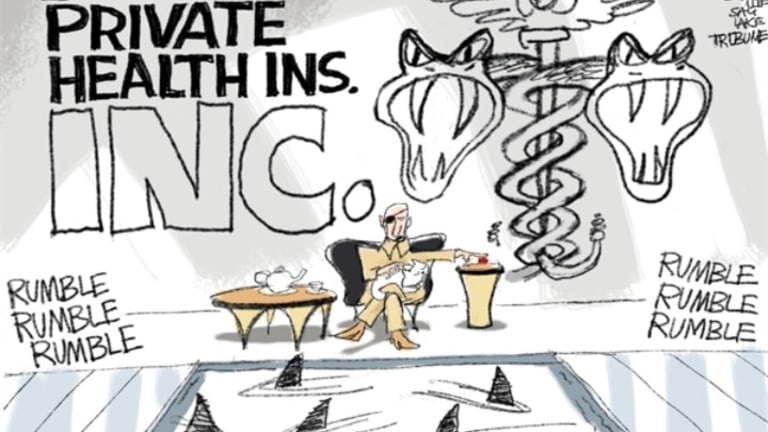 Hand Over Fist: Health Insurers Make a Killing During Contagion
Mark Kreidler: The philosophy that our premium dollars should be going to patient care – and not just left in company pockets – should be the expectation.
From the onset of coronavirus, U.S. hospitals and health facilities were in scramble mode, and many quickly found themselves upside-down financially. An industry-funded study has projected hospitals to lose more than $200 billion from March through June. Layoffs and furloughs have become common. In California, more than a third of primary care physicians fear they will have to close their practices. Rural hospitals and clinics, already under siege, are folding at alarming rates.
But one sector of the health industrial complex in America is doing just fine. In the midst of a pandemic, health insurance companies are raking in money at such a clip that many of them expect to deliver exactly the profits they'd predicted before the virus hit – and some will perform even better than that.
The philosophy that our premium dollars should be going to patient care – and not just left in company pockets – should be the expectation.
That point was driven home with authority when UnitedHealth Group (UNH), the Minnesota-based giant that includes plan provider UnitedHealthcare (UHC), announced in April that its first-quarter earnings for 2020 grew by 6.8 percent to $64.42 billion. That beat Wall Street's estimate and boosted the company's stock price 2.6 percent, to $277.50. By mid-June, it was trading above $300 per share.
In fact, UNH, the largest healthcare provider in the U.S., was so profitable that it skimmed off $1.7 billion this spring to buy back 6.2 million shares of its own stock. While that action might strike some as bad optics during a global health crisis, it stretched the boundaries of no law.
From advocacy groups to the halls of Congress, the question of what health insurers are doing with their profits – and what they should be doing – is becoming a larger and louder conversation, and it may help shape policy going forward. The insurers could, for example, use the moment to issue aggressive premium rebates to hard-hit plan subscribers, or to tamp down potential rate increases in 2021. But the reality is that, so long as they walk just inside the line of federal mandates on health spending, there is no upper limit to what these companies can make – or how they choose to spin what's happening.
"It's brazen," said Anthony Wright, executive director of Health Access, a California-based health consumer coalition. "There are insurers that are taking some of the right steps, but others are not, and that's not a sustainable thing."
On the P.R. front, the companies appear unified. In April, about a week before UNH's first-quarter revenue disclosure, industry lobbyist America's Health Insurance Plans (AHIP) and Blue Cross Blue Shield co-wrote a letter asking the government to give them more money and to make financial relief available to individuals and employers so they can keep paying their premiums. Doing so, the letter said, will "ensure that health insurance providers can meet extraordinary, unanticipated costs related to COVID-19."
For the record, those costs have yet to be a problem. Anything insurers have paid in COVID-related claims has been more than offset by the huge decrease in scheduled (non-ER) surgeries, check-ups and minor procedures – the kinds of things for which insurers normally have to reimburse doctors, hospitals and medical facilities. It was precisely this dynamic that led UHC to its revenue uptick and prompted Moody's, the credit rating service, to declare that U.S. insurers would remain "solidly profitable" so long as virus infection rates fall somewhere between 2 and 10 percent. Zacks Equity Research named seven major insurers, including UNH, Anthem, Humana and Cigna, as poised "to pull off positive earnings surprises."
So as people fearful of infection stay home, and hospitals – often under governmental order – limit all but the most necessary non-COVID procedures, insurance companies continue to collect premiums but pay far fewer claims than they otherwise would. The insurers warn of potential rising costs from a predicted second wave of the virus, and they often invoke the great unknown of 2021, but in the meantime, they're flush.
And as long as they put 80 to 85 percent of the premiums they receive back into health care claims and "quality improvement," the companies are honoring the tenets of Medical Loss Ratio (MLR), one of the most significant concepts of the Affordable Care Act. In theory, MLR – so named because insurers consider paying a claim as a loss – acts as a cap on what percentage of the money the insurers get to keep for administrative expenses and profit. (It does not dictate how much revenue they can drive.) If an insurer falls short of what it's supposed to be spending, it has to refund the difference to policy-holders, and in 2019 a record $1.4 billion in such rebates went back out, according to research by the Kaiser Family Foundation.
But MLR is averaged over a rolling three-year period, so even an unexpected boon like 2020 doesn't automatically mean fat rebates will occur. Further, MLR applies only to group and individual market plans, not to fully self-insured ones (like employer-paid plans), which are a separate source of revenue to the insurance giants.
Under the Families First Coronavirus Response Act, insurers must fully cover the cost of COVID-19 testing for most patients – but not the treatment or hospitalization that might follow. So the pandemic itself is a potential profit-making scenario for the insurers, even as they suggest that once it wanes, long-delayed procedures and hospital visits will again drive up their claims costs.
"Health insurers are arguing pent-up demand," said Linda Nguy, a policy advocate with the Western Center on Law & Poverty. "We haven't seen that play out – but it may be too early to know for sure."
Wendell Potter, a former top executive at Cigna who now advocates for a Medicare for All solution to health policy, disagrees: It's not too early to know. In a series of tweets timed to UHC's announcement of its revenue increase, Potter wrote in part, "While America's reeling from the COVID-19 crisis, my old industry – the private health insurance racket – is winning big."
Last month, U.S. Rep. Katie Porter (D-Calif.) made it clear where she stands. In a scathing letter to UnitedHealth Group CEO David Wichmann, Porter, a member of the House Financial Services Committee, suggested that UNH was attempting "to reduce health care provider networks and decrease reimbursement rates," including cutting doctors out of the plan. She added that the Trump administration "has so far failed to safeguard against disastrous medical costs for those diagnosed with COVID-19." She asked Wichmann for detailed answers to a series of questions.
Porter is still waiting for those answers, but in her home state, action is bubbling up. California's Department of Managed Health Care recently ordered insurers to provide documentation of the steps they're taking to keep their member providers afloat and adequately delivering care – a question that goes directly to the heart of what insurance companies might be able to do with some of their unexpected profits.
"The provider community has been screaming that they're losing money and could potentially see some closures,'" said Health Access' Wright. "The insurers have been in a number of conversations with providers who are saying, 'Look, at the end of the day you need us to be your network. If we go under, that doesn't help you.'
[dc]"W[/dc]e didn't exactly design policy for a once-every-hundred-years pandemic," Wright added. "But the philosophy that our premium dollars should be going to patient care – and not just left in company pockets – should be the expectation that we set."
Mark Kreidler
Capital & Main