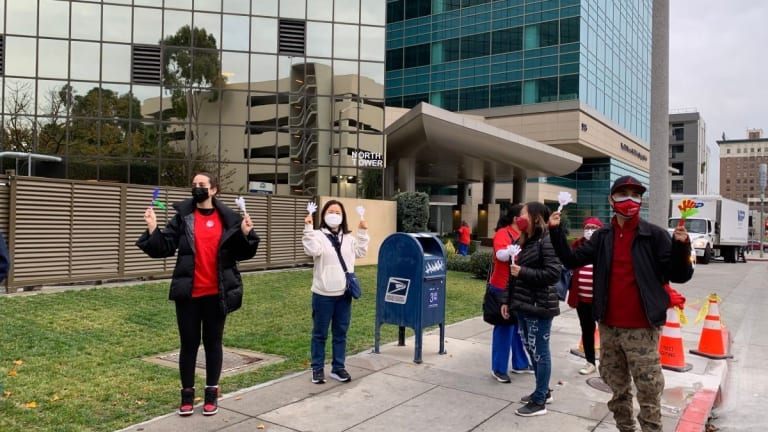 Hundreds Caravan for Medicare for All Across California
Mark Friedman: Businesses are fighting AB1400, as are health insurance companies. They say California cannot afford it…but what is the truth?
National Actions January 13 Protest CDC Unsafe Guidelines
With nurses leading the caravans in more than 24 California cities, hundreds demanded passage of AB 1400 that would guarantee medical care to all…regardless of age, medical condition, citizenship status.
More than 60 cars took part in Hollywood, 15 in Anaheim and in Bell Gardens, downtown LA, Woodland Hills …
National Nurses Union (NNU) and California Nurses Association (CNA) leader and caravan organizer, Erika Feresten told the crowd "California has the money, we can make CalCare a reality.
Solidarity Project activist Michelle Manos added "With systemic problems in health care in this country, the only way out of this mess is winning medical coverage for all. That is especially true now with Covid safety a priority."
Businesses are fighting AB1400, as are health insurance companies. They say California cannot afford it…but what is the truth?
In a press statement, Cathy Kennedy, registered nurse and president of the CNA said, "This for-profit health care system has cost lives, all so that a few health insurance executives can line their pockets. This newest COVID-19 surge further shows how broken our current system is. California has an opportunity to make history and finally say that health care is a human right."
Businesses are fighting AB1400, as are health insurance companies. They say California cannot afford it…but what is the truth?
What Is the Anticipated CALIFORNIA Budget Surplus?
 "Despite the ongoing global pandemic and its disparate health and economic impacts on Californians, revenues are growing at historic rates and we estimate the state will have a $31 billion surplus (resources in excess of current law commitments) to allocate in 2022‑23." California Legislative Analyst's Office (LAO) 11/17/2021.
LAO: The Legislature had a $47 billion surplus to allocate in the 2021-22 Budget Act.
California ALREADY HAS THE MONEY to fund Health Care for Everyone.
The statewide caravans, the largest yet, were timed to coincide with a critical date: The bill must pass out of the Assembly Health Committee by January 14th. Which it did but faces strong opposition by Democrats and Republicans, financed by Big Pharma and insurance companies.
AB1400 has been endorsed by: California Teachers Association (310,000 Members), Unite Here (300, 000 Members), California Nurses Association (100, 000 Members), California Alliance of Retired Americans (950, 000 Partners), Los Angeles City Council (3, 983, 540 Residents)
NNU Champions Safety, Challenges CA Governor Newson CDC rulings
They reject Governor Newsom's decision to allow California hospitals to let infected health personnel return to work immediately, without isolation or testing.
"NNU President and RN Jean Ross told news outlets the truth: that by weakening their Covid-19 isolation guidelines to seven days for health care workers — and even less time if there are staffing shortages — the CDC is putting thousands of lives at risk.
"It is very dangerous to come to work sick with covid. It can be fatal for us and for the patients, especially those with cancer," says González Huitrón, who has been a registered nurse for 7 years and works in the Covid Unit of the Hospital del Buen Samaritano (Good Samaritan Hospital) in Los Angeles.
According to the Nurses Union, almost two years into the covid-19 pandemic, the United States is not experiencing a shortage of nurses, "it's just a shortage of nurses willing not to risk their licenses or the safety of their patients by working. in the unsafe conditions imposed on them by for-profit employers."
They point out that employers are looking to make the staffing crisis the new normal and a major threat to patients in the country.
 Zenei Triunfo-Cortez, President of NNU told the media: "But employers have prioritized profits over safety and patient care. They have been making staffing cuts since long before Covid, and with the pandemic still raging, they are driving away desperately needed nurses."
While the CDC now claims this change is motivated by science, nurses know it's motivated by something else entirely: employers wanting workers back on the clock fast, regardless of whether it's safe, to maximize their profits."
This move by the CDC comes as Omicron is exploding across the country, single-day records for Covid-19 cases continue to be broken, and the number of available ICU beds dwindles in hospital after hospital. What's more, this change comes right as OSHA announced its plan to rescind hard-won emergency protections for health care workers….their actions pose very real risk for nurses, other health care workers, and patients. 
"We've fought since day one of this pandemic for protections for nurses and health care workers based on science and the precautionary principle, and we're not backing down now," said a NNU press release.
On the January 13 National Day of Action, nurses, other health care workers, and activists across the country stood up for health care as a priority---not the profits of businesses or, insurance companies or big pharma.
For more information, go here.
Mark Friedman
RLNews reporter