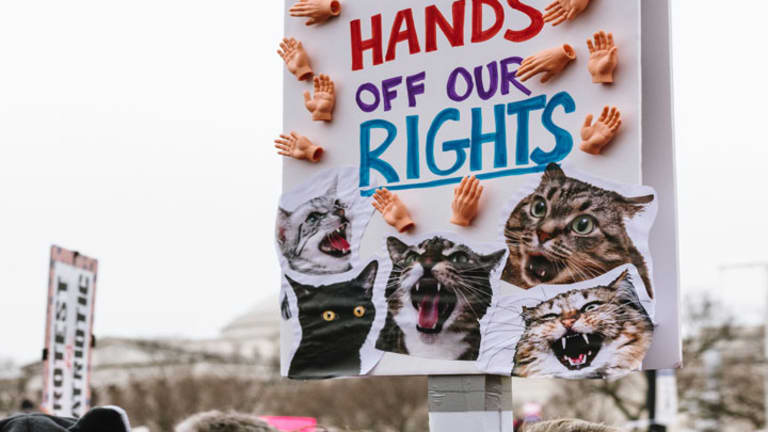 From San Pedro to DC, Tens of Thousands March to Defend Abortion Rights
Mark Friedman: Since 1973 right-wing antiabortionists, and Democratic and Republican politicians alike, have chipped away at women's reproductive rights.
In the greatest outpouring of woman's right to choose supporters in the past five decades, from small cities to large, women and their allies took to the streets to protest a recent Texas law severely curtailing abortion rights and to send the Supreme Court a message: "My Body, My Life. Not the Church, not the state, women shall decide their fate. Defend Abortion Rights." 
The march and rally in downtown Los Angeles, from Pershing Square to City Hall, was one of the largest in the country with 7500 participants from throughout LA County. It was in its vast majority, young, majority female and many people of color.
Speakers included politicians, civil rights and women's rights and health organizations, youth, attorneys and others.
Individuals this reporter spoke to confirmed that for many, this was their first demonstration ever and certainly since the pandemic began. There was an air of militancy and determination but unfortunately there was no future action called for, as people walked away the energy and determination dissipated.
Since 1973 right-wing antiabortionists, and Democratic and Republican politicians alike, have chipped away at women's reproductive rights.
One young woman, Jennifer Garcia, I spoke with explained that she thought a "national conference of all supporters for abortion rights is desperately needed in order to plan further actions after a democratic and open discussion. We cannot just wait for midterm elections. We need to act now since the Supreme Court will be taking on an even more important case in December. We know we have the power. We demonstrated it in 1973 and we can demonstrate it again."
"I came for my daughter, for my sisters, my aunts, my mother" Kelly Julian from La Habra told the LATimes. "I came for all women to support our right to choose what we do with our bodies."
Called by the Women's March, whose 2017 protests involved nearly 4 million women right after Trump was inaugurated president, said in their website that demonstrations took place in more than 650 cities including half a dozen in Los Angeles County; from Beverly Hills to San Pedro.
Protests took place in all 50 states. A common theme was "Hands off my uterus. Our bodies, our choice. We will not go back." Most signs were handmade with a tremendous variety of slogans confirming the groundswell of individual support for these actions, despite the fact that a coalition of 200 organizations was involved in the national level. Many young women carried signs that said "Not this again" attached to a clothes hanger, referring to the back-alley abortions that many women were forced to undergo prior to 1973."
In Washington, Planned Parenthood President Alexis McGill Johnson, said the actions represent "a movement moment" for reproductive rights. "More than 80% of Americans believe that Roe should be the law of the land and yet, in state after state, these horrific restrictions and bans are continuing to further erode our ability to access our constitutional right."
"I think what Texas has the potential to do is usher in a de facto end to Roe, because there are 25 other states that are looking quite closely at their ability to engage in copycat legislation, starting as early as the next legislative session in '22. What we have with Mississippi, Dobbs v. Jackson Women's Health Organization, that the Supreme Court will heart December 1. Jackson is the sole provider of abortion in Mississippi. This 15-week abortion ban is another clear violation of our constitutional right to an abortion."
The Texas law being protested bans abortions after six weeks, which is when healthcare providers can detect the fetal heartbeat, but before most women know that they are pregnant. It is the strictest abortion law since the Supreme Court's decision in Roe V Wade in 1973 and provides no exceptions for victims of rape or incest.
Since 1973 right-wing antiabortionists, and Democratic and Republican politicians alike, have chipped away at women's reproductive rights. First with the Hyde amendment that prevented any federal funding for abortions (supported by Senator Biden), to restrictions on time limits, multiple visit requirements and waiting periods, attacks on medical plans that pay for abortions, and other efforts, which means that today virtually no hospital in the country will perform an abortion. Hundreds of clinics have been shut down in the face of demonstrations by antiabortion, so-called pro-life groups.
The Texas law allows residents of any state to sue medical clinics, doctors, nurses, and people drive women to get an abortion for damages of up to $10,000. The Supreme Court upheld the law 5-4.
And more ominously in December, the Supreme Court will hear arguments from a Mississippi law that wants to ban abortions in that state after 15 weeks.
Over the weekend, a longtime physician in Texas revealed he has defied the law and provided an abortion in order to care for one of his patients. Dr. Alan Braid made the admission in an article for The Washington Post. He writes, "I acted because I had a duty of care to this patient, as I do for all patients, and because she has a fundamental right to receive this care. I fully understood that there could be legal consequences — but I wanted to make sure that Texas didn't get away with its bid to prevent this blatantly unconstitutional law from being tested."
DR. BhavikKumartold Democracy Now "It's Christian essentialism that's taken over. And it's not what the people want in Texas. The vast majority are supportive of abortion. But, unfortunately, the people in power are pushing their agenda forward… So, I think what we know from centuries of humanity is that people will always need access to abortion."
Mark Friedman