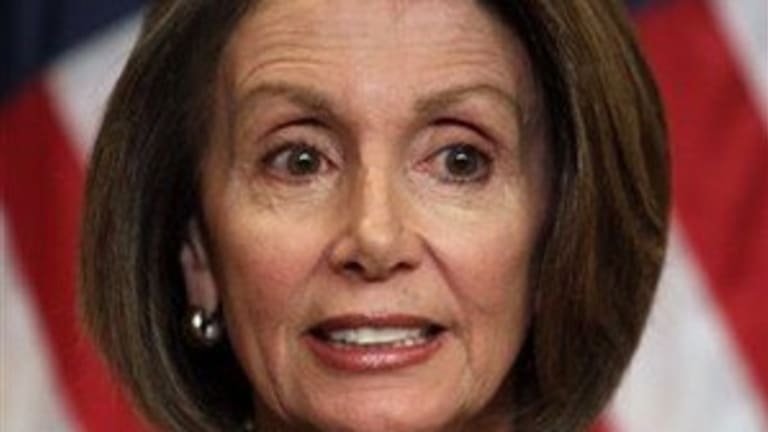 By Saving Obamacare, Does Pelosi Earn Support in 2018
Pelosi's Leadership Kept Democrats in Line
You know the whispering about someone like Jane Kim challenging Nancy Pelosi from the left in a 2018 Democratic primary? That challenge wasn't happening before last week; after she saved Obamacare, anybody deeming Pelosi politically vulnerable is living with alternative facts.
Nancy Pelosi did as much if not more than Barack Obama to enact Obamacare (See, "Nancy Pelosi Deserves Chief Credit for Health Care Victory," March 22, 2010). She clearly did more than any politician to prevent its repeal.
For all the talk about the Freedom Caucus, key to the killing of the GOP repeal bill was Pelosi's keeping every single House Democrat in the No column.
For all the talk about the Freedom Caucus, key to the killing of the GOP repeal bill was Pelosi's keeping every single House Democrat in the No column. Absent Pelosi's leadership, Democratic House members representing districts won by Trump might have made private deals in exchange for repealing Obamacare.
That's what a Democratic House majority did during the Reagan years. Nancy Pelosi stopped a bad chapter of history from repeating.
1981 Tax/Budget Reform
Ronald Reagan's first budget in 1981 was the most reactionary federal tax and budget plan in U.S. history. The Speaker of the House at the time was Tip O'Neil, the mentor of Hardball's Chris Matthews.
Democrats controlled the House in 1981 by a margin—-244-191—bigger than what Republicans have today (it was 237-193 last week). This strong Democratic House majority should have opposed any draconian cuts to vital federal programs.
O'Neil called Reagan "the most ignorant man who had ever occupied the White House," and said Reagan's policies meant that his presidency was "one big Christmas party for the rich." But old Boston pol O'Neil enabled Reagan to hold that Christmas party by not keeping Democrats in line.
Lacking Nancy Pelosi's leadership and mobilizing skills, O'Neil let House Democrats cut private deals with Reagan both on the budget and tax side. The result: Federal budget cuts to housing and other programs that have never been restored and a tax bill that caused the greatest upward redistribution of wealth in U.S. history.
And Democrats had a huge House majority!
Yes, there were still conservative Southern Democrats in those days who voted with Republicans on fiscal issues. But O'Neil's top allies like Ways and Means Chair Dan Rostenkowski (a Chicago pol later convicted of corruption and sentenced to prison) actually played crucial roles in writing the 1981 tax bill that gave the rich their Christmas party.
Unlike Nancy Pelosi, O'Neil allowed ranking House Democrats to make deals with Reagan hostile to the Party's base. O'Neil seemed to feel that so long as he kept speaking out against Reagan's budget and tax plans that it was fine for his allies and the House Democratic majority to approve them.
The nation is still paying the price for Tip O'Neil's failure. The draconian HUD budget cuts in 1981 have never been restored. These cuts paved the way for widespread visible homelessness to persist and worsen through today.
Challenging Pelosi
I never responded to inquiries about whether Jane Kim should run against Pelosi because I felt only those seeking to destroy Kim's political career would push such a race.
Some on San Francisco's left have never appreciated Nancy Pelosi for the same reason that the SFBay Guardian long refused to endorse progressive hero John Burton: these electeds are seen as part of a Democratic Party "machine." Progressives who prioritize getting progressive legislation passed and reactionary legislation stopped admire Pelosi and Burton, who also are the best of friends (Both Pelosi and Barbara Boxer cite Burton as a mentor).
Critics of Pelosi believe that she could be vulnerable to a Bernie Sanders-type campaign against her. I recall similar thinking by the national Republican Party when they convinced State Senator Milton Marks to challenge Congressmember Phil Burton in 1982. The GOP thought Burton was "out of touch" with his district and lacked a grassroots support base. They thought Marks, with a long history of winning Democratic support, could take down the Congressional giant.
Burton won that 1982 race by 18%. I was at the SF Democratic Party headquarters for GOTV on Election Day and the line to help Phil Burton went down the block. The crowd was diverse racially, ethnically and by age, and I thought at the time that if this were the "Burton Machine" it sure was impressive.
The same political support for Pelosi would happen if anybody with even a 1% chance of winning challenged her . You would have every labor union in the city making her re-election a priority, and people would be coming out of the woodwork to lend a hand.
I don't think any aspiring progressive politician would have run against Pelosi before she saved Obamacare; such a race now would be pure political foolishness.
Since last Friday, Democrats and progressives are more hopeful about the future under Trump than at any time since his election. Nancy Pelosi's strong leadership is a major reason why.
Randy Shaw
Beyond Chron