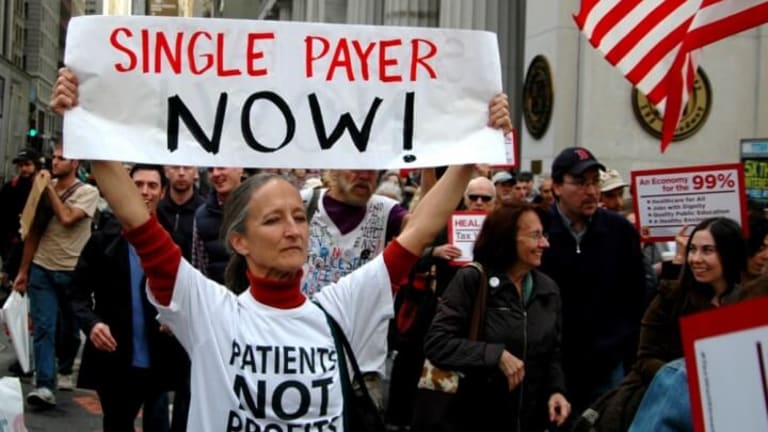 Walking the Streets for a Healthy California
A few weekends ago, I joined a group organized by the California Nurses Association to promote SB562: Healthcare for All. The basic idea seemed a good one. We would get a bunch of volunteers together and they would knock on doors in a designated community. The message to those who answered the knock was about SB562 and the fight to get single-payer healthcare through the California assembly, where it's been stuck since Anthony Rendon decided to shelve it.
We were supposed to be part of a state-wide movement. But when I arrived, we only had about 10 people to cover a large area. Still, we did our best. Another volunteer and I dutifully marched through the neighborhood, knocking eventually on about 70 doors, and getting about five people to speak with us. I went through the same exercise two weeks later, and we got about 12 people to speak with us.
The best part of the exercise was feeling organized by being part of a group employed to promote a very worthwhile cause: single-payer healthcare.
The point of the knocking and talking was to inform the public about SB562 and to get the people we spoke with to talk to their assembly representatives. The best part of the exercise was feeling organized by being part of a group employed to promote a very worthwhile cause: single-payer healthcare. But the worst part was realizing that all of our efforts were accomplishing very little.
I can compare my two experiences. The first knocking exercise was done in the Baldwin Hills area. We got few responses to our door knocking, and those to whom we spoke seemed very uninterested in our message. Moreover, the geography of the neighborhood was very hilly,with lots of apartments, and it was very difficult even to reach the doors. The second try was in North Hollywood. The terrain was much flatfsd, and the people more willing to answer their doors. Moreover, the occupants were much more willing to commit to contact their representatives. But in the end, after two hours of walking, we got only a dozen really positive responses.
Isn't there a more effective way than this of getting a lot of motivated people to telephone their state representatives? Here's my suggestion.
There are a lot of people out there who have signed up to work for forward thinking political causes – everything from the campaign for Bernie Sanders to Healthy California to Climate Change. Those organizations have lists of people in California, along with their emails (at a minimum). Where those people live may not be actually known right from the start, but what we do know is that they are motivated, live in California, and would most likely support SB562.
So why not create an email list and send each of them an email. Tell them that it would be great if they would call their representative. Give them a number to call if they cannot figure out who their representative is. And ask them to send back an email with the name of their representative and a statement that they called him or her.
From this beginning, we could assemble a group (potentially a large group) willing to pummel the state assembly with phone calls on important topics. We could add requests to call representatives in Congress where that became necessary.
If we had an organized group of volunteers who were willing to contact politicians, we would have a really effective way of getting out the word. I know that, from my own personal vantage point, I'd be quite happy to use phone or email to get my opinions out. And I have a lot of Facebook acquaintances who would be willing to do the same. I think a systems like that would be far more effective than calling on volunteers to walk around neighborhoods and knock on unknown doors in vague hope of getting volunteers.
Michael T. Hertz