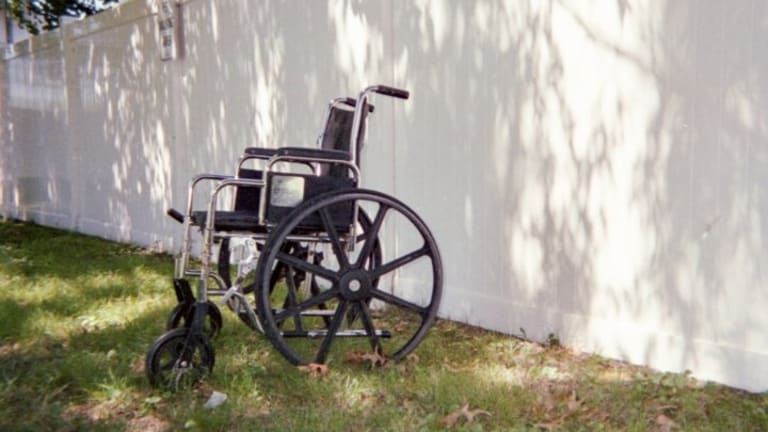 A Healthy Quality of Life Should Be Available to All — Even the Poor, Sick and Disenfranchised
Jennifer Alexander: Health-care woes often lead to homelessness, but once a person is homeless, getting health care gets even harder for the most vulnerable.
Health-care woes often lead to homelessness, but once a person is homeless, getting health care gets even harder for the most vulnerable.
Editor's note: This story was produced in partnership with The Contributor, a street media paper in Nashville, Tennessee, and is part of "The Right to a Home," a Community Based News Room (CBNR) series that examines homelessness issues across the United States. CBNR is a project of Law@the Margins, and the eight-part series is supported by a Solutions Journalism Network grant. 
A cold, late-winter rain was falling at the spot where Anita sold street papers to people passing in cars when she first felt a crushing pain in her chest.
"I've had some pains in my life, and I've had some stuff happen to me, and I'm just like, 'Oh, I gotta keep going,'" Anita remembers. "I was in so much pain I was crying."
It wasn't until she had sold all of her papers, the whole time racked with pain, that she made her way to a local grocery store where she was able to take her blood pressure.
"It was 200 something over 90. And I was like, 'OK, Lord, I get the message. I'm not going home. I'm going to the hospital.'"
There was a time when Anita would have resisted the idea of going to the hospital. But she had been approved for TennCare medical benefits and didn't have to worry if they would treat her or not. She wouldn't have been alone in that worry. The U.S. Census Bureau finds that more than 10 percent of Tennessee citizens are medically uninsured.
The doctors told her she was having a heart attack and would need surgery to clear a 70 percent blockage in a main artery. The surgery went well, and Anita was discharged three days later and told to rest.
Just a few days after her release from the hospital, Anita was at The Contributor office getting more papers because she didn't have any money and she had bills to pay. She feared losing the little she had worked so long to get.
"I was consumed with my fear of being homeless again and my overwhelming anxiety and health issues," Anita says.
Anita had been chronically homeless for many years. She had experienced mental illness troubles and a heart condition. And because she had no medical insurance, her health had deteriorated year after year.
"[F]or many years, I had nothing and couldn't show them I was vulnerable enough," Anita says about her efforts to get disability benefits.
Like many who apply for TennCare, she tried many times to get coverage and isn't quite sure what tilted her into coverage status. One day, she got a letter in the mail that she had been approved.
Today, Anita is doing well and continues to work hard, despite all of the obstacles in her path, to maintain her health, her dignity, her housing. Like so many of our most vulnerable neighbors, she perseveres.
"You know, it's amazing, and I thank God that I'm in housing because I am able to take care of myself a lot better," she says. "It really is a blessing and so much easier to care for this body when I have a roof over my head."
Sometimes, There Are No Good Choices
Individuals are pushed into homelessness for any number of reasons. If you've met one homeless person, you've met just one homeless person. Each person has their own unique story that contributes to why they became homeless, but near the top of the hierarchy of reasons is the lack of dependable, accessible, affordable health care.
I once had to make a decision about whether to keep my apartment or pay enormous medical bills.
I felt as though I had been backed up to the edge of a cliff with bill collectors in hot pursuit. I remembered the scene from "Butch Cassidy and the Sundance Kid," where Butch is trying to convince Sundance that they should jump from the cliff's edge into the river far below to escape "who are those guys?' Sundance says he doesn't want to jump because he can't swim. Butch laughs and says, "Are you crazy? The fall will probably kill ya."
So I jumped.
I slept rough, as they say, throughout the summer and continued to work. Now, I live in public housing. But that was interesting. When the weather turned cold and the place I was spending the night locked the bathroom I had been using to keep myself clean, I knew I had to find a better solution to my problem. I headed for a big city where I thought I could find help. I had not been killed by my jump, but I was in pretty rough shape.
Like me, many hourly workers who live paycheck to paycheck are often one accident or one serious illness away from being on the street. Even if they are fortunate enough to have health insurance — high deductibles, arbitrary uncovered procedures, copays and medication often ruin them financially. According to a 2009 report from The American Journal of Medicine, 62 percent of people who filed bankruptcy in 2007 did so because of medical bills, and 92 percent of that number had more than $5,000 in medical debt.
Little has changed in a decade. A recent study reported in the American Journal of Public Health found that medical bankruptcy is still common despite the Affordable Care Act, with 66.5 percent of bankruptcies linked to medical issues and an estimated 530,000 families resorting to bankruptcy after medical issues and bills.
"A single-payer system of health care in this country would break the connection between employment and health care, allowing people to get care without suffering bankruptcy," says Barbara DiPietro, the senior director of policy at the National Health Care for the Homeless Council.
And if employees are not able to return to work because of physical limitations or are seen as an inconvenience by employers, they could lose their job and insurance.
"This illustrates part of the vicious circle by which people can potentially lose employment — then housing — through health conditions," says Rick Brock, communications director for the National Health Care for the Homeless Council. "Poor health is itself a major cause of homelessness, and once someone loses employment, what began as an illness or injury can quickly lead to loss of housing."
As long as the cost of health care is allowed to escalate beyond the ability of even the average person to afford, state legislatures will insist that state medical aid is unsustainable and the poor, sick, and disenfranchised will be the first to suffer.
Proposed State Policy Changes May Not Help the Poor
The Tennessee legislature wants to change how the federal government allocates money to the state to provide health care to vulnerable segments of the population. It requests this change through a Medicaid 1115 waiver known as Amendment 42.
By passing Senate Bill 118/Briggs, the Tennessee legislature has asked Washington to allow the state to secede from the rules and regulations that currently govern Medicare/Medicaid and the Social Security Act and make their own rules.
Though some argue that the flexibility would be used against people experiencing homelessness and others in poverty, the measure's advocates say it would allow for more policy innovation.
"We need the flexibility to determine what is best for our citizens instead of continuing down the path of a one-size-fits-all program from Washington, D.C.," Tennessee State Sen. Paul Bailey says."
The bill cites the federal government's desire for states to become "laboratories of policy experimentation" and Tennessee's "history of policy innovation in Medicaid" as reasons for this change.
One of Tennessee's long-standing "policy innovations" has been to refuse Medicaid health-care insurance expansion under the federal Affordable Care Act to working people with incomes of less than 138 percent of the federal poverty line. Over the past few years, the state has refused federal funding for Medicaid expansion that would allow more people in poverty access to health insurance.
And while seniors who receive medical benefits through Medicare/Medicaid are supposedly exempt from the block grant proposal, care for the elderly in nursing homes and for the disabled in Tennessee fall under this TennCare proposal. It is unclear how these vulnerable groups will fare once their benefits are subjected to the petri dish of Tennessee "policy experimentation."
In a letter from the National Health Care for the Homeless Council to TennCare deputy commissioner and director Gabe Roberts, the organization advocated against Amendment 42, calling it a "dangerous and ill-advised approach" for people in poverty.
The letter also said the block grant proposal "is not in the best interests of Tennesseans, and may have deadly consequences for the most vulnerable people."
The block grant proposal estimates that there are currently 5,000 people waiting for approval of their disability designation in Tennessee. No indication has been given whether disabled citizens will still be eligible for medical benefits under the proposed funding scheme if it's approved by the Dept. of Health and Human Services.
How would Anita have fared out on the cold, wet street that day if she had not gotten her disability coverage? She still worries about her ability to continue to receive medical insurance through TennCare.
"I have been able to maintain my insurance, but the system scares me and the political games around it scares me," Anita says. "You never know with what's going on at the state level that you're going to still have it."
Tennessee's Medicare 1115 waiver request for block grant approval has been sent to Washington and will be open for public comment through Dec. 27, 2019, on the HHS website.
Wraparound Services Can End the Suffering
So what is the solution to the myriad obstacles faced by those who find themselves homeless and suffering on the streets of our nation?
Once a person finds themselves on the street, there are no neon signs with arrows and flashing lights to direct them to where they can find health care and other social services. It can be especially daunting if they have never had experience navigating state aid agencies.
Remember, many homeless individuals become separated from their documents.
"An additional barrier is not having ID/documentation," DiPietro says. "Without an ID, you can't even get into most state/federal buildings to apply for benefits. So it can be a catch-22 for folks."
And to get a Social Security card, a person must present two proofs of residence. How does a homeless person prove residence?
Most homeless shelters around the country only offer rudimentary, temporary shelter during cold-weather months. And while shelter from the elements is welcome and often life-saving, it doesn't put the homeless any closer to getting off the streets.
There are programs springing up around the country that are taking a comprehensive, holistic approach to the problems of homelessness — often incorporating health-care services as part of a broader effort toward ending homelessness by providing wraparound services.
In California, Whole Person Care is a state-funded, Medicaid 1115 waiver program that seeks to weave an effective safety net of medical and social service professionals to better care for the homeless and those living in low-income communities who have been "identified as high users of multiple systems but continue to have poor health outcomes." Whole Person Care is an example of a program funded by a similar block grant to the one Tennessee is trying to implement.
Whole Person Care recognizes that this population of California citizens has medical and sustainability problems that are caused or made worse by poverty. Factors such as poor nutrition, lack of safe and stable housing, incarceration, substance use, unemployment and chronic anxiety of income insecurity are making these communities sick.
This program creates a central clearinghouse of information about each at-risk person that can be shared among state and private agencies to more effectively target state services and prevent wasteful overlap of often limited Medicaid resources.
When a homeless person in a Whole Person Care community goes to the emergency room because they are sick or injured, a team of dedicated medical and social service professionals virtually follows them out the door. If Tennessee's block grant proposal went through, this model could ameliorate some of the state's health-care issues — though it's worth noting Tennesee's political climate and governance is much different than California.
Some private, nonprofit organizations in Tennesse also have established ways to help homeless individuals get off the streets. While they still are far from the type of wraparound services (which include health-care services) needed to fill the gaps for people in poverty, their compassion is welcomed.
For example, Room In The Inn, a nonprofit, has in-house programs. And in partnership with other agencies around Nashville, it provides ongoing support that focuses on employment, education, sobriety, mental health and permanent housing.
I was fortunate enough to stumble into Room In The Inn one cold November night. Desperate, sick and wounded, I had become detached from everything that sustained me throughout my life.
Through the patience, guidance, and genuine loving kindness of the Inn's amazing staff and volunteers and all of the communities of faith that took me in night after night, I was able to heal and get back up on my own two feet.
Room In The Inn didn't save me. But it provided me with all the tools I needed to save myself. I will be forever grateful.
Once I was able to secure housing, I had no idea how I was going to pay the rent. That's when the good people of The Contributor came into my life. I couldn't imagine that selling newspapers on the street would generate enough income for me to pay my rent and pay down my tall stack of medical bills.
Boy, was I wrong. Through the unbelievable generosity of my Nashville neighbors who buy and read the paper, I continue to make a living, pay down my medical bills, and stand on my own two feet.
Just like Room in the Inn, The Contributor didn't save me. But it has given me all the tools I need to save myself. I will be forever grateful.
And across the way from Room In The Inn in downtown Nashville is Neighborhood Health, the closest thing to a health-care solution for people experiencing homeless in Nashville.
Every year, Neighborhood Health cares for more than 30,000 patients, regardless of the patient's ability to pay, their medical history, nationality or insurance status. The clinic is in part funded by the U.S. Senate Health, Education, Labor, and Pensions Committee, and acccording to Brian Haile, the CEO of Neighborhood Health, 17,000 of its 30,000 patients are uninsured, and 5,100 are experiencing homelessness.
Neighborhood Health provides care to people experiencing homelessness at all 13 of its neighborhood clinics in the city, providing lab tests, prescriptions and physicals for people of all ages and backgrounds. The organization's downtown and Nashville Rescue Mission clinics are focused on homeless services.
"When I came to neighborhood health, I had some picture in my mind about what homelessess was — people who hang out at the library or people who line up at Room In The Inn — but the idea that homelessness is concentrated to downtown is far from the whole story," Haile explains. "We have our downtown clinics, but patients routinely tell us that they are grateful that they're able to get care no matter where they are in the city. We try to be where people are."
Two important questions remain unanswered. Could Neighborhood Health's model become a state program? And would larger policy innovations help more vulnerable people? Time will tell.
For now, Haile and his team are filling the gap for patients without health insurance, a large number of whom are homeless. Health care is something that people should be able to get at any time, he believes, not something they have to rely on in an emergency room when things get really bad — like in the case of Anita's heart attack.
[dc]"T[/dc]he best thing we can do is to help people achieve a quality of life that should be available to everyone," Haile says. "That needs to be our focus this year and next year and every year."
They're doing what they can with what they have.
Jennifer Alexander
Jennifer Alexander is a 68-year-old writer living in Nashville, Tennessee.
Bailey Basham and Amanda Haggard contributed to this story.