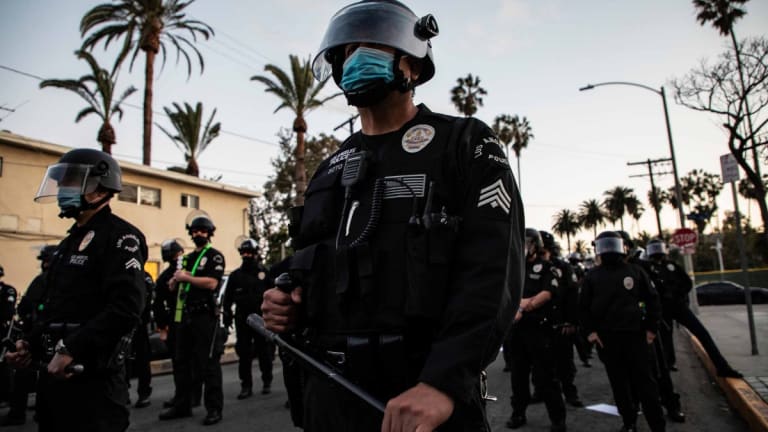 Echo Park Sweep of Homeless with No Long-Term Plan
Jack Ross: Project Roomkey is a temporary, COVID-19 relief program, and it's unclear where recently swept Echo Park residents will go once it expires.
On March 24th, hundreds of police officers cleared Los Angeles' Echo Park Lake of its unhoused encampments after City Councilmember Mitch O'Farrell directed the park's closure. The move crushed a community one leader compared to the utopian socialist Llano Del Rio settlement; police arrested 182 protesters over two nights of demonstrations and arrested or detained at least 20 journalists, according to the U.S. Press Freedom Tracker.
A year ago, the Centers for Disease Control warned that encampment sweeps could potentially increase spread of the coronavirus by dispersing people throughout the community and disrupting connections with service providers. Los Angeles accordingly cut back on such actions, outraging Angelenos who were demanding sweeps in their own neighborhoods.
As COVID-19 restrictions expire, advocates for the unhoused worry that the Echo Park sweep will become a model for the city as it seeks to pacify homeowners. While the sweep's proponents argue the city placed the park's residents in shelters, attorneys counter that the raid may have violated constitutional safeguards against unlawful imprisonment and illegal search and seizure.
By 2023, chronic homelessness may increase in Los Angeles County by as much as 86%, according to the Los Angeles Economic Roundtable, and it is an open question whether the new residents of L.A.'s streets will be serviced or swept.
What comes after Echo Park?
Project Roomkey is a temporary, COVID-19 relief program, and it's unclear where recently swept Echo Park residents will go once it expires.
"Why Can't We Do This Here in Venice?"
Jed Parriott, a founder of Street Watch LA, which tracks and opposes sweeps in Los Angeles, says sweeps are increasing as the end of COVID approaches.
"Definitely there is an uptick because things are reopening," he says, citing recent clearances in Leimert Park, Van Nuys and San Pedro.
Venice Neighborhood Councilmember Brian Averill says O'Farrell's actions encouraged residents who want to see the clearing of the Venice Boardwalk, the site of another major encampment.
"You've got basically two groups, people who point to [Echo Park] and say, 'Why can't we do this here in Venice?'" says Averill. "You have other folks saying this was handled horribly, we don't want to do this."
An NBC4 report on the Venice Boardwalk spoke with homeowners who "now want the city to clear away the tents just like officials did in Echo Park." Having reduced encampment sweeps during the coronavirus emergency, anchor Joel Grover reported, city officials "seemingly ignored their own advice" at the lake.
City Councilmember Mike Bonin represents Venice Beach and said the Los Angeles Police Dept. deployment in Echo Park was "wrong and counterproductive," but the district is hurtling towards a de facto referendum on encampments as Bonin faces reelection in 2022. Councilmembers rarely criticize actions taken by their colleagues in their own districts; Bonin broke from tradition alongside Councilmembers Nithya Raman and Mark Ridley-Thomas.
O'Farrell frames the sweep as a breakthrough.
"This week showed us that we are capable of changing the status quo when it comes to our approach to homelessness in LA, which has been a failure in the past," he wrote in a statement. He also said it was "the single largest housing event in the history of the city."
A spokesperson for Mayor Eric Garcetti echoed O'Farrell, who is a former Garcetti staffer, calling the sweep "a successful housing operation unprecedented in scale."
Branimir Kvartuc, communications director for Councilmember Joe Buscaino, says the city must not only sweep encampments but also patrol sites to ensure they remain empty.
"The breakthrough will come when we're able to clear encampments and we can enforce them so they're not repopulated," he says, acknowledging the unpopularity of police actions. "That's what the councilman has been lobbying for. That this is a step we have to take."
Buscaino is running for mayor in 2022.
"The City Would Probably Lose That Lawsuit"
A 2018 report to the United Nations General Assembly prepared by lawyer Leilani Farha, the special rapporteur on adequate housing, said encampment sweeps in the San Francisco Bay Area constituted "cruel and inhuman treatment" and were "a violation of multiple human rights, including the rights to life, housing, health and water and sanitation."
American courts have previously found sweeps unconstitutional.
In Mitchell v. Los Angeles, the Ninth Circuit Court of Appeals issued an injunction against Los Angeles on behalf of unhoused Skid Row residents who had their property confiscated. Now the city must issue 24 hours' notice prior to launching a sweep and clearly state where belongings can be recovered.
In Echo Park, city officials posted closure notices only after police entrapped protesters on Glendale Boulevard, which forms the park's western border. Then city workers began to encircle the park with a fence, which they completed before dawn, with residents who refused to leave the park still inside.
Police officers at the fence gates would not let unhoused residents leave and return during the supposed 24-hour grace period when they were meant to gather their belongings, according to park residents. Those who earlier fled the site say they could not reenter to collect their items, possibly violating Fourth Amendment protections against unreasonable search and seizure, the basis of the Mitchell decision and the city's 24-hour warning rule.
"If there was a lawsuit the city would probably lose that lawsuit," says University of California, Los Angeles, law professor Gary Blasi, although as of this writing none has been filed.
Before the sweep, O'Farrell also refused to divulge a date for the camp clearing and discredited Los Angeles Times reports that the park would close Thursday night. When Capital & Main sought comment from O'Farrell about this and other aspects of the sweep, a spokesperson for the councilmember said O'Farrell "consistently stated for months that the park would close for repairs," adding that the city had recovered needles and weapons from the park after the sweep.
The Shelter Shuffle
In another Ninth Circuit case, six unhoused plaintiffs successfully sued the city of Boise, Idaho, for violating their Eighth Amendment protections against cruel and unusual punishment. Cities cannot criminalize homelessness by sweeping encampments if no shelter is available "on the false premise they had a choice in the matter," the majority opinion stated.
The city sheltered more than 180 residents of Echo Park Lake, according to the Los Angeles Housing and Services Authority. In the weeks before the sweep, city and nonprofit outreach workers descended on the lake to transition the unhoused into interim housing. One hundred thirty-eight park residents were sheltered through Project Roomkey, a state program placing the unhoused in vacant hotels. Many now live in the L.A. Grand Hotel in Downtown Los Angeles, where rooms book for more than $200 a night.
Critically, Roomkey provides only temporary shelter, not housing, forcing park residents to swap the lake for what David Busch-Lilly, one of the community's leaders, calls "the shelter shuffle."
And Parriott calls O'Farrell's emphasis on Project Roomkey dishonest, deploying the program only in the park and ignoring the needy in less coveted areas of his district.
"We have old and disabled unhoused people just blocks from the lake who didn't get a hotel room and young people in the lake who did," says Parriott. "They are playing politics with people's lives by using these rooms as part of gentrification."
Until the sweep, city politicians appeared to be abandoning Project Roomkey. Los Angeles has fallen well short of its initial goal to house 15,000 homeless Angelenos vulnerable to the coronavirus; currently, only 1,693 occupy hotel rooms under the program.
"Tiny home" villages, which place the unhoused in prefabricated 64-square-foot shelters, have emerged as an alternative. While providing critical security and privacy, tiny homes are still smaller than the minimum 70 square feet required for California prison cells by the Board of State and Community Corrections. Unlike prison cells, tiny homes do not have private toilets.
But Project Roomkey is a temporary, COVID-19 relief program, and it's unclear where Echo Park residents will go when it expires. Meanwhile, park residents like Valerie Zeller are still reeling from the closure.
"I left my food stamp card," she says. "I forgot my brush. I forgot my medicine."
Zeller, married in Echo Park before the sweep, spoke to Capital & Main behind Mitch O'Farrell's shuttered office on Sunset Boulevard.
"I left a cane, I left a walker," she says. "They didn't care."
Update: Councilman O'Farrell's office responded to the publication of this story by objecting to its depiction of the March 24th events. "Unhoused individuals and their encampments in Echo Park Lake were not "swept" by police," the emailed statement read. "For months, Councilmember O'Farrell's office worked with a non-profit outreach partner, Urban Alchemy, as well as the Los Angeles Homelessness Services Authority (LAHSA) to place more than 180 unhoused individuals (as you noted) who had formerly been living at Echo Park Lake into transitional housing."
Jack Ross
Capital & Main
Jack Ross is a writer based in Los Angeles.