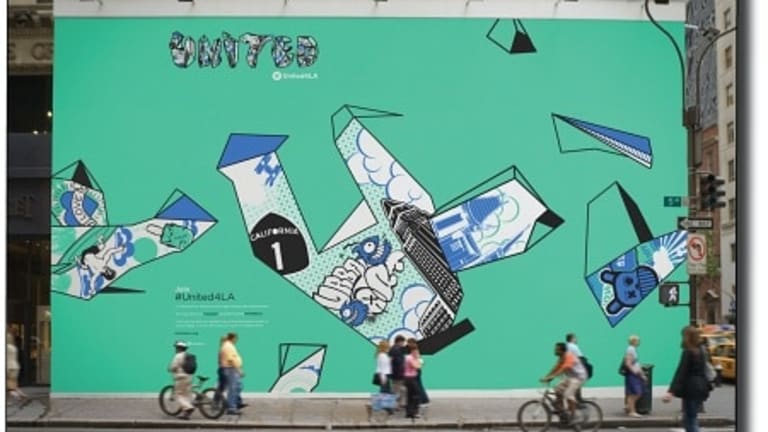 United Way Leaves LA's Homeless Out
Rita Dunn: United Way should put their money where their mouth is and start making a point to work with organizations of unhoused and underrepresented, because you will never be everyone in without all of us.
An Open Letter to United Way's Everyone In Campaign
My name is Rita Dunn. I spearhead an organization called H-minus (home-less), which currently has 250 members. I live in a tent near the railroad tracks in Chatsworth.
I attended workshops in May and June organized by United Way's Everyone In campaign. These so-called workshops are cleverly designed to bewitch the do-gooders who are clueless about what the grim reality of the housing situation is. I am hip deep in this subject and on the front line of this, because I am homeless.
I have been H- for nearly five years. I feel like I have been playing musical chairs with every organization in the city, trying to get help when I still had a trailer, I still had my daughter, I still had something.
This crisis has been very good to all of the homeless-advocacy and -services organizations, and now I see them all recalcitrant to share information, cringing when we speak up for ourselves, and engaging in a silent and surreptitious war of attrition, in which I ask tough questions, and become persona non grata thereby.
So, it became apparent to me, because I am out here living on the streets and I can see for myself what reality is, that the top organizations that deal with H- are isomers of the purely capitalistic Machiavellian democracy we live in. Everywhere I go I have to look at your billboards, bus benches, and more and then go back to my tent and sit in the darkness and fume while I think about the fact that we have been seeing no less than one new face joining our ranks every day for months now, while we have not seen one stick of affordable housing in our area (the west San Fernando Valley).
When I refer to affordable housing, I am referring to a cooperatively controlled housing development that does not rely on gap funding, rape our public coffers, or coax do-gooders to support foolishly cost-burdened projects that serve only a limited few.
Pretend, for a moment, that I might have an inclination of the mechanical workings that power these things, and that I know, by reading through various funding schedules, that the objective of the power-three—the Los Angeles Homeless Services Authority, LA Family Housing, and United Way—is to hit every salient funding point that can open the purse strings to the next wallet.
That is why at the forum regarding the proposed Topanga Canyon Boulevard development in Council District 12, United Way pushed the permanent-supportive-housing (PSH) agenda, to go as far as offering job skills training with an onsite career counselor, while disclosing that the development is intended only for the gravely and terminally ill or permanently or severely disabled.
United Way should put their money where their mouth is and start making a point to work with organizations of unhoused and underrepresented, because you will never be everyone in without all of us.
In spite of long conversations with an Everyone In staff member, I am against the PSH development proposed in Council District 12 on Topanga Canyon Boulevard. I am against it for a simple reason: The numbers do not add up. The costs are unjustifiable. I told her that the only way that I would support that project would be if the developer had to report to a biweekly transparency committee so we could see where every dollar went.
Do you want to know why projects like this one make me ill? Because while you get to go home to a place that offers you comfort, security, privacy, and shelter from the elements, and while those individuals who are given the opportunity to live in one of the very few supposedly affordable housing units will remain nice and warm in the winter in their actually not-so-affordable units, which are only as permanent as long as they live, supported by the tax and philanthropic contributions of the working middle-class, we, the majority of the unhoused, who are between ages 20 and 50, who are able bodied and willing to work, are left outside.
We are left outside because organizations like yours make a killing on silencing us and slowly killing us. The way you all do it is by leaving us out here, one at a time. Eventually, we will become qualified for these projects, which you and every other organization like it pushes. With our lowered life expectancy of 48, you can rest assured that in due time you will cycle us all through your machine. And someone is getting rich, on top of that. While everyone in your organization is well taken care of, you forget about us.
And you forget that housing is a congruent right, in alignment with breathing air and making babies.
You are not everyone in, unless you mean them. We are not represented, nor are we supported, or even at the base level included in conversations about reality. Not your reality, or your advanced professional perception of it, but our reality.
I have done the Everyone In workshop 101. That makes twice. If I were to advise, United Way should put their money where their mouth is and start making a point to work with organizations of unhoused and underrepresented, because you will never be everyone in without all of us.
I have a brilliant project idea that would be winning for all teams involved. But what we lack is real support. I have been doing my part. But the days of the H- serving and supporting organizations led by those who are housed are over. Your organization should be supporting us and be grateful and thankful to do so. You should be helping us by doing whatever you can to see us elevated, through pro-social mechanisms, out of this nightmare we live in.
Until that day comes, United Way's Everyone In campaign is all talk.
I just turned 40, and my children are growing faster than I can cope with not being able to be in their lives.
This society aims to murder the homeless, but in a way that disguises it as a suicide, long in the making. What if you awoke every day to find yourself locked out of the world? To find you could only participate through the glass of an observation room: No one can see you, no one can hear you, and your children grow up in front of you, but you cannot touch them and they cannot see you.
You would live life as a ghost.
You would hide from the light, and shun others, because you would rather not be seen than suffer this embarrassment of such deadly proportion.
How would that affect you. Over time?
Why must we wait until we are dying and have lost our minds to be housed?
Rita Dunn
Rita Dunn is an artist by trade, dabbling in human social psychology in an attempt to understand the impetus that drives man's inhumanity to mankind. She aspires to eliminate misery from the world through pro-social mechanisms and community involvement. She also writes and illustrates children's books.