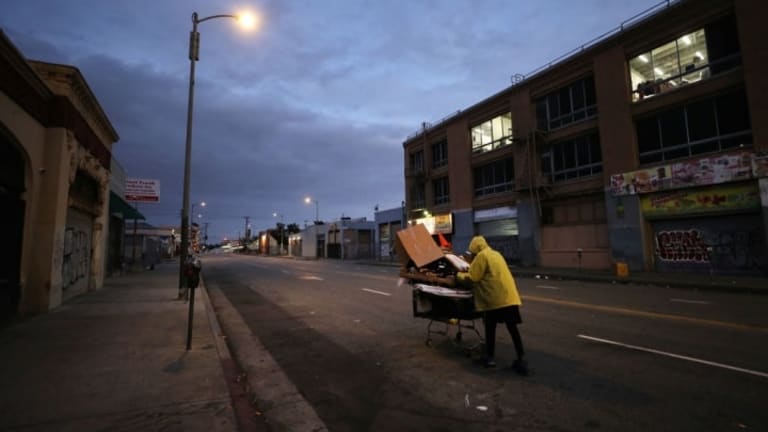 'Tsunami of Evictions' Coming as Tenant Protections Lapse
Mark Kreidler: As eviction bans lift and temporary housing provisions end, what happens to those who can't afford rent?
As eviction bans lift and temporary housing provisions end, what happens to those who can't afford rent?
In major cities and small towns, outbreaks of the coronavirus have prompted emergency decisions to shelter and care for some of America's estimated 567,000-plus homeless, a number that may radically increase as unemployment skyrockets and long-delayed evictions by landlords begin.
At some point, the worst of the virus's damage – in this wave, at least – will be considered to have passed. Communities will inch closer to resuming everyday life and business. What happens then to those now in temporary housing and those likely to lose the homes they have?

Civic leaders across the country have pondered the question without coming close to answering it. And that looming uncertainty is prompting a new wave of activism among some advocates for the homeless who traditionally have stayed on the sidelines.
"The overwhelming message I'm hearing is that we can't go back to business as usual. We can't go back to normal," said Shannon Eizenga, executive director of the San Francisco nonprofit Gubbio Project, which provides safe space to rest and sleep during the day for those on the streets.
The stakes are enormous, and they are growing. In Los Angeles, some 365,000 households likely can't pay rent because of joblessness related to COVID-19, and only temporary emergency regulations have prevented their landlords from serving "unlawful detainer" eviction notices, according to a study by UCLA's Luskin Institute. That's in addition to the estimated 60,000 homeless people already living in L.A. County.
"Those facing eviction will be heavily concentrated in communities and neighborhoods with larger percentages of low-income people of color," wrote the study's author, Gary Blasi, a UCLA law professor and longtime public interest lawyer. "No one can say when the tsunami of evictions will arrive. We can say that it is coming.
"Those facing eviction will be heavily concentrated in communities with larger percentages of low-income people of color."
Los Angeles Mayor Eric Garcetti has spoken of the need to be sure that temporary housing for the homeless doesn't simply vanish after a wave of COVID has passed, but permanent solutions appear to be years away. The challenge, clearly, is about to multiply.
Both L.A. and San Francisco have struggled with erratic, stop-and-start approaches to sheltering and isolating their vulnerable populations. And although these are larger metropolitan areas, their public conversations and arguments – whether hotels can be used for quarantine, what constitutes a "safe shelter," etc. – are also playing out in rural and urban settings across the country.
What works in smaller areas – Vermont issued motel vouchers to every unhoused person who needed shelter – perhaps won't work in larger ones. But in places like San Francisco's ravaged Tenderloin district, it's still unclear what approach might succeed, because civic leadership on the issue has been so inept and slow to move.
For people like Eizenga, whose donation-funded program has served the Tenderloin and Mission districts without needing much political capital, the city's inability to figure out how to isolate and protect the homeless from the virus has been unnerving. She has seen district supervisors like Matt Haney rail against the city's inaction – and concluded that only continuous upward pressure will produce meaningful change. Without it, hotels may well empty back out, shelters will again become cramped vectors of disease, and the poorest will bear the brunt of the damage on the street.
"Those of us who have just said, 'We're going to stay in our little corner here and do the work that is good and valuable and worthy and holy' – that can't be enough anymore," Eizenga said. "We have to be more vocal, and we have to show up in new and different ways. We need to be more political now."
As the week began, the number of confirmed COVID cases in the U.S. was nearing 2 million. But a new study suggests that if not for shelter-at-home orders and other restrictions on American life the past few months, that number would look staggeringly worse.
Some 60 million additional infections in the U.S. – and 530 million across six countries – likely were averted by lockdown restrictions through early April, according to analysis by researchers at UC Berkeley. The results were published in the journal Nature.
"I don't think any human endeavor has ever saved so many lives in such a short period of time," said Solomon Hsiang, the study's lead author. "By using science and cooperating, we changed the course of history."
The study examined efforts to contain the virus by the U.S., South Korea, Italy, Iran, France and China. Though it did not attempt to estimate how many lives were saved, an infectious disease expert, Dr. Dena Grayson, considered the study's results and tweeted that the number in the U.S. likely was 270,000, given the current fatality rate in the country. As of Monday, American deaths from COVID totaled more than 110,000, per the CDC.
Will the mass protests against racism and police violence of the past two weeks lead to a new wave of infections? "There's no question about that," said the former head of the Food and Drug Administration.
Speaking on the CBS News program "Face the Nation," Dr. Scott Gottlieb said that despite videos from cities across the country showing many protestors wearing masks, "We're certainly going to see transmission coming out of these gatherings," which often number in the thousands and put people largely side by side.
More than 1,200 medical professionals have signed an open letter, written by doctors and researchers at the University of Washington, stating that the point of the protests is so vital as to outweigh the health risk. The letter reads in part, "White supremacy is a lethal public health issue that predates and contributes to COVID-19…Our first statement must be one of unwavering support for those who would dismantle, uproot or reform racist institutions."
Said Gottlieb, who served the FDA from 2017-19, "The protestors understood the risks, many of them. I think that's evidenced by the fact that they wore masks and they made a judgment that they were worth the risk in terms of going out and protesting what are legitimate underlying grievances."
Even before the protests, coronavirus cases were on the rise again in parts of the U.S., according to data compiled by National Public Radio – and several states have recorded major jumps in their totals.
California has seen more than 2,600 new cases a day, and some of its areas have become new hotspots for the disease. But the most consistent surge can be found among the Southern states, many of which entered stay-at-home status later and exited it earlier than others across much of the country.
[dc]NPR[/dc] said the figures it was tracking showed that cases in both North Carolina and South Carolina last week had increased by 60 percent from roughly two weeks earlier. In Tennessee the increase was 75 percent, some of that driven by an ongoing prison outbreak of the disease. Georgia and Louisiana have recorded some of the highest case counts and fatalities in the region in recent weeks, the report found.
Mark Kreidler
Capital & Main
Mark Kreidler is a California-based writer and broadcaster, and the author of three books, including Four Days to Glory.
Republished with permission from Capital & Main.
Did you find this article useful? Please consider supporting our work by donating or subscribing.