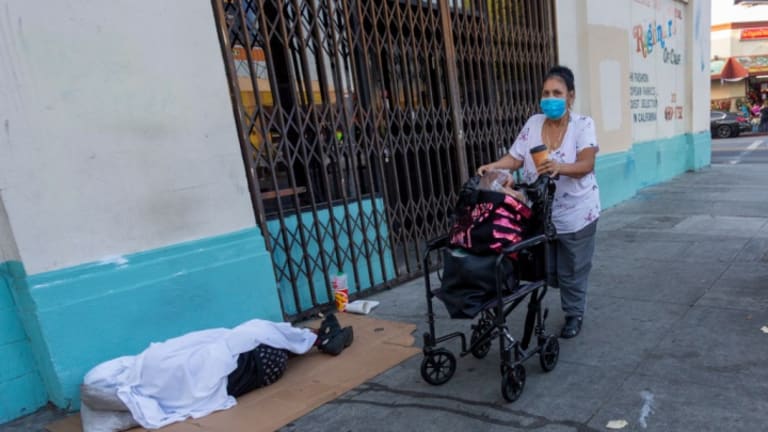 Homeless People Losing Their Lives in Excess
Jessica Goodheart: Over the past few years, fewer people she serves are dying on the streets. "It doesn't mean there's less homeless people. It just means there were more options for them to not be on the street."
Homeless Deaths in Los Angeles Rose by More than 30% in 2020
It's hardly news anymore that last year was the deadliest for Los Angeles County's unhoused population. As homelessness has mushroomed in the region, so has the number of people dying in shelters, on the streets and in vehicles.
But what is noteworthy is that 2020's increase of 32% was higher than any in the previous six years and eclipses the increase in 2019, when the number of deaths rose by 13% over the prior year.
Reverend Andy Bales of the Union Rescue Mission called the rise in deaths "the unfortunate barometer" for what's happening on L.A.'s streets. The Los Angeles Homeless Services Authority [LAHSA] cancelled its 2021 homeless count, an effort that enlists volunteers to fan out onto the streets, for fear it could become a superspreader event, so Angelenos will lack an actual accounting of the pandemic's impact on homelessness.
The 2020 count of 1,371 is based on data Capital & Main requested from the L.A. County Medical Examiner-Coroner and includes only those deaths that were investigated by that office. The L.A. County Department of Public Health's more complete tally of homeless deaths for 2020 is expected to be released later in the year and is likely to be higher than the number reported by the coroner.
The rise in the number of homeless deaths occurred alongside a pandemic that has ravaged those who are precariously housed, rent burdened and living in overcrowded conditions. But COVID does not appear to have been the prime killer of Los Angeles' homeless.
A study by the county's public health department, published in January, identified drug and alcohol overdose as one of the key drivers of homeless deaths in the first half of 2020. Overdose deaths increased by 33% during the first seven months of 2020.
Over the past few years, fewer people she serves are dying on the streets. "It doesn't mean there's less homeless people. It just means there were more options for them to not be on the street."
Transportation-related deaths increased by 10% and homicides increased by 7%, while deaths from coronary heart disease declined by 15% and deaths by suicide remained the same. Just 4% of those who died in the first seven months of the year died from COVID, according to the report.
And racial disparities characterize the unhoused as well as the housed. African Americans comprise 34% of the homeless, about four times their share of the county's population. But they account for 25% of the deaths. White people are less likely to be homeless than their counterparts who are not white, but more likely to die that way once they are. That may be because a physical or mental disability is what sends them into the streets rather than poverty or discrimination.
Downtown's Skid Row is a 50-block area whose sidewalks are crammed with tents. It's home to the Union Rescue Mission and one of the largest populations of unhoused people in the United States. "It's constant sirens," Bales said on a recent day in January. "We tried to have chapel yesterday on our rooftop, and it was helicopters buzzing."
At least 32 people died last year in the 90013 zip code, where the Union Rescue Mission is located. All but eight of them perished out of doors, in tents, on the sidewalk, at construction sites or, in one case, on the railroad tracks.
The isolation of the pandemic has led to drug users — both housed and unhoused — missing out on treatment and using alone. Gilmore Chung, Venice Family Clinic's director of addiction services, lost a patient who struggled with addiction to methamphetamine named Tony earlier this year.
Before Tony died, "He got a job doing demolition. He was so proud of himself. He was able to stay off for a little while," says Chung, who believes Tony's inability to access group therapy contributed to his death.
Another culprit is fentanyl, a synthetic opioid that can be 50 to 100 times more potent than heroin, which began making inroads on the West Coast in the last two years. Just over a quarter of the county's 66,436 homeless population report some kind of substance abusedisorder. More than 70% of the county's homeless are unsheltered.
The Venice Family Clinic has been working to disseminate Narcan, a nasal spray that delivers a medication capable of reversing an opioid overdose, to encampments. "We try to get those distributed in the field. It's much more common that someone, a friend or using partner, will get a save than myself as a provider," said Dr. Coley King, the clinic's director of homeless services, who resuscitated a young man several weeks ago while making his rounds as a street doctor.
A central problem, Bales says, is that local officials are spending too much money housing too few people in shelters and permanent housing. "There's no excuse for leaving people out on the streets with such horrendous death rates. And there's been no excuse for decades for leaving people on the streets," says Bales. Voters approved Proposition HHH, representing $1.2 billion in bond money for homeless housing, in 2016, but a slow rollout has meant most of the projects remain in the pipeline.
Early in the pandemic, it appeared, at least, that being outdoors provided some protection from the virus to those without four walls to call home, even if it made them vulnerable in other ways. But like the rest of the county's population, unhoused people have experienced a post-Thanksgiving surge in infections, with hot spots popping up on Skid Row, the Los Angeles Times reported.
In the first two weeks of January, the county reported more than 520 cases of COVID among the unhoused, up from an average of 66 in the two months before Thanksgiving. The number of cases have recently begun to decline as they have elsewhere in the county. As of Jan. 25, 123 people experiencing homelessness had died of COVID-19 since the beginning of the pandemic.
Theo Henderson hosts the podcast "We the Unhoused," which follows the lives of Angelenos living on the streets. He suspects that the number of unhoused people suffering and dying from COVID may exceed the official count because hospitals are refusing to treat them while others are afraid to seek help.
He recorded a segment on a mother and son who avoided seeking medical attention for fear of being separated from an undocumented family member. "They're not able to go because our society puts up extra stumbling blocks to punish helplessness and poverty," he said.
Last April, Gov. Gavin Newsom launched Project Roomkey, an ambitious effort to secure hotel and motel rooms to house the state's homeless most at risk of hospitalization or death from the virus. "I am certain it had a dramatic impact," said Nathaniel VerGow, deputy chief of systems for the LAHSA, which jointly administered the program with the city and county.
But in Los Angeles County, the project fell shy of its goal of housing 15,000 homeless. At its peak, Project Roomkey housed more than 4,300 people. It began to wind down in September as the agency began redirecting funds toward housing people permanently.
The Biden administration could breathe new life into the program. On Jan. 21, the White House announced that the Federal Emergency Management Agency will, for the first time, fully reimburse local governments for the "noncongregant" living programs for the homeless through September.
Under the Trump administration, the federal government paid only for 75% of the cost of the program. "This is a huge opportunity. This is like manna from heaven," Los Angeles City Councilman Mike Bonin said after introducing a motion exploring ways to lease more hotel rooms on Jan. 26.
But ultimately, LAHSA, which coordinates the program, is "the safety net of safety nets," unable on its own to contend with the constant flow of Los Angeles residents onto the streets, says VerGow. An average of 207 people exit homelessness every day while 227 people become homeless. And that was in 2019, before the pandemic and the recession hit the region.
(If a recent study is correct, that safety net will be tested further. The Los Angeles-based Economic Roundtable predicts that the number of chronically homeless people in L.A. County will grow by 86% by 2023 due to the pandemic-induced recession.)
For those who end up on the streets, life is full of stress and trauma. Theo Henderson, who lacks a permanent home, complains of aggressive police sweeps that separate those living on the streets from life-sustaining medication and vigilante violence against unhoused people, which he has endured and believes goes underreported. Reached by phone, he said he did not want to discuss where he lived out of fear for his safety. "We have to make it very clear that being poor is not a crime," he said.
Laura Duncan, the executive director of Ascencia, a homeless service provider based in Glendale that also services parts of Los Angeles, points to a potentially more hopeful trend in her area. She says that over the past few years, fewer people she serves are dying on the streets.
She attributes that to Glendale's aggressive focus on housing residents. "It doesn't mean there's less homeless people. It just means there were more options for them to not be on the street."
And she credits the county for creating even more beds for residents in 2020 through Project Roomkey and by extending the hours of the Winter Shelter Program. "This was the first year where we had no one to report [having] died on the street," Duncan said.
Ascencia honored five people at a virtual Homeless Persons' Memorial Service in December, including Daniel Johnson, who coached Little League while he was still homeless. She described the event, which included vocal soloists, prayer and statements from elected officials as "a proper sendoff" for those who may not have another type of funeral service.
"He was charismatic, kind and always present in the moment," Tania Rogel, one of Ascencia's case managers, said during the service of Johnson. He died of COVID in March in an apartment that is one of Ascencia's supportive housing units.
Jessica Goodheart
Capital & Main