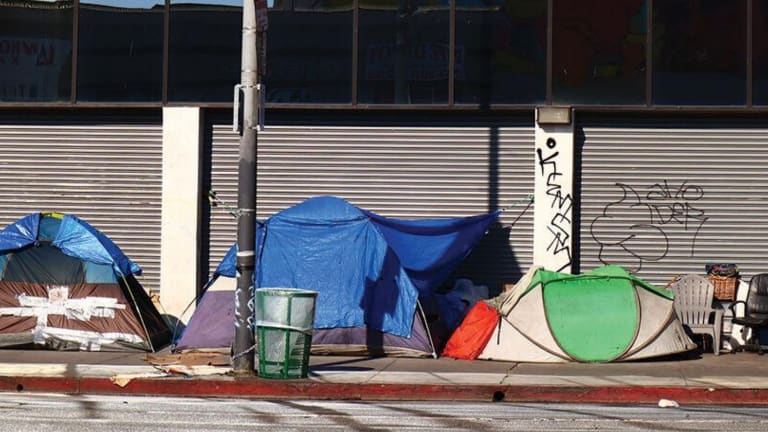 Homelessness Czar Needed for L.A.
A homelessness czar would be a non-politician, not beholden to appeasing his or her constituents, who for decades have spoken loudly to restrict housing development, usually for the purpose of keeping "other" people out of their neighborhoods.
Almost everyone agrees that the solution to homelessness is to get homeless people housed and preventing housed people from becoming homeless. In Los Angeles, however, such efforts have not succeeded for a multitude of reasons. Bold changes are needed now. The best and boldest change is for LA to appoint a single, lead homeless agency led by a homelessness czar.
Homelessness is ostensibly the most serious problem in all of LA yet we lack a dedicated homeless department with a person in charge who can make decisions on the best and quickest way to establish supportive housing, build affordable housing, and keep people housed who are at imminent risk of being evicted for non-payment of rent.
The White House just hired a czar on homelessness via the U.S. Interagency Council on Homelessness. We should do the same. After all, the City's mayor is limited in his legal ability to solve homelessness. Nevertheless, the mayor, the City Council and the County Board of Supervisors, despite prioritizing homelessness, have multiple other issues on their plate, including, but not limited to, crime, the fire department, public works, sanitation disposal, street services, and water and power. They cannot dedicate themselves exclusively to solving our city and county's number one issue.
A homelessness czar would be a non-politician, not beholden to appeasing his or her constituents, who for decades have spoken loudly to restrict housing development, usually for the purpose of keeping "other" people out of their neighborhoods. A non-politician would be a driving force to build multiple housing units in areas now restricted to single family zoning. The czar can work to create a fast track building process, without requiring community hearings or the ability of people to stand in the way of local projects. Let's install someone who in 90 to 180 days can cause construction to begin for a building from the time funds are awarded for a building project.
Let's appoint someone whose ideas to reduce homelessness are not yet in the mainstream, such as expanding the motel conversion ordinance to apply to office buildings, expanding CD 11's Encampments to Homes citywide (it moved about 300 people off the sidewalks and into interim housing with the goal of providing permanent housing in six months), enacting a penalty on empty homes and house flipping, using federal funding to expand veterans' housing and maybe, just maybe, establishing a Homes Guarantee legislative package that will create the housing needed to ensure everyone has a place to live.
A homelessness czar, unlike a mayoral candidate, for example, can avoid sound bites such as: No one should be living on a sidewalk; homelessness is a public health issue; homelessness needs to be treated like an emergency; or we need to move sidewalk dwellers and enforce the no "sitting, lying or sleeping" ordinance (which moves a homeless person and his tent from one block to another and does nothing to solve homelessness).
A homelessness czar can form a "brain trust" consisting of full-time, dedicated CEOs and executive directors of those organizations that either now provide permanent housing, or outreach to the unhoused, or work with those suffering from substance abuse disorders and severe mental health. Organizations like Venice Family Clinic, St. Joseph Center, Venice Community Housing, and PATH. These agencies, like the Los Angeles Housing Services Authority (LAHSA) all advocate for more housing and sustained support (medical, behavioral health, etc.) for the people who move into housing, to keep them housed after placement.
The dedicated homelessness department and its leader will take advantage of the multiple studies which have demonstrated that housing is the best place to provide services for those suffering from severe mental illness or substance abuse. They will not need to message that the root cause of homelessness is mental illness and substance abuse, which is another way to say that we don't need supportive or affordable housing in our neighborhood.
The homelessness czar can dedicate the homelessness department to preventing people from falling into homelessness, in large part due to the high cost of housing in LA. The homelessness leader could be dedicated to establishing a homeless prevention center, lobbying the federal government and California for more public funding to provide for emergency rental assistance to pay landlords for past due rent and utility bills, pay rent subsidies to those screened to remain in housing if given some rental assistance, and even providing for a social service provider to meet with tenants to determine if the soon-to-be evicted individual or family are having financial difficulties due to domestic violence in the house, bad budgeting or rent money going to pay for drugs, and then counsel them. PATH put together such a homeless prevention program in 2009 (which I mostly prepared) and with proper funding it can become a huge success in reducing homelessness.
In summary, setting up a dedicated homelessness department with a homelessness czar in charge is a bold move, but a needed one, if we are to treat homelessness as the emergency crisis that it is. And if we cannot install a czar then the mayor, City Council and the Board of Supervisors should consider the solutions mentioned above, even if it means that some of their most vocal supporters will yell at them for alleviating homelessness in their streets.  
Republished from the Argonaut with the author's permission.