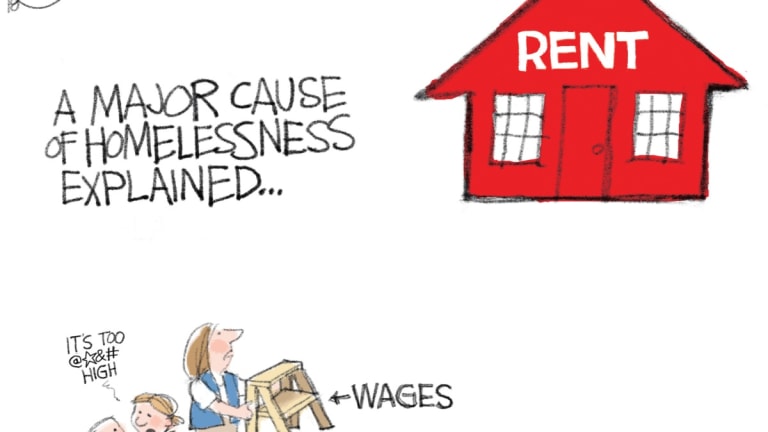 Los Angeles Divided and Slow to Change
James Preston Allen: The solutions must be met with the same resolve as with the pandemic. Dividing the city is a tactic that should a career, not elevate it.
On a cool overcast June morning, 15th District City Councilman Joe Buscaino brought his mayoral aspirations and body guards to the Venice Boardwalk to castigate the city's and county's failure to adequately solve the homeless crisis. His three-point solution to addressing the octagonal complexity of a four-decade old problem was crafted for the angry Venice homeowners holding preprinted "Save Us Joe" signs behind his photo opp.
And then there was the scuffle with a homeless woman with a knife. Some assert she was intent on doing harm, others say the knife fell out of her pocket. But the chaos that ensued ended this made for Fox News press event with a headline.
I was shocked, but also amused as later that very same morning, I found the ever smiling candidate in front of the San Pedro Post Office filming in the park that used to have our largest collection of unsheltered neighbors. This is a place where it all began for Joe six years ago with a battle over tiny homes, a social media uprising by Saving San Pedro and Buscaino's elimination of the local neighborhood council out of the homeless solutions business. He has intentionally been sidelining his critics ever since he was elected to office.
The solutions must be met with the same resolve as with the pandemic. Dividing the city is a tactic that should a career, not elevate it.
On this day, however, nary a homeless tent in sight, Buscaino kicked off his mayoral campaign to an ever divided Los Angeles. It was like magic — as if the homeless were never there.
Over the course of the past few months, I was harboring some sense that the once anti-homeless councilman had actually found compassion. He had learned enough to reason that the causes of this nationwide crisis could not just be chased off the streets, that this was an endemic problem with core socio-economic causes.
Alas, his reconstituted resolve to pander to the angry anti-homeless crowd comes as a knee jerk conservatism that ignores more than it solves. Buscaino is fundamentally a reactionary. He was never a visionary.
Los Angeles as a city has always been divided between the haves and the have-nots. Its residents are divided between homeowners and renters, and Los Angeles business owners from local residents. And historically between white and Black or Mexican neighborhoods that separated various parts of LA from itself.
At times these divisions end up in riot and flames, most times just simmering frustration with a city that is separated from itself by distance and time. The only time the locals consider themselves "Angelenos" is when the mayor uses the term to bring us together to fight COVID-19, mourn a tragic mass shooting or when they are in some other part of the world trying to explain to a foreigner where they are from.
Everybody knows where Los Angeles is, but I have often had to explain where San Pedro is, even to people who live on the West-side. And, as Tom Hayden once memorialized, "the problem with fighting city hall in Los Angeles is finding city hall."
The problem with Buscaino riling up the mob over the failures to solve the homeless crisis, is kind of like blaming China for the pandemic. It cures nothing.
And as if there isn't enough blame to go around, this candidate should remember his early years in office of ignoring the problem and then reacting to it by heavy-handed police enforcement. Despite his claims that "homelessness is not a crime," he still believes the LAPD has a role to play in addressing homelessness — even now as many argue for reallocating police budgets out of homeless enforcement, a reversal of the seeming state of things in America in which being poor is a criminal act that could land you in jail.
As one Streetwatch activist said, "The City of Los Angeles has always used punitive policies to mistreat and abuse unhoused people. One in three use-of-force incidents by the Los Angeles Police Department are against an unhoused person."
At his press conference, Buscaino called the housing policies of Venice Councilman Mike Bonin (CD 11), a failure — a grim case of the pot calling the kettle black. Buscaino called for the ending of the Los Angeles Housing Services Authority (a joint body of the county and the city) and that, as mayor, he would provide housing for the unhoused and then enact a city-wide camping ban. The ban, however, could only be permitted by a federal judge if he can get 60% of the homeless into shelters. But what then of the other 40%?
His is clearly delusional thinking it will take more than a decade to build enough permanent housing to fix the affordable housing shortage. This means the temporary Bridge Home Shelters won't actually be temporary, and that some 100 tiny home villages will be needed to house even 10,000 of the 41,290 people experiencing homelessness in the divided City of Los Angeles.
Unfortunately, the establishment of Safe Campsites to act as triage centers is probably the only reasonable first step in curing the homeless epidemic. Take people where they are, provide sanitation and services and then place them in shelters, recovery homes, mental health facilities or more permanent housing. Hell, maybe we'll actually figure out that a living wage job would help.
This is not to say that homeowners shouldn't be outraged at the city's failures because, as a homeowner, I am just as outraged by Buscaino's slow awakening to the solutions and his constant finger pointing at others.
Buscaino is still looking for the "quick fix" and sadly we're fresh out of vaccines to cure the decades-in-the-making homeless epidemic, especially when you divide the city and don't understand the causes. Rousing the kind of anti-homeless hostility that Buscaino is playing up is not unlike the autocratic tactics of the ex-president and must not be allowed in this city.
The solutions must be met with the same kind of resolve and unity we had in conquering the pandemic. Dividing the city is a political tactic that should end his career, not elevate him to the mayor's mansion.
James Preston Allen
Random Lengths News