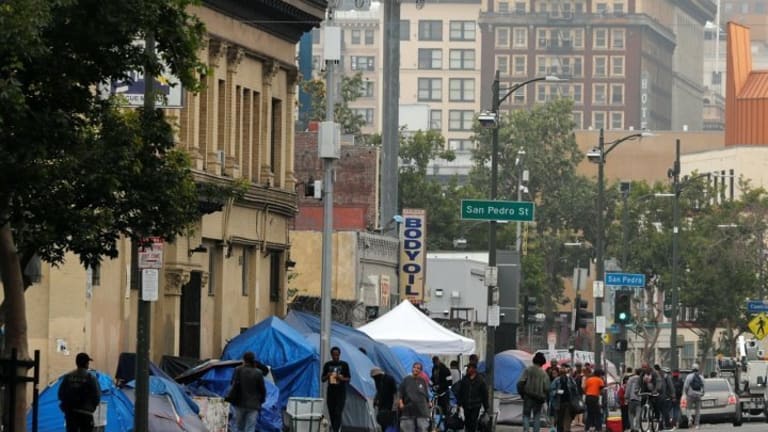 Hoping For a New Normal
Matt Harper: It has been heartbreaking, both to watch people with even more worry and fear in their eyes than usual and to stand with adults literally aching from hunger.
I could spot an L.A. County jail jumpsuit from a mile away. Its glossy, black plastic looks like someone took a dollar store tablecloth and sloppily cut it three sizes too big. When Jack walked up to our Skid Row soup kitchen last Monday asking for food, I was caught off guard: we don't usually see people so quickly after their release from jail.
Jack was one of the 1,700 people released from L.A. jails last week to lessen the risk of COVID-19 spreading throughout the jail population (an action worth celebrating), but was released to no wrap-around services, no programs of support, nothing. Unfortunately, this was the wrong week to look for anything on Skid Row, even food.
Even before the "stay at home" order went out, church groups and community food-service programs began disappearing from Skid Row. While the end of March usually has us serving 80 gallons of beans a meal, March 31, had us serving roughly 180 gallons (and the number keeps growing). And since the availability of dry beans has also close to evaporated—thanks to hoarders and Idaho storms—I have had to wake up every Sunday at midnight in order to get the beans we need to make 5,000 plates of food each week.
It has been heartbreaking, both to watch people with even more worry and fear in their eyes than usual and to stand with adults literally aching from hunger.
It has been exhausting to try to rise to the immensity of this moment. It has been heartbreaking, both to watch people with even more worry and fear in their eyes than usual and to stand with adults literally aching from hunger. It has been infuriating, to see again how badly Los Angeles' systems have failed us.
But small things are happening, little things, that make me wonder if our branches of local government might actually commit to helping the most vulnerable (and thus helping all of us).
After 50 years of hygiene-centered protests (including bringing Mayor Garcetti a toilet signed by Skid Row), our kitchen's lone handwashing station is no longer so lonely. 300 handwashing stations and 120 mobile bathrooms popped up throughout the city overnight. Unsurprisingly, politicians didn't prioritize Skid Row, where the ratio of people to need is most dire, nor did they commit to actually keeping the units stocked with soap and water.
In less than two weeks, Mayor Garcetti has also found a way to open, staff, and coordinate transportation, storage, and three daily meals for 42 shelters to support 6,565 people. The expediency of this (unfunded) task makes me further question why he couldn't produce the 10,000 units of Measure HHH housing from the $1.2 billion taxpayers gave him three plus years ago. These new shelter spaces could save lives, yes, but they also could have been the entry point into permanent, supportive housing. Unfortunately, L.A. politicians intentionally abandoned their commitments to get them built.
The City has also suspended daytime tent-down enforcement, lessened some parking restrictions, and halted the towing of all RVs and vehicle dwellings. These are huge protections for the already unhoused, and doesn't begin to enumerate the protections given to Angelenos at risk of losing their housing in this crisis.
Surprisingly, even the judicial branch is playing a role. In addition to the county jails release of people, L.A. Sheriffs, whose jail population is 30% unhoused people, have reduced their bookings by 80% (from 300 a day to 60). Even the District Attorney is stepping in: raising cite and release policy up to $50,000 and pausing the filing of many criminal cases, keeping people with their communities.
And while all this has happened, L.A.'s social fabric has not crumbled into disarray nor slipped into chaos. This leads me to one conclusion: the laws I was taught were necessary, the practices I was taught were integral to our "collective safety," the things I was told were unavoidable because of political bureaucracy and expense, were simply not true.
So, what changed?
People in power decided we were in crisis, and the facade came down. "[COVID-19] will kill a lot more people than we're used to dying around us," Garcetti told Business Insider. Well, we on Skid Row are pretty used to people dying around us, given three unhoused Angelenos died every day before the risk of the virus entered the equation. Maybe what the Mayor meant was, "[COVID-19] will kill more people close to me than I'm comfortable dying."
So what happens when this crisis is over? Will the City and its cronies of back-scratching developers and never-big-enough businesses and institutions resume their assault on the poor, on workers, on the precariously housed? Will unnecessary bureaucracy, meaningless rules, and ineffectively harmful policies continue to be the excuse for tolerating the worst harms to our communities?
These sorts of "emergency responses"—radical social safety nets, worker protections, accessible health infrastructure, decriminalization and decarceration—could be our norm, permanently. This crisis moment could be L.A.'s turning point.
And now that Skid Row has its first documented case of COVID-19, the question leaves the abstract and becomes real. Very real. If this virus spreads, it will wreak unfathomable havoc with a speed that is truly terrifying. I care about what our city will do in the long haul, and I care about what we can still do today.
Normal in LA has become more than 60,000 people living without stable housing, dying at a rate of three per day. Normal has become the largest jail population in the world. Normal has become workers who make obscene profits for businesses that don't pay them enough to survive.
Let us make this moment one where things never go back to normal again. And while we work towards that, please know, as we told Jack, "If you are hungry tomorrow, come on back and we will feed you."
Matt Harper
Matt Harper is a faith-based, community organizer working to bring systemically privileged communities into the struggle for justice. He does this both as a full time community member with the Los Angeles Catholic Worker and as an organizer with White People 4 Black Lives.
Did you find this article useful? Please consider supporting our work by donating or subscribing.