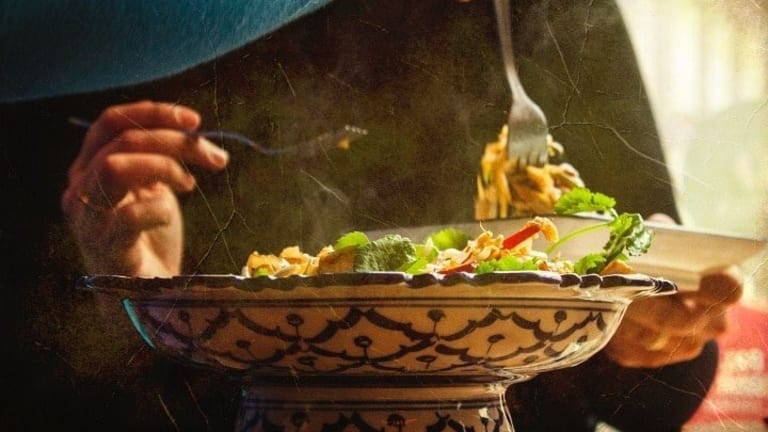 A Simple Lunch Outdoors: A Major Occasion
Garrison Keillor: We spent three hours at lunch Sunday and not once did we talk about the guy with the hairdo.
Spring is here at last in our northern latitude and that is the news that transcends all other news. It arrived Sunday and we observed it by enjoying our first outdoor meal on our New York balcony, sitting in the shade of a potted tree, with two vegan-leaning friends and in their honor there were no 32-ounce prime ribs, but rather a green salad and a bean salad, both excellent, and oatmeal cookies. The sun shone down and we heard a finch singing nearby who apparently is thinking of moving in with us and raising a family so we must now buy some thistle seeds, which finches like and pigeons do not. We prefer finches, they sing, and they're beautiful in the morning light. Pigeons are just rats with wings.
Spring, glorious spring. It is the Resurrection of Our Lord, a time of transcendence, and tomorrow I shall have my hair cut by my wife, beauty parlors being closed here still, not that beauty is what I'm after, just respectability. Sunshine is the cure for a good deal of what ails us — we know this now after six weeks of lockdown. I sit in the kitchen and agonize about the economy, politics, the demise of the performing arts, and then around noon I step outside and sit in the sun and suddenly I am not a citizen or a consumer or a performer, I am a mammal, along the lines of a muskrat or raccoon, a mammal who owns an apartment with a balcony where I am safe from predators and food is delivered to me regularly — in other words, a zoo mammal.
We spent three hours at lunch Sunday and not once did we talk about the guy with the hairdo.
We discussed this over Sunday lunch, whether we will, when the All-Clear sounds, return to our busy lives, fly hither and yon, attend meetings, eat at restaurants, and we all thought, "Maybe not. Maybe the raccoon life is what we wanted all along." Thoreau built him a cabin in the woods and raised beans and wrote, "I went to the woods because I wished to live deliberately, to front only the essential facts of life, and see if I could not learn what it had to teach, and not, when I came to die, discover that I had not lived." I think he could've done better in an apartment building with a doorman. In his cabin by Walden Pond, Henry was pestered by curious townspeople who wanted to know what he was out there for. A doorman guards against interruptions. Henry said, "Life is frittered away by details." A pandemic reduces those details to the basics.
What we're missing is a lawn and as a Minnesotan I miss that. Mowing was my first useful occupation and it organized my mind: you could think dreamy thoughts but still you kept to the lines. Going back and forth, back and forth, on a rectangular lot was what led me to be a writer: it's really the same thing, except at the end, instead of a bag of clippings, you have an essay.
I went away to college to escape from lawn mowing and to become a writer, and then I fell in love with a girl whose parents owned a house with an extensive corner lot, and I courted her father by mowing it. I was twenty, my writerly pretensions competed with the pretensions of others, and lawn mowing brought me down to earth, and rather than launch a novel that struggles with man's fate and maybe woman's too, I set out to do what I'm doing now, writing in gratitude for a spring day.
We spent three hours at lunch Sunday and not once did we talk about the guy with the hairdo. We talked about children, about the goodness of our lives, about the odd beauty of a prayer healing in the Episcopal church. You associate prayer healing with men in cheap suits who handle snakes and whoop and yell, but in the Church of the Wing Tips it's a simple moment when you go forward and a deacon hears your concern and lays hands on you and prays. It is sweet and mysterious. We attend church online now and pray for the sick and those in need, of whom we all know many. It is a deliberate and essential part of life, prayer.
Meanwhile, we sat in the spring sunshine and were healed of humorlessness and narcissism and anxiety about the Dow Jones. And now I pray for you in Arizona and Texas and Florida, languishing in 100-degree heat. Come north. Life is good.
Garrison Keillor
Prairie Home Productions
Republished with permission form Prairie Home Productions
Did you find this article useful? Please consider supporting our work by donating or subscribing.