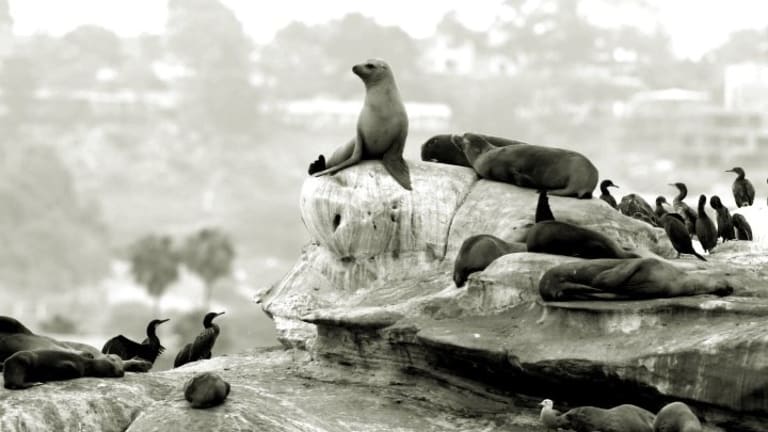 Man of the North Finds Bliss, Becomes Incoherent
Garrison Keillor: I was the boss of a business for a while and it's nice to have the big office with the walnut credenza but then you realize that you are the focal point of everyone's unhappiness
My family and I are at a swimming pool under the palm trees behind a pink stucco 1929 hotel in San Diego, my wife reading a memoir, my daughter swimming laps of alternate crawl and butterfly, and I am trying to think of what one can say about blissfulness other than that, for a Minnesotan brought up on the principle of "It could be worse," blissfulness comes as a major surprise, like weightlessness. The hotel looks out on the Pacific, a beach where sea lions fraternize and waves crash on the rocks. As I ate my oatmeal on the balcony this morning, a seagull landed on the railing and cocked his eye at the raisins on the cereal so I tossed him one and he caught it. This almost never happens back on the frozen tundra where nature makes serious attempts to kill us. In paradise, it's Live and Let Live.
My family was evangelical and believed in the imminence of the Rapture when the Lord would appear in the air and we would rise to meet Him and ascend into glory, but we were simple Midwestern people and had no clear idea of glory. It certainly didn't resemble Anoka, Minnesota. We knew that much.
I was the boss of a business for a while and it's nice to have the big office with the walnut credenza but then you realize that you are the focal point of everyone's unhappiness
When I was a kid some relatives moved to California and sent a Christmas card with a picture of an orange tree in their backyard and we didn't understand how they could bear to live so far from us. They visited us in June, in their pastel outfits, driving cars with enormous tail fins, Lutherans who'd become Universalists and then Theosophists and (who knows?) maybe nudists and meanwhile we endured the cold, the flatness, the oceanlessness, the angry theology, the merciless scrutiny of neighbors, and they sat in San Diego feeling wonderful. I felt contempt for them and looked on snowbirding as weakness of character and the first sign of dementia, but here I sit, under a white canopy, feeling happy.
What I like is that it's my wife who lobbied for a California winter break and it's she who chose this perfect hotel. It's all her doing. She knows it and I know it. I like the feeling of being well cared for. I was the boss of a business for a while and it's nice to have the big office with the walnut credenza but then you realize that you are the focal point of everyone's unhappiness, their bouts of depression and boredom and back pain are due to you, Mister Big, and you retire and accept the plaque and then comes this beautiful surprise: your wife loves you and wants you to be blissful.
Blissfulness is a simple matter for a Northerner. You go to a place where you can eat lunch outdoors in January and that does it. The shock of pleasure drives other stuff from your mind — the federal deficit, the Ayatollah's plans for revenge, the Iowa caucuses, the immolation of eastern Australia — and you sit and write a poem. Not a great poem — those are written by tortured pre-suicidal people — but for one written by a blissful guy, it's okay.
Oh if you could only see us
Eating fresh tortillas
With salsa and guacamole,
Feeling blissful, even holy,
Here on the patio,
Stunned by the absence of snow,
The sun is out, the patio is crowded.
It is paradise no doubt about it.
Whoever we are, Lutherans, Catholics, Presbyterians,
We are sharing a paradise experience.
Blissful now but eventually hapless:
Thursday I return to Minneapolis.
The sky is bluish blue. A waiter stands ready to bring me a drink, but a glass of wine would be too much, push me right over the edge, I'd start singing "What A Wonderful World," people would edge away. We're twenty minutes from Mexico, the carnitas burrito I had for lunch was the best ever and the guacamole too, we're surrounded by Latino courtliness and affability, my daughter's butterfly is excellent, my wife loves that I am, thanks to her, so happy.
I sit here, under my canopy, blissing out, and as a true Minnesotan, I suspect that joy goeth before a fall and that a cerebral event is a few hours away, one so extraordinarily unique that it will be named for me, and after my fifty years as a hardworking writer, my name will come to stand for numbness and memory loss. It's okay. God bless you all. Carry on the work you were put here to do. Some January, sit by a pool in the sunshine but don't feel you need to write about it, I already did.
Garrison Keillor
Republished with permission from Prairie Home Productions.