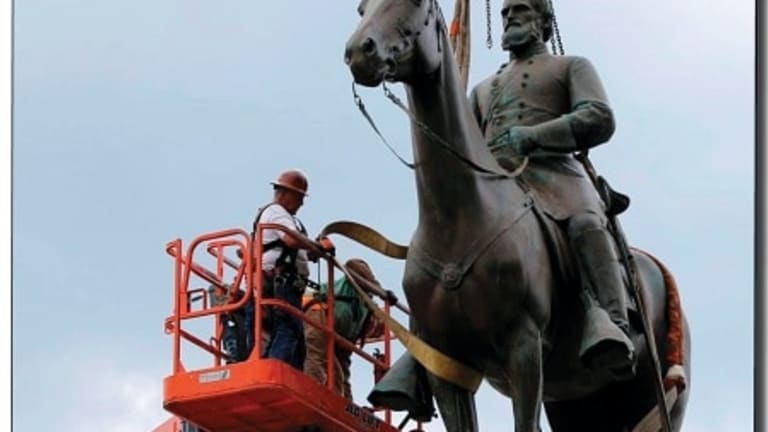 Now and Then Some Statues Need Replacing
Garrison Keillor: Nobody in Richmond knew enough about General Jackson to say much about him, and that's why he and his horse were dismantled.
When I heard that the statue of Stonewall Jackson had been pulled down in Richmond, I wondered why it was in Richmond when Stonewall was from North Carolina and made his career in Nashville, then I remembered that in addition to the country singer, there had been a Confederate general.
In fact, the singer had been named for the general, which was no problem in country music in the Fifties. I used to sing a song of his, "Don't be angry with me, darling, if I fail to understand all your little whims and wishes all the time. Just remember that I'm dumb, I guess, like any foolish man, and my head stays sorta foggy cause you're mine," which, in the annals of love poetry, doesn't rank with "My love is like a red, red rose that's newly sprung in June" or "Give me my Romeo, and when I shall die, take him and cut him out in little stars, and he will make the face of heaven so fine that all the world will be in love with night" nor even "Be-bop-a-lula, she's my baby," but still I sang it, I admit, not considering its Confederate connections.
Nobody in Richmond knew enough about General Jackson to say much about him, and that's why he and his horse were dismantled.
Not enough people are aggrieved over Thomas ("Stonewall") Jackson's statue falling to reelect the president, which he will find out in due course, and my only question is: whom can we replace Jackson with, and Beauregard, Davis, Nathan Bedford Forrest, and the other heroes of the Lost Cause? It's good to have statues that give old people like me a chance to stop and rest, while out for a walk with a young person, and tell about who that bronze figure on the pedestal is. Nobody in Richmond knew enough about General Jackson to say much about him, and that's why he and his horse were dismantled. He said, "Let us cross over the river, and rest under the shade of the trees," which, as dying words go, is very elegant. Too bad Lincoln never had the chance to utter dying words, he was watching a fourth-rate comedy and Booth waited for the laugh line, "Well, I guess I know enough to turn you inside out, old gal — you sockdologizing old man-trap" and fired the gun on the laugh and that was Lincoln's last line.
As replacements for generals that nobody much remembers, I'd propose Little Richard, a fascinating character who swung back and forth from "Good Golly, Miss Molly" to "How Great Thou Art," from raunch to gospel, and Miss Flannery O'Connor who said, "Anybody who has survived his childhood has enough information about life to last him the rest of his days." She said, "Conviction without experience makes for harshness." She said, "Where you come from is gone, where you thought you were going to never was there, and where you are is no good unless you can get away from it." Any one of the three would make a terrific inscription on a statue and I say there are enough statues of men on horses, there need to be more statues of slight women in plain dresses wearing glasses and looking intently down at their visitors.
For New Orleans, instead of Beauregard, you've got King Oliver and Jelly Roll Morton and Fats Domino to choose from. In Richmond, you can put up the satirist Tom Wolfe ("The problem with fiction, it has to be plausible. That's not true with nonfiction." ). Memphis could have Memphis Slim and Willie Dixon and as you approach the statue, you'd step on a steel plate and they'd sing to you, "Nobody loves me, nobody seems to care. Speaking of bad luck, people, you know I've had my share."
The smartest thing General Stonewall Jackson said was, "Always mystify, mislead, and surprise the enemy, if possible; and when you strike and overcome him, never let up in the pursuit, for an army routed, if hotly pursued, becomes panic-stricken, and can then be destroyed by half their number." And that is what Joe Biden should do.
The current Confederate president is starting to panic and it's time to rout him and bring out the Bolton information, the Mary Trump revelations, the Mattis denunciation, the video of Ivanka praising her father from a script as he listens, the Trump tax returns, and let's get this wide-ride on the run, his hair flying in the wind, chase him down the road with Mr. Pence hanging on to his coattails. Goodbye, Queens, and hello, Delaware.