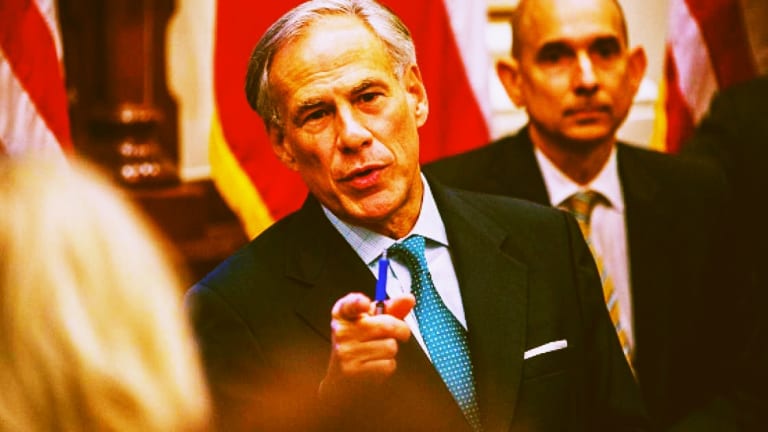 ACLU Sues Over Texas Governor Abbot's 'Illegal and Inhumane' Migrant Transportation Order
Jessica Corbett: Gov. Abbott's executive order is blatantly unconstitutional and threatens to turn Texas into a 'show me your papers' state."
The ACLU on Thursday filed a federal lawsuit challenging an executive order issued last week by Republican Texas Gov. Greg Abbott restricting the ground transportation of certain migrants and directing state officials to "stop any vehicle upon reasonable suspicion of a violation," citing the Covid-19 pandemic and the highly contagious Delta variant.
Abbott's order (pdf), which claims that "the admittance and movement of migrants under the Biden administration is exposing Texans to Covid-19 and creating a public health disaster," also empowers the Texas Department of Public Safety (DPS) to "impound a vehicle that is being used to transport migrants in violation" of the policy, which isn't yet in effect.
Gov. Abbott's executive order is blatantly unconstitutional and threatens to turn Texas into a 'show me your papers' state."
"Gov. Abbott's executive order is blatantly unconstitutional and threatens to turn Texas into a 'show me your papers' state," said Kate Huddleston, an attorney at the ACLU of Texas, in a statement. "The order creates the perfect storm for racial profiling by allowing state troopers to view any group of people as 'certain immigrants' violating the order."
"It will lead to unlawful detention, vehicle seizure, and the forced 'rerouting' of vehicles to the Texas-Mexico border," Huddleston declared. "This is yet another assault on Texans' civil rights by the governor and an effort to scapegoat immigrants in the state."
The ACLU suit (pdf), filed in the U.S. District Court in El Paso, came two days after a federal judge granted a temporary restraining order against Abbott's directive, blocking it while a U.S. Department of Justice lawsuit against the measure moves forward. U.S. Attorney General Merrick Garland condemned the governor's order as "dangerous and unlawful."
"In our constitutional system, a state has no right to regulate the federal government's operations," the DOJ argued in a motion asking U.S. District Judge Kathleen Cardone to block the order. "This restriction on the transportation of noncitizens would severely disrupt federal immigration operations."
Unlike the DOJ's case, the ACLU's suit—filed on behalf of the shelter provider Annunciation House; volunteer organization Angry Tías & Abuelas of the Rio Grande Valley; humanitarian Jennifer Harbury; and immigrant rights group FIEL Houston—focuses on how the order harms asylum-seekers and their families, border communities, drivers, and shelters in the state.
"We are challenging this executive order because it is illegal and inhumane," said Spencer Amdur, an ACLU staff attorney with the Immigrants' Rights Project. "The governor of Texas cannot veto federal decisions about who can live in this country. And state police cannot be stopping drivers and impounding cars they suspect of carrying asylum-seekers. This is an unprecedented attack on the federal immigration system and it must be struck down.
Plaintiffs in the case on Thursday shared the expected impacts if Abbott's order is implemented.
"Our shelters are places of temporary hospitality for asylum-seekers who are traveling on to their ultimate destination, frequently after long and difficult journeys to reach El Paso," explained Annunciation House Director Ruben Garcia. "If we cannot help people reach their onward destinations, we will have to close our doors. Simply put, Governor Abbott's executive order prevents us from doing what we do—serving migrants and refugees in our vibrant community."
Harbury said that "I recently assisted a woman and her little boy who were kidnapped three times in Reynosa, Mexico. She was gang raped in front of her child."
"I loved driving them to the movies, to ride a tricycle in the park—the normal things after so much trauma," she added. "If the governor thinks he's going to scare me off from doing that, I'd say to him, 'Just go home, Mr. Abbott, just go home.'"
Cesar Espinoza, executive director of FIEL Houston, warned that "if Gov. Abbott continues to erode community trust through these bad policies, we fear that our members will be afraid to come forward as witnesses and victims of crimes."
"We must do better to protect our community," he said, "and we must not continue to put the blame on the immigrant community for everything—including the growing pandemic in the state of Texas, which has worsened in large part due to the governor's irresponsibility."
Meanwhile, the Biden administration is also under fire from immigrant rights advocates this week for continuing a Trump-era policy enabling the federal government to quickly expel migrants on public health grounds.
Jessica Corbett
CommonDreams