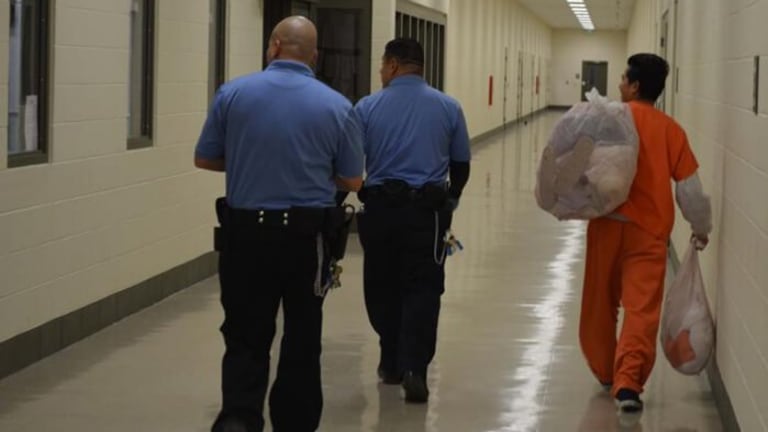 Better Medical Care Needed at Private Prison
Sandra Hernandez: GEO's failure to provide adequate medical care at Adelanto appears to be part of a larger pattern at GEO-run facilities
Legal groups call for improved medical care at troubled Adelanto immigration detention center
The ACLU of Southern California (ACLU SoCal) and a coalition of groups have called on federal immigration officials today to take immediate steps to improve the medical care at the troubled Adelanto Detention Facility where two detainees have died.
At least one death at the center can be directly attributed to "egregious" medical errors, and another immigrant death may have resulted from the failure to diagnose and treat a detainee's intestinal cancer, ACLU SoCal and the coalition said in a letter to immigration officials.
The deaths are part of a larger pattern of documented medical neglect and mistreatment at the facility, which is run by the private, for-profit prison company GEO Group Inc. under contract to U.S. Immigration and Customs Enforcement (ICE).
In a Freedom of Information Act (FOIA) request also submitted today, ACLU SoCal also requested that immigration officials release an American Bar Assn. report on conditions at the Adelanto facility. The bar association prepared its report last year, but immigration officials have not made the report public.
Since the center opened four years ago, GEO has consistently placed detainees' physical and mental well-being at "significant risk" by denying or delaying necessary medical and mental health treatment, the coalition letter said. The coalition includes several legal service providers and human rights groups—including the American Immigration Lawyers Association—that have worked directly with Adelanto detainees who have suffered as result of deficient care.
GEO's failure to provide adequate medical care at Adelanto appears to be part of a larger pattern at GEO-run facilities.
GEO has failed to meet ICE's performance standards for immigrant detention centers requiring that they must ensure that "detainees have access to appropriate and necessary medical, dental and mental health care, including emergency services," said ACLU SoCal staff attorney Michael Kaufman.
Cases ACLU SoCal and coalition groups have documented in the past few years include denial of care to a detainee with Hepatitis C because "his length of stay was uncertain," denial of treatment for a serious hip infection because "it was too expensive," and denial of a medically necessary helmet for a detainee with severe epilepsy who was prone to violent seizures.
"We have brought many of these and other instances of substandard care to the attention of ICE officials in Los Angeles," Kaufman said. "ICE has taken action to address several of the individual cases, but the ongoing number and severity of cases involving inadequate care make clear that there are underlying systemic deficiencies that remain unresolved."
He said he hopes the bar association report "will draw further attention to these issues and raise questions regarding whether ICE has declined to disclose the report because it reflects poorly on GEO and ICE."
GEO's failure to provide adequate medical care at Adelanto appears to be part of a larger pattern at GEO-run facilities, Kaufman said. Seven people died in less than two years at a GEO facility in Pennsylvania. Several of those deaths resulted in lawsuits alleging that the facility failed to provide adequate medical care.
Three years ago, 26 members of Congress requested an investigation of the GEO-operated Broward Transitional Center in Florida after hearing chilling reports of inadequate medical care for detained immigrants, Kaufman said. The same year, the Department of Justice released a report finding "systematic, egregious, and dangerous practices," including inadequate medical care, at a GEO facility in Mississippi.
Sandra Hernandez
ACLU of Southern California