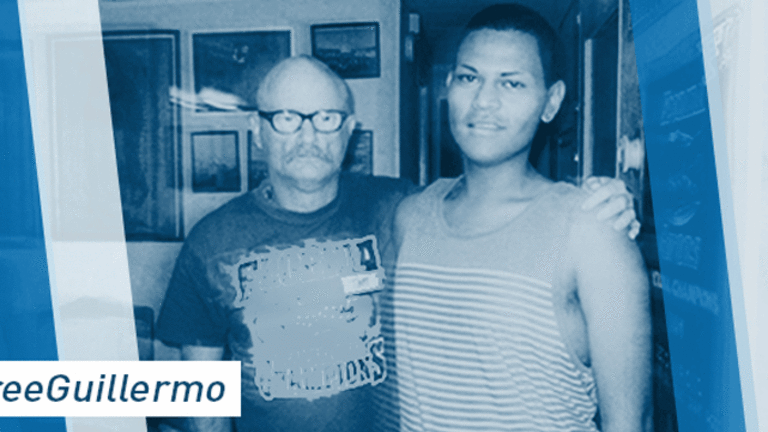 What Tom and Guillermo's Detention Center Wedding Reveals
Luis Nolasco: When Tom Swann and Guillermo Hernandez got engaged in December of last year, they never expected that their wedding would take place in a federal immigration detention center.
When Tom Swann and Guillermo Hernandez got engaged in December of last year, they never expected that their wedding would take place in a federal immigration detention center.
But on March 14, 2016, the two were wed at the Imperial Regional Detention Facility in Calexico, California, in what became the first wedding of a same-sex couple in immigration detention history.
The history-making wedding – which both men hoped would take place under far different circumstances in a far nicer setting – was the result of misguided policy by U.S. Immigration and Customs Enforcement (ICE) that allows immigration agents to roam courthouses and detain immigrants, regardless of whether individuals are applying for a marriage certificate or appearing in court.
Guillermo, who was arrested for underage trespassing at a casino when he was 20, and had some misdemeanor drug charges on his record, returned to the casino when he turned 21, violating a five-year-ban on entering the casino's premises, and violating his probation. In January, he appeared for a hearing at the Riverside County Courthouse in Indio.
At his hearing, prosecutors had agreed to offer him a one-year residential drug treatment program instead of jail. As he entered the courthouse, however, Guillermo was detained by ICE and taken into custody.
Read more about Tom and Guillermo's wedding day. Video footage courtesy of The Desert Sun
Guillermo, who has lived in the United States since he was seven years old, applied for and was granted protection under Deferred Action for Childhood Arrivals (DACA), a special program that shields some young immigrants from deportation. But after his brushes with the law, he was denied renewal of his special status.
Now, Guillermo, who was able to secure legal help from Centro Legal de la Raza, is awaiting the outcome of his case. At the ACLU of Southern California, we believe that Guillermo should never have been detained by ICE because the federal agency has repeatedly said it focuses enforcement efforts on immigrants who may pose a threat to public safety. Clearly, Guillermo is not a threat to his community. Moreover, once detained he should have been eligible for release on bond for that very same reason.
Yet Guillermo remains locked up in an immigration jail because federal immigration officials failed to follow their own rules. And Tom – a Navy veteran, who is blind and suffers from AIDS – has been left without the much-needed support and companionship of his husband.
ACLU SoCal is working to help Guillermo obtain bond and is seeking public support via a petition asking for his release.
This is not the first time the ACLU has raised serious concerns about ICE's practice of trolling for detainees at courthouses.
In 2013, we sent a letter to ICE asking the agency stop conducting enforcement actions outside courthouses in Kern County and throughout California because such practices actually undermine public safety by discouraging immigrants from testifying in court, or even reporting crimes fearing that any contact with the legal system may result in deportation proceedings.
ICE responded in a letter and promised to stop such enforcement tactics around the Kern County Superior Court.
Then in March 2014, after increased pressure to stop the practice altogether, ICE told the Los Angeles Times that the agency "routinely evaluates its operational procedures to ensure its resources are being used effectively and efficiently, " and had recently provided updated guidance related to enforcement actions at or in close proximity to courthouses but refused to disclose any details.
Unfortunately, it seems that two years later, little has changed in ICE's approach to enforcement actions around courthouses and immigrants such as Guillermo are still being targeted simply because they complied with their legal obligations and went to court.
ICE should keep its word and follow its own guidelines. But, until ICE reforms the way it operates, people like Guillermo will continue to be picked up, funneled into deportation and separated from their loved ones.
Luis Nolasco
ACLU of Southern California