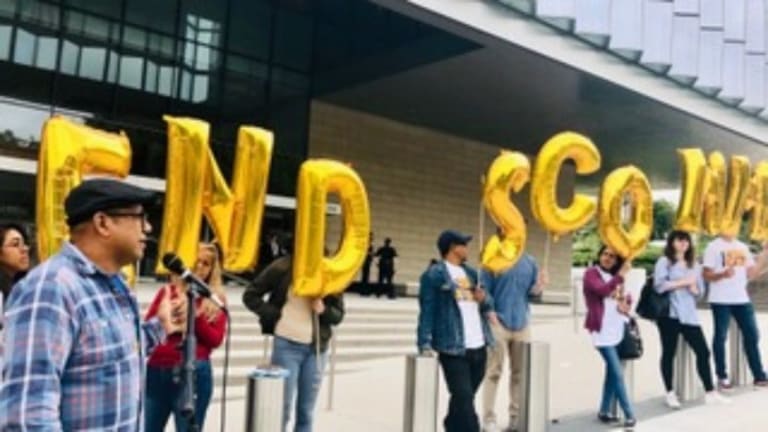 ICE's "Dragnet Without a Safety Net" Is on Trial in Downtown Los Angeles
Scott Doyle: As ICE coldly puts it on their website, they view local law enforcement as "force multipliers." Both ICE and Border Patrol enlist police and sheriff deputies as de facto immigration agents through an array of strategies.
Local law enforcement is ICE's secret weapon.
ICE (Immigration & Customs Enforcement) and CBP (Customs & Border Protection, commonly referred to as Border Patrol) are the two primary immigration enforcement arms of the Department of Homeland Security (DHS). They have huge budgets; and ever since Trump announced he was "taking the shackles off" both agencies, they have been emboldened in pushing the envelope and crossing legal and ethical lines in their push to pump up deportation numbers.
Although their more public actions—such as ICE's workplace raids and Border Patrol's punitive stand-off with asylum seekers and refugees—have drawn headlines and at least some scrutiny, the extent of their true reach is less visible and less scrutinized. That reach depends largely on voluntary cooperation from local law enforcement.
As ICE coldly puts it on their website, they view local law enforcement as "force multipliers." Both ICE and Border Patrol enlist police and sheriff deputies as de facto immigration agents through an array of strategies.
As ICE coldly puts it on their website, they view local law enforcement as "force multipliers." Both ICE and Border Patrol enlist police and sheriff deputies as de facto immigration agents through an array of strategies.
For the past two weeks, one of those strategies—the so-called "immigration detainer"—has been on trial in a federal courthouse in downtown Los Angeles.
"A virtual ICE presence at every local jail"
Trump has rightly drawn the ire of progressives and immigrants rights advocates for putting the federal deportation apparatus on steroids. But the actual machinery Trump and his cohorts are exploiting was put in place incrementally over several administrations, and Democrats bear a significant part of the blame.
The Illegal Immigration Reform & Immigrant Responsibility Act, passed in 1996 under Clinton, dramatically expanded the list of deportable offenses. It also expanded the use of the problematic term "criminal alien," a slippery category with no established legal definition. Offenses considered deportable under the new law included shoplifting and illegal re-entry. In the view of some advocates, the law contributed significantly to the conflation of immigration and criminality.
With the creation of the Department of Homeland Security after 9/11, the Immigration & Naturalization Service, the agency formerly charged with overseeing immigration, was replaced by ICE, CBP, and USCIS (U.S. Citizenship & Immigration Services). Immigration became more explicitly tied to national security, and to a law enforcement approach.
It was at the end of George W. Bush's administration that entanglement between local law enforcement and federal immigration enforcement took a quantum leap in the form of the Secure Communities program (or S-COMM). Begun as a pilot in 2008 involving only 14 jurisdictions, the program expanded rapidly under Obama to include 1,210 jurisdictions in 2011, and achieved full implementation in 2013 at 3,181 jurisdictions.
At the heart of Secure Communities is an interface between a patchwork of databases from DHS and the FBI that, in the words of a brief filed in the lawsuit, allows ICE "to receive—automatically and in real time—the fingerprints of any person booked into a local jail."
The net effect, according to former ICE head Julie Myers, was to "create a virtual ICE presence at every local jail."
What ICE does with that virtual presence is attempt to fully leverage its "force multipliers" in local law enforcement. When the fingerprint-triggered background check produces what an ICE officer deems to be a hit (probable cause that someone is deportable), the officer generates an immigration detainer—a request that local law enforcement hold a detainee up to 48 hours after they are otherwise due for release.
This hold sets in motion an insidious sequence of events: a second arrest, sometimes followed by a transfer to ICE custody that amounts to a second sentence—all without review or due process. It is, in the words of a lead attorney in the law suit, "an automated system that allows ICE to churn out arrests at the click of a button."
And the nerve center for this automated system is right here in Southern California, at ICE's Pacific Enforcement Response Center (PERC) in Laguna Niguel.
The case against "click and arrest"
Although ICE favors neutral bureaucratic language in describing this process (detainers are sometimes also called "immigration holds"), because they involve a restraint on liberty, detainers legally constitute a second arrest—and as such are subject to the protections provided by the Fourth Amendment.
The original case, Gonzalez v ICE, involved five plaintiffs represented by a legal team of attorneys from the ACLU of Southern California, the National Day Laborer Organizing Network (NDLON), and the National Immigrant Justice Center (NIJC). The case has undergone numerous delays since it was filed in 2011. Last year it was consolidated with a related case, Roy v Los Angeles County Sheriff's Department.
You might assume that most of the people caught up in ICE's dragnet are undocumented immigrants or other non-citizens—but in fact all five plaintiffs are U.S. citizens. One was born in Los Angeles, but a database error said he was born in Mexico; so at the click of a button, ICE had her arrested. Another had derived citizenship from his parents, a fact previously confirmed by an immigration judge; but these facts were missing from the databases ICE uses, and so at the click of a button, he too was arrested.
It is not always easy to determine citizenship or legal status. Doing so requires a full history, much of which may not show up in any database. A central problem in ICE's click-and-arrest system is that the databases it depends on for establishing probable cause were not designed to conclusively determine immigration or citizenship status.
One database, according to ICE's own records, has an error rate of 30% in indicating immigration status.
Another database that tracks whether people have overstayed their VISAs has a 42% error rate.
Naturalized citizens constitute 6% of the population—yet the database ICE uses deletes records after 15 years, so anyone naturalized before 2004 is vulnerable to unlawful detention. (One of the Gonzalez plaintiffs was naturalized in 1983.)
ICE is fully aware of these problems. According to an ex-ICE official deposed for the trial, the only way to accurately confirm immigration status is a full review of someone's immigration file, and a personal interview. Other verification programs run by DHS, such as E-Verify, do in fact require review of the entire immigration file.
But when it comes to feeding Trump's deportation machine, ICE can't be bothered, it seems, with niceties like getting the facts right. As the ACLU's Jennie Pasquarella put it in her opening statement:
"ICE's concern has not been with getting it right. They have no incentive to get it right because someone else is doing the arresting for them. All they have to do is click a button. Click and arrest. They care about two things: They care about numbers and they care about expediency—what is the quickest, what is the easiest, what is the least labor-intensive way to arrest and deport the greatest numbers of people."
The legal team is challenging "click and arrest" on several grounds, mostly related to due process. During the trial, ICE has touted an expanded list of databases it can draw on. But these mainly provide additional information about "removability"—while continuing to provide spotty and faulty information about legal status. Any fair assessment of probable cause, plaintiff's attorneys argue, must first determine whether the person in question is a U.S. citizen; and then, if not, whether they are nonetheless a legal resident. ICE's automated searches run roughshod over these first two questions.
Beyond the deeply flawed determination of probable cause, "click and arrest" involves no judicial review, no pretrial right to release, and no right to representation—all bedrock principles of our constitutional system.
There is, in sum, no check on ICE's authority, no speed bumps. ICE doesn't even audit its own system. It doesn't bother to keep statistics on the number of U.S. citizens or nonremovable immigrants it issues detainers to or takes into custody.
As Jessica Karp Bansal of NDLON (who, like Pasquarella, has been with the trial all seven years) put it: "ICE can call these detainers by many names, but unconstitutional arrests are just that, unconstitutional and unlawful."
Chess match
Gonzalez is part of a larger chess match between ICE and immigrants rights advocates. As ICE finds its ability to use local law enforcement as force multipliers curtailed, particularly in sanctuary jurisdictions, it has responded by adopting new strategies and re-packaging old ones.
The characterization of "click and arrest" as a dragnet is not hyperbole. Under Obama, the number of detainers issued by ICE in California alone grew from 15,000 in 2006 to 310,000 in 2011—a 2000% increase. In response to mounting pressure from advocates and multiple legal challenges, Obama's DHS Secretary Jeh Johnson terminated Secure Communities in 2014. ICE would no longer issue detainers requesting arrest; it would have to settle for requesting notification of release dates of individuals it deemed deportable.
Johnson's memo announced that Secure Communities would immediately be replaced by the Priority Enforcement Program (PEP), which some advocates dubbed "S-COMM light." PEP had its problems as well—most notably, that immigrants were still vulnerable to double-punishment, first by the criminal justice system, and then by the immigration system. But the shift represented some progress; and the name itself indicated that civil immigration violations (simple border crossings) would not be a priority.
Trump restored Secure Communities within a week of assuming office. And in a memo the following month, DHS Secretary John Kelly announced he would no longer "exempt classes or categories" from immigration enforcement. In other words, any pretense of enforcement priorities was out the window. All immigrants and non-citizens would be in ICE's crosshairs.
Similarly, as a growing number of jurisdictions (including the state of California) ban 287(g) agreements (a formal partnership between a local law enforcement agency and ICE), Trump responded earlier this month with a revised version, the Warrant Service Office program. WSO will allow local officers to perform limited immigration enforcement duties. It is being explicitly framed as a tool that allows ICE-friendly departments to work around (i.e., subvert) local sanctuary policies.
Local law enforcement in LA continues to collaborate
Its many problematic immigration policies notwithstanding, ICE under Obama always made it clear that participation in Secure Communities was voluntary and that local jurisdictions could opt out. Trump, by contrast, has rhetorically and legally tried to bully local governments into ceding to his deportation agenda.
Communities that have opted out of S-COMM and 287(g) agreements have been tagged with the label of "sanctuary" jurisdictions. There is no set definition of what it means to be a sanctuary city or a sanctuary state—yet that does not in any way render the term meaningless. Essentially, it is a range of degrees to which localities can opt out of cooperating with immigration enforcement. At minimum, it means declining to participate in S-COMM or 287(g) or the new Warrant Service Officer program.
But there is much more local jurisdictions can do to draw a bright yellow line between local law enforcement and the federal immigration enforcement apparatus. Sanctuary ordinances such as the one adopted in nearby Santa Ana prohibit local law enforcement (and local public resources generally) from assisting federal immigration agencies unless absolutely required to by law. Absent a judicial warrant, local government's sole obligation is not to prevent any federal, state, or local agency from obtaining information about an individual's immigration status. In other words, if local law enforcement has information about someone's status, they have to share that information if ICE requests it. That is all.
Unfortunately, for all the talk of Los Angeles being an immigrant-friendly city, local public officials have waffled and deflected and split hairs about sanctuary policies. Mayor Eric Garcetti has repeatedly claimed he doesn't understand what the term means. Apparently not wanting to antagonize the Trump administration, he has at times described LA as a "city of sanctuary."
The LA City Council doesn't seem to want to touch sanctuary either. Gil Cedillo (chair of the Immigrant Affairs, Civil Rights and Equity Committee) has followed Garcetti's timid lead by introducing a "City of Sanctuary" resolution. But he has sent mixed signals when it comes to meaningful legislation. On the one hand, he has joined other national leaders in calling for ICE to be abolished. When shown a copy of the Santa Ana ordinance, he said it didn't go far enough. Yet he has refused to introduce his own bill, despite the urging of advocates and community groups.
In a recent public meeting, Cedillo went so far as to describe a sanctuary ordinance as "a solution in search of a problem." This flies in the face of numerous reports and investigations documenting the multiple ways LAPD continues to collaborate in immigration enforcement: including voluntary information-sharing, and participation in joint task forces that result in so-called "collateral" immigration arrests.
In many ways, the stakes are even higher at the county level. The Los Angeles County Sheriff's Department operates the nation's largest prison system. While LASD participates in joint task forces as well (usually with Border Patrol), of particular concern to advocates is its willingness to transfer inmates to ICE. LASD annually hands more than 1000 inmates over to ICE—after they have served their sentence and are scheduled for release. This amounts to a de facto second sentence, one that often lands detainees at an immigration detention center like Adelanto for months or even years—without due process, and usually without representation.
Previous Sheriff Jim McDonnell claimed he was merely following state guidelines in executing these transfers. But those guidelines, updated recently by the California Values Act, are a floor, not a ceiling. The clear intent of the bill's author, former Senator Kevin de León, was to allow and even encourage local jurisdictions to provide further protections. (The bill was watered down considerably due to lobbying from McDonnell and other sheriffs.) And as the independent Office of Inspector General points out, those transfers remain entirely voluntary and discretionary. The vast majority involve sentences for misdemeanors or non-violent property and drug-related offenses.
New Sheriff Alex Villanueva ran on a campaign pledge to "kick ICE out of the jails." His unexpected upset victory was due at least in part to public dissatisfaction with McDonnell's pro-ICE stance, and the perception that Villanueva would make a major break with previous policies.
So far, the reality of Villanueva's immigration "reforms" has not matched his rhetoric. ICE agents are no longer allowed inside the massive Inmate Reception Center that processes intakes and releases. Yet the new policy comes with a catch: an ICE transport subcontractor is. Villanueva may have technically kicked ICE out of the jails; but he has just as quickly effectively given them a back door. McDonnell's transfer policy will proceed largely as before.
Earlier this month, Villanueva made a big show of stating he would refuse to participate in Trump's new Warrant Service Officer program—even though the California Values Act clearly prohibits him from doing so.
Get involved!
Yes, local law enforcement is ICE's secret weapon—but only to the extent that local government and its citizens allow that to happen. The bulk of their cooperation with ICE and Border Patrol is voluntary and discretionary.
On Tuesday May 21 at 9am, an ad hoc immigration sub-committee of the Sheriff Civilian Oversight Commission will present its long-awaited report. Preliminary recommendations presented last year were strong and, if adopted, would significantly curtail LASD's cooperation with ICE. But commissioner and former federal judge Robert Bonner is adamantly opposed to the reforms, and as a previous chair of the commission yields a good deal of influence. A vote on the recommendations is expected, and there will be opportunity for public comment.
The Gonzalez v ICE case concluded with closing arguments on May 16. Judge André Birotte Jr. is expected to issue a ruling in the fall.
Stay in touch with the case, and with the ongoing campaign to limit local cooperation with ICE, by following the National Day Laborer Organizing Committee, the National Immigrant Justice Center, and the ACLU of Southern California. You can also follow the hashtags #ICEonTrial and #SCOMMonTrial and #ICEoutofLA.
Scott Doyle

Scott Doyle is a freelance writer and activist in Los Angeles. He can be found at scottwdoyle.net.