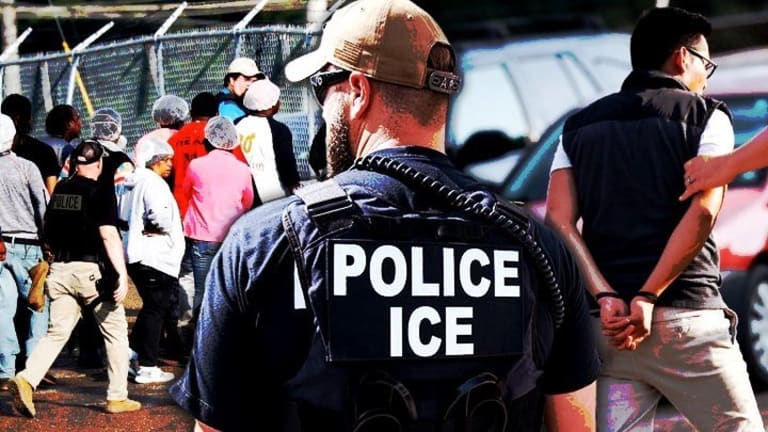 Will LA Fully Support Due Process for Immigrants?
Scott Doyle: LA once again has the opportunity to step in and make things right and affirm the right to due process. This time, in immigration court, where the right to representation is far from established.
After Mayor Garcetti's Disappointing Allocation to LA Justice Fund, the Ball Is in City Council's Court
In 1963, the Supreme Court of the United Stated ruled that the 6th amendment requires states to provide counsel to defendants in criminal court who cannot afford it. If the awesome power of the state could be brought to bear on an individual—including the power to deprive them of property, of liberty, or even of life—then no one, regardless of means or background, should have to walk into court alone. You might think that 1963 is a little late in the game. It means that for much of our history, the due process guarantees of the Constitution rang hollow for some of our most vulnerable citizens.
Although it was the judicial branch of the federal government that delivered on that promise of due process for all, this massive step forward had its roots in local government. Specifically, right here in Los Angeles. A full fifty years earlier, a group of advocates formed the nation's first public defenders office. Local leaders saw a gap between our stated principles and our practice, and they stepped in to make it right.
LA once again has the opportunity to step in and make things right and affirm the right to due process. This time, in immigration court, where the right to representation is far from established.
Almost sixty years after that momentous decision, LA once again has the opportunity to step in and make things right and affirm the right to due process. This time, in immigration court, where the right to representation is far from established. The Los Angeles Justice Fund—a partnership between the City, the County, and private foundations—has in the past few years made important but modest progress toward this ideal. But the unwillingness of Mayor Garcetti to build on the promise of the program's pilot phase has now put it in limbo. And it remains to be seen if the City Council will show enough spine to push back against the Mayor's so-called Justice Budget.
The Stakes of Legal Representation in Immigration Court
Unlike in criminal court, there is no established right to legal representation in immigration court. In fact, due process rights have in some ways eroded in recent decades. For years, most undocumented immigrants facing deportation were allowed to go before a judge and make their case for why they should be allowed to stay. But in 1996 Congress revoked that right for many immigrants and asylum seekers when it expanded the use of "summary removal," in which a decision is made without hearing or judicial input. By 2013, Sarah Stillman writes in The New Yorker, "more than eighty per cent of deportations were nonjudicial, with the result that life-or-death decisions now routinely rest in the hands of immigration authorities at the border."
Beyond the border, decisions in immigration court can also often have life and death consequences, even though entering the country without papers ("improper entry") is a civil violation, not a criminal one. And according to the ACLU, "civil removal proceedings far outnumber criminal prosecutions and remain the primary manner in which the federal authorities enforce the immigration laws." As a result, minor encounters with law enforcement over things like a traffic violation can turn lethal.
Nonetheless, access to legal representation is the exception and not the rule. Nationally, as many as 80% of those facing deportation are unrepresented, even though immigration laws are notoriously complex. Without an attorney, undocumented immigrants win their cases a mere 5% of the time. With help, their chances are greatly improved: according to the Vera Institute of Justice, they are up to 10 times more likely to establish their right to remain in the U.S.
The stakes are especially high in the Los Angeles area, where immigrants account for 36% of the total population and 44% of the workforce—a fourth of whom are undocumented. Another way to look at it: According to a recent USC study, a conservative estimate is that 18% of LA County's total population is undocumented or living with a family member who is. The ripple effects of a deportation affect these mixed-status families, as well as businesses and entire communities.
A report commissioned by the County estimates that undocumented workers and their family members contribute $141 billion in economic value each year to the Los Angeles area—and that undocumented workers annually pay $63 billion in taxes. And yet we also have one of the highest rates of immigration law enforcement activity in the nation.
A Program in Limbo
As a first step toward addressing a huge unmet need and creating a legal safety net for our immigrant community, the LA Justice Fund—a partnership between the City, County, and private foundations—was established in 2017. To date, LAJF attorneys have provided representation for over 500 individuals. Immigration cases can take years to resolve, but even winning release from detention on bond or on humanitarian grounds (which has been successful in a number of cases during the pandemic) is a major victory—allowing clients to return home to their families and their jobs, and buying them time to put together a compelling case.
Following the two-year pilot, the City and its partners provided a year of "bridge funding" while a report commissioned by the County evaluated the program's efficacy and made recommendations for its future. That report (from Grantmakers Concerned with Immigrants & Refugees, or GCIR) has found LAJF to be an unequivocal success—but stresses that the first three years of funding have only scratched the surface of the total need, and should be viewed as a foundation on which to build a more comprehensive, long-term, holistic set of legal and related services. The report calls for the City, County, and partner foundations to each contribute just over $3 million annually and to commit to multi-year support.
In making its case for expanding the program, the report describes the LAJF as "a veritable lifeline for immigrants facing deportation and removal," and a "first line of defense against a formidable deportation bureaucracy." Even this modest increase in funding, it points out, would represent only 0.027% of the County's total budget. A report from USC concurs, saying "the Justice Fund needs not only to survive, it needs to expand to meet the current moment."
Despite voicing support for the program, Mayor Garcetti has responded with a disappointing $1 million in his proposed budget, which merely duplicates last year's bridge funding. Members of City Council have expressed some interest in improving on the Mayor's allocation. Kevin de León (Chairman of the Committee on Immigrant Affairs, Civil Rights & Equity, and who also sits on the powerful Budget & Finance Committee) has submitted a motion for a three-year commitment of $2 annually.
But although he says he supports the program, Budget & Finance Chair Bob Blumenfield has reservations about expanding the City's commitment. He worries that such a commitment would come at the expense of other social programs, and as a matter of principle seems to believe that the state and federal government are more appropriate sources of funding for legal representation.
It is impossible to address Blumenfield's concerns and the Mayor's paltry allocation without talking about the elephant in the room: the bloated LAPD budget. Last year, in responding to public pressure and announcing a $150 million cut to LAPD, Mayor Garcetti was acknowledging that his original budget was not in step with the times. He said he saw this move as "an inflection point," and that he was "committed to making this moment not just a moment." A year later, it seems we are back to the status quo, with the Mayor restoring LAPD's budget to pre-protest levels.
Council President Nury Martinez last year echoed the theme of an inflection point. The cut to LAPD, she said, is "just one small step... as we reset our priorities in the wake of the murder of George Floyd." If the Council approves the Mayor's current budget without dramatic changes, these words will have been proven hollow. For her and City Council, last year's moment will have just been a moment.
There has been little substantive pushback from the City Council regarding the Mayor's proposed budget for LAPD. If Bob Blumenfield is worried about taking money from other social programs to fund the LA Justice Fund, he need look no further than one particular line item in Garcetti's budget: $7.5 million for yet another police helicopter—which alone would more than fund the City's contribution to the program at the levels the GCIR report recommends.
San Diego Moves Boldly for Universal Representation
Meanwhile, earlier this week our southern neighbor (supposedly known for much more conservative politics) launched its own comprehensive Immigrant Rights Legal Defense Program, making it the first border county in the nation to offer free legal representation to people facing deportation.
Crucially, the San Diego program is adopting a universal representation model right out of the gate. There are no residency requirements or exclusions based on previous encounters with law enforcement—so-called "criminal carve-outs" that are just a legalistic way of saying "due process for... some." By contrast, LA's program has from the start been hampered by restrictions that make it less just and less efficient. LAJF attorneys have to spend an inordinate amount of time "pre-screening" prospective clients. A single error in someone's file (and until they are a client, attorneys must rely exclusively on public records) such as a misspelled name or incorrect date of birth can require a long drive to Adelanto to get the facts straight. In her testimony before de León's committee in March, attorney Chelsea Bell of the Immigrant Defenders Law Center shared the practical fallout of these "labor intensive" and "cumbersome" requirements. For every four or five intakes she conducts, she can take only one or two cases.
From the start, the criminal exclusions have been a contentious issue within the LA City Council. Current Council President Nury Martinez led the charge against universal representation when the program was first being considered in 2017. "As long as I get a vote on this council, I will not support our money going towards representation of people who've been convicted for these malicious, horrible crimes on others," she said at the time.
Let's not linger over how Martinez plays into the "good immigrant / bad immigrant" narrative here. And not ponder whether or not she favors extending those same exclusions to the Public Defenders Office. Instead let's focus on how Martinez (known for taking strong stances against sexual violence) continues to ignore the voices of those closest to the issue. Specifically addressing the question of victims of sexual violence as it relates to the Justice Fund, the Los Angeles VAWA (Violence Against Women Act) Network wrote City and County officials in 2019 as follows:
Our clients come from marginalized communities and commonly find themselves in extremely vulnerable positions, often as a result of the violence they have experienced. That said, they sometimes end up with criminal convictions or wrongful arrests. Sometimes our clients are accused of domestic violence by their abusers when they attempt to defend themselves; other times our clients are single mothers caught stealing to feed their families; and others are not offered familial support and are caught up in the criminal justice system. It is our hope that the City Council Members and the Supervisors will consider making the LA Justice Fund truly universal and accessible to all individuals—including those with criminal convictions. 
One of the uphill battles advocates for immigrant rights have to fight is the perception that, with Trump gone from the White House, the outlook for immigrants, refugees, and asylum seekers is necessarily a good one.
In a March Immigrant Affairs Committee meeting largely devoted to consideration of the LA Justice Fund, Chair Kevin de León voiced support for the principle of universal representation. As did Curren Price, who touched on the sorely neglected issue of Black migrants and asylum seekers caught up in the deportation machine. (Although Black immigrants make up only 5.4% of the undocumented population in the U.S., they disproportionately make up 20.3% of immigrants facing detention and deportation on criminal grounds.)
Newly elected Councilmember Nithya Raman specifically referred to the 1963 Supreme Court case requiring states to provide counsel in criminal court to those who cannot afford it—and suggested we view the Justice Fund as a natural extension of that ruling. It remains to be seen whether this position will gain traction amongst a majority in the Council.
What Next LA?
One of the uphill battles advocates for immigrant rights have to fight is the perception that, with Trump gone from the White House, the outlook for immigrants, refugees, and asylum seekers is necessarily a good one. Yes, the rhetoric has shifted. Some of the previous administration's policies have been reversed. But much has not changed. The deportation machine that Trump put into overdrive was years in the making, and blame for that falls on Republican and Democratic administrations alike. It will take years to undo.
In the meantime, half of current sitting immigration court judges were appointed by Trump. As Manuel Pastor of USC pointed out in his testimony to Immigrant Affairs, there is considerable "institutional resistance" to change within immigration courts, not to mention ICE and Border Patrol. The backlog in LA's immigration courts, which dropped slightly last year after a peak in 2019, is rising again and has exceeded 70,000 cases. Multiple factors—including climate change, Covid, political unrest, and poverty—will continue to drive migration.
San Diego is not the only jurisdiction to adopt a universal representation model. Harris County, Texas (the Houston area) just passed such a program, joining Dallas, Austin, and San Antonio. (Surely LA can keep up with Texas!) New York (the nation's oldest such program), Denver, San Francisco, Santa Ana, and nearby Long Beach have done so as well. Denver and Long Beach have tripled their support in the upcoming fiscal year, and New Jersey has doubled funding. In total, Vera counts 22 (soon to be 23) communities in 11 states that are part of its SAFE Initiative. Los Angeles politicians like to talk about what a progressive leader LA is, and on some counts that is true. But when it comes to legal defense for immigrants, we are undeniably playing catch-up.
Advocates acknowledge that, in an ideal world, the state and federal government would play a lead role in immigrant defense. And indeed, there are legislative initiatives at both levels to do just that. But advocates also argue that stringing the LA Justice Fund along from year to year isn't likely to inspire action from the state or feds. Rather, it is by building on the promise of the pilot and creating a robust program here in Los Angeles that momentum will grow for a guarantee of due process in immigration court that goes beyond the current patchwork of local efforts. That dream is certainly years away. In the meantime, just as over a century ago LA public defenders did not sit back and wait for the state and feds, our local leaders should step up and dig deep to support this essential legal lifeline.
The LA City Council will be considering the Mayor's budget over the coming two weeks: in meetings on May 11 and 12, and again on May 18 and 19, where public comment will be taken. It can be difficult to get through online for live comment. But you can make your voice heard by leaving public comment anytime through the City Clerk's Public Comment Form. For comments on the budget, specify File # 21-0600.
The Council will then convene a special meeting on the budget on May 20.