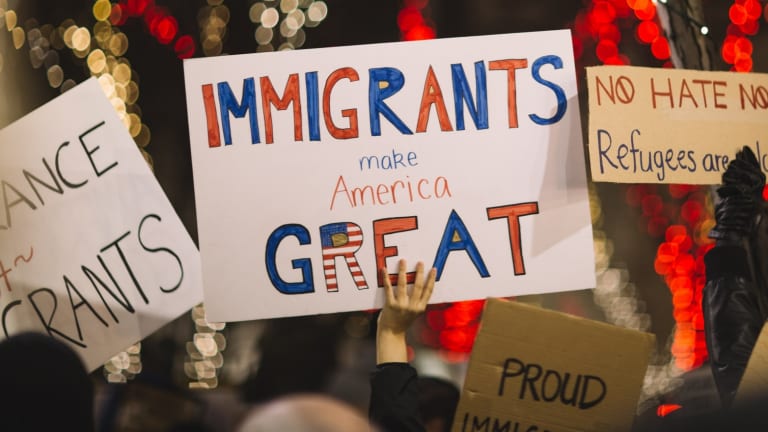 That Time Gil Cedillo Called Me and Asked About Making L.A. a Sanctuary City (And Nothing Happened)
For a while, hopes ran high that, with Gil Cedillo championing the issue, the City of Los Angeles might move boldly and adopt a forceful Sanctuary policy. It never happened.
In February of 2017, a little over a month after Trump was inaugurated, Romulo Avelica-Gonzalez—an undocumented immigrant who had been living in the U.S. for 25 years—was arrested by ICE agents just a few blocks from where I was living in Highland Park. He was dropping his daughters off at school, and one of them captured the arrest on her cell phone. The video went viral and the case became a local touchstone around resistance to Trump's stated mission to "take the shackles" off ICE and Border Patrol.
One of the groups that rallied around Romulo's cause was Indivisible Highland Park—one of thousands of such groups nationally that emerged in the wake of the 2016 election. The group decided to make immigration its initial focus, in part because Highland Park is in Council District 1 in Los Angeles, and represented by Gil Cedillo. Cedillo, who had made a name for himself in the State Senate as a voice for immigrants, at the time chaired the Immigrant Affairs Committee in the LA City Council.
It seemed like a fortuitous confluence of circumstances: A high-profile deportation case had galvanized public support for immigrants' rights in the district of an elected official who seemed positioned and qualified to do something about it.
For a while, hopes ran high that, with Gil Cedillo championing the issue, the City of Los Angeles might move boldly and adopt a forceful Sanctuary policy. It never happened. This is the story of how those high hopes were soon deflated. And of a brief conversation I had with Cedillo that I think says a lot about the man fighting to hold on to his City Council seat for a third term.
What Is Sanctuary?
One of the obstacles to getting the LA City Council to adopt a Sanctuary ordinance is that there is no set definition as to what constitutes a Sanctuary City. People across the political spectrum have used that ambiguity to their advantage—including Mayor Eric Garcetti, who plays a small role in this story.
Muddying the waters is classic deflection, and it turns out that Sanctuary is actually a pretty simple concept. Immigration enforcement is almost solely a federal matter. The obligation of local government to assist federal immigration agencies is minimal. If they have information on the immigration status of an individual in question, they must share it. And if law enforcement is holding someone and ICE has the necessary judicial warrant, they must turn that individual over to ICE.
That's it. Any additional cooperation is purely voluntary.
Unfortunately, even local law enforcement agencies that say they don't want to have anything to do with immigration cooperate and collaborate with ICE and Border Patrol in a number of ways. They collect information unnecessarily (especially regarding immigration status) that later ends up in the hands of ICE. They participate in joint task forces with other DHS agencies like Homeland Security Investigations, and engage in operations that produce so-called "collateral" arrests based solely on immigration status. And at the county level, sheriff's departments routinely hand over inmates to ICE without a judicial warrant.
At the time, the ACLU estimated that as many as 70% of cases involving someone facing detention and deportation began with an initial encounter with local law enforcement. Advocates have long wanted to shut off that part of the deportation pipeline by having local governments withhold any voluntary cooperation with federal immigration enforcement.
Think of a Sanctuary ordinance as basically an opt-out clause. It's really that simple.
But it's also that difficult. Local law enforcement doesn't like having its hands tied. It views its collaborations with various federal agencies as a valuable tool in its toolkit, and it doesn't like giving up its tools. And elected officials don't like challenging law enforcement.
So politicians do what they do: They obfuscate, they deflect, they avoid taking meaningful action. And Gil Cedillo followed this playbook to a tee.
Santa Ana Acts First
Romulo Avelica-Gonzalez was arrested the month after Trump's inauguration. But immigrants' rights advocates knew what was coming. Shortly after the election, a group of local attorneys and advocates wrote the Mayor and members of City Council, telling them what was going to happen, and laying out a series of measures they could and should take immediately—including adopting a Sanctuary ordinance.
It was encouraging that the City of Santa Ana, in the heart of supposedly more conservative Orange County, did just that. They began drafting an ordinance immediately after the election, and adopted it on December 20, a good two weeks before Trump's inauguration.
Cedillo's position on Sanctuary, and on the Santa Ana ordinance, was a constantly moving target. At first, he seemed enthusiastic. He said the problem was getting other Councilmembers to line up behind it. He said we had to demonstrate broad support. Indivisible Highland Park organized a Sanctuary Town Hall and packed an SEIU auditorium. Cedillo spoke but made no commitments.
For months, at every opportunity, we pressed copies of the Santa Ana ordinance into the hands of his staff members. When he finally read it, he said it wasn't strong enough. (To be fair, the ordinance is short. But its power is its simplicity: In no uncertain terms, it prohibits public resources to directly or indirectly go toward immigration enforcement.)
Later, Cedillo publicly wondered if a Sanctuary ordinance wasn't a "solution in search of a problem." He said it wouldn't have prevented Romulo's arrest. (No one claimed it would have.)
Garcetti Waffles
Cedillo and other local elected officials seem to have taken their cue from Mayor Eric Garcetti on the Sanctuary issue. Garcetti's ambivalence left City Council leaders reluctant to take a strong stand. Garcetti claimed (and others would echo this argument) that he didn't want to needlessly antagonize the Trump Administration and risk losing federal money. But Trump routinely referred to LA as a Sanctuary City anyway.
After weeks of saying he wasn't sure what sanctuary meant, Garcetti—at a high-profile press conference in February of 2017 at LAX welcoming back the first traveler to reenter the U.S. after being turned away by Trump's travel ban—declared LA to be a "city of sanctuary." But when he released an executive order the following month, it was entitled: "Standing With Immigrants: A City of Refuge, Safety, and Opportunity for All."
A Resolution… Then Nothing
So it wasn't a surprise when, in the fall of that year, I got a call from a member of Cedillo's staff telling me "the boss" wanted to talk. He was going to introduce a motion the following day. He wanted to know whether it mattered if the wording of the resolution was "Sanctuary City" or "City of Sanctuary."
I tried to take the question seriously. No, I said, it didn't matter. On the one hand, "Sanctuary City" is unambivalent, and the term has a rich history with activists in LA and elsewhere. And why pull your punches, I asked. Trump's going to call LA a Sanctuary City anyway. But as long as it's a stepping stone to a meaningful ordinance, that's what matters.
In September of 2017, Cedillo introduced his "City of Sanctuary" resolution. The LA Times quoted him as saying it would be followed up with a second motion, one asking the City attorney to draft an ordinance.
The purely symbolic resolution sat in committee for months. It wasn't voted on until February of 2019.
The ordinance was never drafted.
Gil Cedillo never introduced a second motion. The LA City Council has yet to adopt or even consider a Sanctuary ordinance