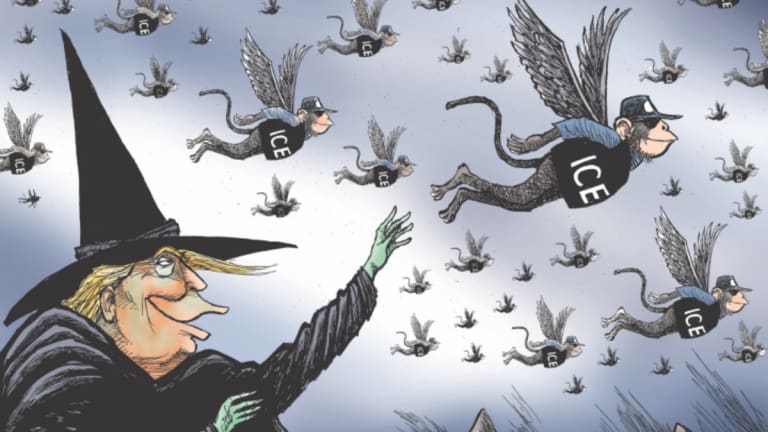 New Immigration Bill Seeks to Reverse GOP Policies
Frances Madeson: Alejandro Cano was brought to the states as an infant by parents who fled Chile as political refugees. Now, she faces deportation to a country she has not lived in since infancy.
An immigration reform bill that would undo the harshest effects of the 1996 Illegal Immigration Reform and Immigrant Responsibility Act (IIRIRA) had been stalled in the 116th Congress, but will be reintroduced Tuesday.
Rep. Jésus "Chuy" Garcia (D-Ill.), the New Way Forward Act's lead sponsor, says it's meant as a complement to President Biden's day one immigration bill, which incorporates some of his bill's provisions.
On Jan. 6 Garcia was in his Longworth Building office when an emergency call told him to secure the doors, gather his staff, bring out the gas masks, stay away from the windows and go into lockdown as a precaution against the insurrectionist mob at the Capitol.
"My staff and I were safe," he says, "but from the stories I heard from colleagues, it was very traumatic." Garcia's plan for his bill's swift introduction so early in the legislative session was made even more acute by what Garcia calls this moment of "white supremacist terrorism."
The bill is an effort to scrap the most destructive aspects of the current immigration system, including mandatory detention in federal for-profit prisons and deportations that "fail to take into account the individual circumstances of people."
Alejandro Cano, one of many immigrant Chicago business owners, faces deportation to a country she has not lived in since she was an infant.
Garcia's family migrated to the U.S. from Mexico in 1965, when immigration had not yet been "criminalized" as a matter of policy, immigrant workers were not subject to terrorizing workplace raids, and immigrant families were not made to wait for decades for a green card to be together.
"If my father had not had the opportunity to achieve permanent resident status, and to petition for us to come to the United States, I probably would not be in the United States Congress," he says.
Efrén C. Olivares, deputy legal director at the Southern Poverty Law Center's Immigrant Justice Project, lauds the New Way Forward Act's proposed repeal of 8 U.S. Code § 1325 and 1326, which make it a crime to enter the country without authorization, because those rules provide "the underlying legal framework behind Zero Tolerance and the family separation policy."
"This law would do away with our arcane approach to what is, at its core, a humanitarian issue," says Olivares.
Alejandra Cano is one of Garcia's constituents facing deportation whose family could be directly impacted by the passage of the bill. She was a toddler in Chile when her parents, supporters of Salvador Allende, fled the Pinochet regime in 1976 as political refugees.
Now a business owner (nearly a third of all business owners in the Chicago metro area are immigrants, according to the American Immigration Council), she's facing deportation "back" to a country she hasn't lived in since infancy. She's hoping for legislative relief and says she doesn't really have a plan B.
"I feel like my mind has somehow checked out," she says, "because I've had to continue living here but not thinking about it. I feel like in a way I'm also detained. Not physically but mentally."
In the last Congress, the bill never made it out of the Judiciary Committee's Subcommittee on Immigration and Citizenship. But in Garcia's view there's a possibility of more Republican support because of the removal of "the poison that was Donald Trump" from the White House.
"We're in that recovery phase, asking ourselves what are we going to be as we plow forward into the 21st century," Garcia says. "This could be telling if we are able to attract additional support from across the aisle."
Frances Madeson
Capital & Main