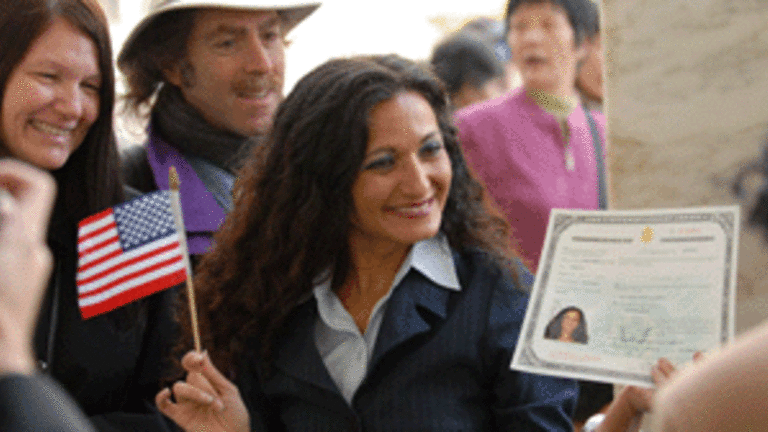 "Climb Aboard Little Wog, Sail Away With Me..."*
It was inspiring to watch people from 96 different countries proudly stand when the name of their former homeland was called. 246 rose from China; 140 from Mexico and 120 from the Philippines.
Watching Wednesday's naturalization ceremony for 1,161 new Americans in San Francisco was inspiring and poignant. It was inspiring to watch people from 96 different countries proudly stand when the name of their former homeland was called. 246 rose from China; 140 from Mexico and 120 from the Philippines. Those were the largest contingencies. My friend, Anat, was the only person to stand when they called Israel, and of course, I was very proud of her.
In the moments leading up to the ceremony, I thought about my great grandfather, Herman Simon Adler, who was the first person in our family to emigrate from Germany in the 1880s. He took his oath at the Port of New Orleans before moving on to Memphis to start a hotel business. Grandpa Adler used his newfound wealth to rescue his siblings, cousins and friends from the Holocaust in Germany and France. I also thought about my grandfather Lewis Prosterman, who came from Russia and also arrived through New Orleans in the 1910s. He arrived not knowing a word of English, but managed to enroll in dental school in Atlanta and practiced until he was 93. (I never had him work on me at that age, but he was still in practice.)
Both men arrived with little promise or resources, but created large families and made huge contributions. As I looked on the people waiting for their ceremony to begin, I wondered and imagined about their struggles and stories. And I thought of the heartbreak of those who fell short on the exam, or couldn't come up with the fees, or had to go back home and start over because the clock ran out on their Green Cards
When Egypt was announced, I thought about the many men I met in Cairo while I was in graduate school. Some days, it seemed like every man who spoke English was anxious, if not desperate, to cultivate a friendship with an American so he could have a faint hope of emigrating. When Mexico was announced, I thought of the thousands of people trying to cross the border every day and the many who have died trying. The Eastern European countries brought to mind the families whose members tricked in a few at a time. I remembered hearing stories as a child about how families had to make fast, tough decisions if one member didn't pass the TB test. Sometimes one parent had to accompany a sick child back to the old country and try all over again. Every immigrant to America has a great story – some are gratifying; others are heartbreaking.
Part of the ceremony involved two films about the history of American immigration, with a focus on Ellis Island. Most of my family members from Germany, France and Russia came through there after Grandpa Adler used his "connections" to extract people from the Holocaust. Several years ago, I asked my oldest auntie, "How did Grandpa get the family out of Germany ? More to the point, how did a Jewish hotel owner in Memphis manage to get family members out of the most horrific war machine in history?" Auntie Herte looked at me with great disappointment, as if I had learned nothing in my entire life, and then said, "WITH HIS UNDERWORLD CONNECTIONS, HOW ELSE?" (Look for my historical novel on this next year.)
My interest in the process and ceremony went beyond my friendship with one of the new citizens. I teach an accent reduction class for non-native English speakers in the Bay Area, and citizenship issues are often part of the discussions. This was the first naturalization ceremony I had attended, though I've counseled people on the process for years. In the course of working with many "foreign students", I've become familiar with some of the visa issues and residency requirements. Sometimes I find myself saying, "I can help you with a lot of things, but for THIS you need an attorney..."
Looking around the Masonic Hall, I saw a the next generation of Grandpa Adlers embarking on great lives and accomplishments in America : scholars and busboys who will someday own a restaurant; teachers and students who will someday get an advanced degrees; doctors, tech wizards, mothers and fathers. The emcee reminded people that all the children of newly naturalized citizens also become citizens with their parents' oath. Before the ceremony I was suddenly confronted by a small Asian woman frantically waving her certificate and Residency Card in front of me. She spoke no English, but her gestures and expression clearly indicated she didn't know where to go for the ceremony. I directed her back downstairs were the honorees were assembled. Something told me her citizenship was a package deal that included a bunch of little ones.
Afterward, there were photo-ops aplenty with cut-outs of President Elect Obama, the ROTC color guard, and the beautiful mural in the entry hall. Anat had her full entourage in tow with her personal photographer, videographer and me with her digital camera to make sure nothing was missed. It was surely the most carefully documented naturalization in American History. One day last month, we were reviewing her citizenship test. I was reminded that each of these 1,161 people had to pass an exam that requires them to ace a high school civics course. How many natural-borns can do that even out of high school? Knowing the political and legislative process is one of the requirements for becoming a citizen.
In some ways they make better citizens because they have to work for it and make sacrifices. The day and ceremony had the feeling of a big birthday party, graduation ceremony, Bar/Bat Mitzvah or Quinceañera. Everybody there had a reason to be happy and a reason to celebrate. The sad stories were left behind.
H. Scott Prosterman
*Lyric from the Randy Newman song, "Sail Away."
Photos by Dave Staugas