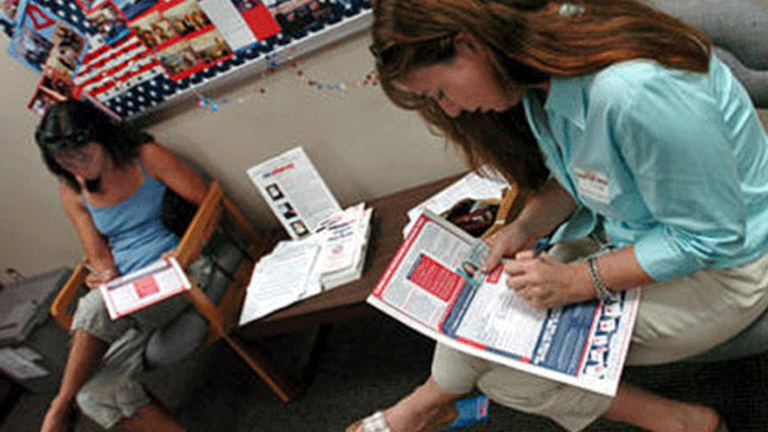 Latino Principles of Immigration Reform
Latino Principles: The challenge for Republicans today is that they must actually "get to work."
Since the record defeat that Republicans suffered among Latino voters in 2012, prominent GOP voices have lined up to encourage their party to do a better job reaching out to Hispanics. John McCain, Jeb Bush, Karl Rove, Lindsey Graham, Paul Ryan and in the last two weeks John Boehner and even Rand Paul have all pleaded with the Republican Party to try and win more Latino votes. Every single mainstream Republican believes they must improve their standing with Hispanics – there is no debate. Chairman of the GOP, Reince Priebus, wrote in an op-ed in the National Review:
I also want to take this moment to say a word… to my fellow Republicans, including candidates and officeholders at every level, from the courthouse to Capitol Hill: If you're not engaging with the Hispanic community, you better get to work.
The challenge for Republicans today is that they must actually "get to work." They must have something to deliver to Latino voters in 2014 and 2016, and so far they have very, very little. As immigration reform-minded members of Congress make a significant last push for comprehensive reform, we take this opportunity to remind member of Congress, particularly Republicans of theLatino Principles of Immigration Reform.
If they want a chance at impressing Latino swing voters, then an immigration reform plan must move forward. What's more, the plan that moves through the House cannot be full of provisions that create permanent second-class non-citizen status, or the border-security-heavy bill they advance will actually worsen their standing with Latino voters such that ten years from now Republicans will find themselves saying "If only we could do as well with Latinos as Mitt Romney did – remember when we only lost 75% of the Latino vote?"
In July 2013, following the passage of the Senate immigration bill Latino Decisions conducted a national survey of Latino likely 2014 midterm voters. We screened respondents on their actual vote history opting for folks who had voted in both 2006 and 2010 and stated they had a high likelihood of voting again in 2014. So what do these highly likely Latino midterm voters think about immigration reform? The elevator speech to Congress is simple: Latino voters are watching closely, they are very committed to seeing immigration reform passed this year, and whichever party leads on the issue has a chance to make gains on their 2012 numbers. [full poll results here]
1) Latino voters think immigration reform is a very important
86% are following news about the immigration debates in Congress
74% think it is very or extremely important for Congress to pass immigration reform this year
60% say it is the most important issue facing Latinos, 27% say jobs and economy
2) Latino voters soundly reject the current efforts by the House of Representatives
20% currently approve of the job House Republicans are doing on immigration
78% say they are less favorable towards GOP overall after hearing Steve King anti-immigrant quote
75% say they are less favorable towards GOP overall after June 6 2012 vote to defund DACA
3) Immigration reform can not create permanent second-class status
78% agree the immigration reform plan must provide an opportunity for citizenship
Only 16% like the idea of legal status without citizenship
65% reject the idea of citizenship for only DREAMers, but not the other 9 million
4) Immigration reform can and will affect the GOP standing with Latino voters in 2014
19% currently plan to vote Republican in 2014 midterms
71% have a more favorable opinon of GOP overall after hearing Paul Ryan pro-immigration reform quote
50% say even if they disagree with GOP on other issues, if GOP passes immigration reform bill they would have more favorable opinion of the GOP
62% would be more favorable towards GOP if Boehner allows a an immigration bill vote this year
71% would be less favorable towards GOP if Boehner never brings it up for vote
While many Republicans have voiced support for immigration reform, others are actively blocking it, arguing such actions won't hurt in future elections. History begs to differ, here's a quick refresher:
Sharon Angle and Ken Buck were both crushed by Latinos in 2010 Senate races. Both anti-immigration crusaders turned solid leads into election night defeats amid high Latino turnout and overwhelming support for Senators Reid and Bennett.
The author of Arizona's infamous SB1070, Russell Pearce was recalled from office by a moderate Republican who supported immigrant rights. Latinos registered in record numbers specifically to vote Pearce out of office.
In Rhode Island, John Robitaille, described as driving Governor Carcieri's extreme anti-immigrant policy, lost by less than 3 percent to moderate and immigration reform supporter Lincoln Chaffee.
In 2012, incumbent Republican House members Brian Bilbray, Dan Lungren, and Tony Strickland all opposed immigration reform and all lost close elections with sizable Latino electorates. 2012 wasn't the first time, according to an analysis by America's Voice, Republicans lost 20 of 22 competitive congressional districts where they voiced an anti-immigrant stance in 2008. Looking to 2014, David Damore has avery detailed analysis highlighting 24 Republican held districts who narrowly won in 2012 in which the Latino electorate is large and growing.
Perhaps the best-known case study in repelling the Latino vote, is the Mitt Romney presidential campaign. A month after the loss, Romney's campaign manager, Matt Rhoades, said the campaign's anti-immigrant positioning and statements were a mistake which he regretted. If he had it to do over again, he said they should not have tacked to the right on immigration because that hurt them badly with Hispanics in November. Republicans should heed those words, Rhoades knows of which he speaks.
Matt Barreto
Latino Decisions