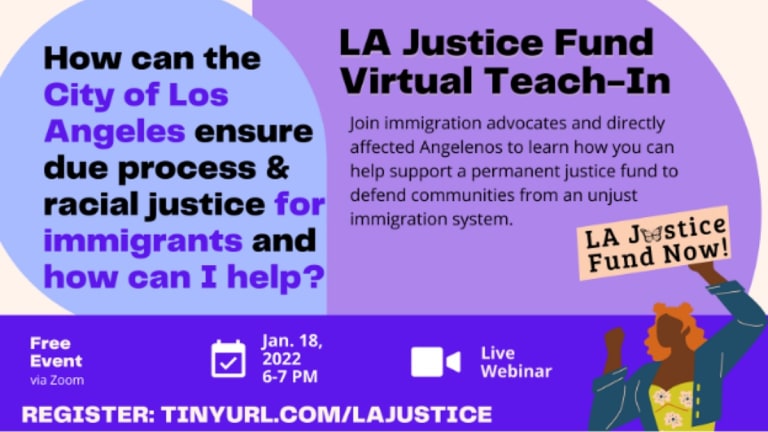 A Legal Defense Program for Immigrants Has Stalled in LA City Council…
Join immigration advocates and directly affected Angelenos to learn how you can support a permanent justice fund to defend communities from an unjust immigration system.
But Is Scheduled for a Vote Next Week
In 2017, the City and County of Los Angeles began a pilot program to provide legal representation to immigrant Angelenos facing detention & deportation. For the past two years—in the middle of a pandemic, and with the Biden Administration continuing many of Trump's hurtful policies—the program has been in limbo.
In July of last year, the County Board of Supervisors voted to make the program permanent & universal, with no exclusions. The LA Justice Fund has been stuck in committee in LA City Council for five months—even though at least 24 other local governments across the country, 7 right here in California, have adopted a public defender style program for immigrant legal defense.
UPDATE: The latest news is that the Justice Fund will be considered and voted on in the next meeting of the Immigrant Affairs, Civil Rights & Equity (IACRE) Committee meeting: Thursday, January 20, 12:30pm.
Attend a virtual LA Justice Fund Teach-In on Tuesday, January 18th at 6pm. Find out:
HOW deportation cases work and why immigrant legal defense is so important
WHY Los Angeles is lagging and not leading in defending its immigrant community
WHY the Justice Fund is stalled in Kevin de Leon's Immigrant Affairs Committee
WHY Councilmembers Gil Cedillo and Mitch O'Farrell refuse to support due process for all immigrants
WHAT you can do about it!
File public comment in support of LAJF with the City Clerk anytime between now and January 20 (file # 17-0046-S2 already filled in). Additional resources available HERE.