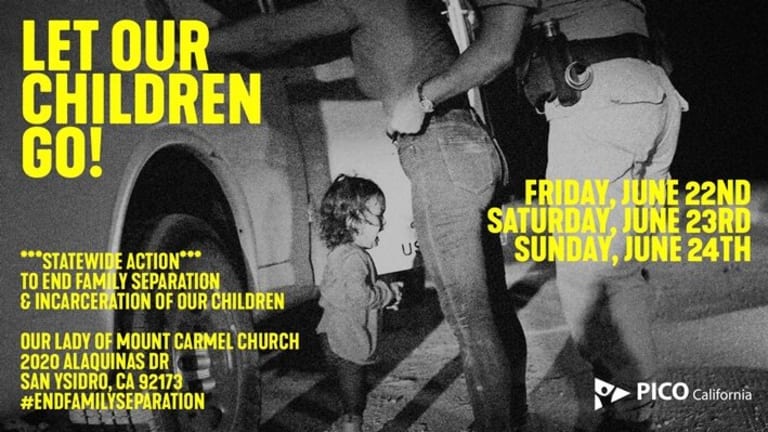 #FamiliesBelongTogether
We are calling upon THOUSANDS of clergy, faith leaders, tribal elders, allies and partners to join us THIS WEEK in the family separation zone, where state-sponsored traumatization and family separation is taking place.
There will be several calls to action in response to the crises we face because of our government's treatment of families crossing the border. The LA Progressive will try to provide information as we receive it.
Here is a list of events that are upcoming. This post will be updated as we learn more. Please check regularly.
1) July 21, 2018 - join the movement and mobilize at MacArthur Park, 2230 W. 6th Street, Los Angeles from 10:00-2:00 for the "Families Belong Together March".
Use these hash tags as you post to social media:
#LetOurChildrenGo
#StopSeparation
#FamiliesBelongTogether
#Freedom4OurChildren
#EndFamilySeparation
We all should call upon Congress and our leaders to:
Immediately end the inhumane and immoral practice of separating children from their parents
Immediately reunite the over 2,000 children who have been torn apart from their mothers and fathers
End the inhumane practice of incarcerating children in our country
Replace the current system of childhood incarceration rooted in punishment and profit with a new system rooted in restorative justice and healing
LET OUR CHILDREN GO!
To the terrified children and grieving parents whose families were torn apart, we say: "We see you." We see your humanity and the love that has impelled you to seek a more secure future. Our hearts break with you and for you.
To Attorney General Sessions and other federal officials who have devised this 'zero-compassion' policy at the border, and to all those complicit in implementing it, we say: "Not on our watch."
Nor will we abide the invocation of sacred texts to justify this shameful policy.
We call on you to stand with us, and to defund this sinful system of family separation.
WILL YOU JOIN US?