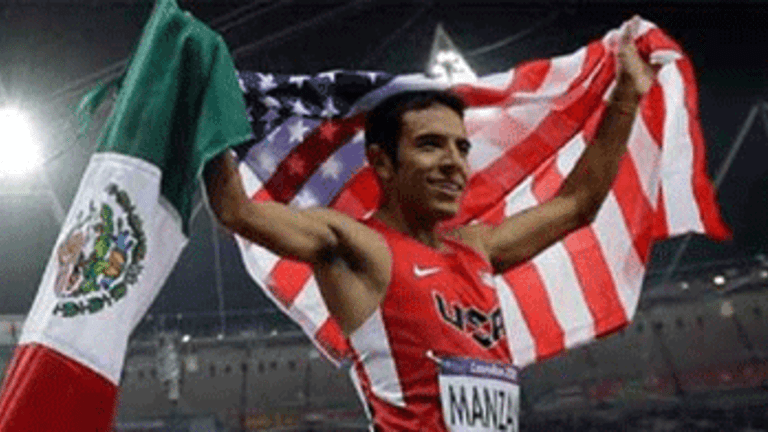 Olympians, Immigrants, and World Affairs
Unai Montes-Irueste: Our eagerness for stories, involving athletes from around the world, as enthusiastic viewers of the Olympic games, juxtaposes paradoxically with our intolerance for our own immigrants' stories, even if those immigrants are athletes who win medals for the US.
We face a global energy crisis, a global economic crisis that began in 2007, a global climate crisis of which humans are almost entirely the cause, a transnational organized crime network financed in large part by the global drug trade, and a fight against terror cells hostile to Western nation-states that has gone global, and is being waged through the use of drones whose justifiability is debated, and whose use in targeted killings leaves unanswered questions.
Keith Porter writes,
"US foreign policy affects almost every aspect of our daily lives. Prices, jobs, the supply of gasoline, taxes, and the life and death of our nation's soldiers are impacted by how we interact with the rest of the world. And if we get past those self-centered reasons for caring about US foreign policy, we can start to think about how others are affected by America's actions. At our best, the United States can bring hope and light to the neediest people in the world… At our worst, we bring pain, breed fear and unleash the fury of those who conclude we are part of the same tyranny against which they have always fought… Americans have mostly built lives where we don't have to be bothered by events outside our own little worlds. But being a good citizen, holding leaders accountable, and voting for the right people requires a little bit of attention."
Alkman Granitsas writes,
"Foreigners have long bemoaned the 'isolationist' attitude of Americans – safely protected by two oceans and their tabula rasa history. But over the last several decades, that isolation has deepened. Americans now pay less attention to international affairs, and read less foreign news than at any time in the last two generations… According to Gallup polls from presidential election years 1948 through 1972, Americans used to rank foreign affairs as the most important issue facing the nation. Since then, however, with the single exception of the 2004 elections, the economy has been ranked first. Over the same period, the percentage of American university students studying a foreign language has steadily declined. According to a report funded by the US Department of Education, in 1965, more than 16 percent of all American university students studied a foreign language. Now only 8.6 percent do. American media coverage of foreign affairs has also been diminishing… In 1987, overseas news accounted for about 27 percent of front-page stories in American newspapers – about the same as a decade earlier. By 2003, foreign news accounted for just 21 percent of front-page stories, while coverage of domestic affairs more than doubled over the same period. On television, both the number of American network news bureaus overseas and the amount of airtime spent on foreign news fell by half in the 1990s… Long before 9/11… Americans were already growing less interested in the rest of the world… The implications, however, are disturbing. Because of America's pre-eminent position in world affairs and its role in 'globalization,' its foreign policy matters more than any other country on earth. But can America shape a responsible foreign policy with such an uninformed electorate? The world may be turning into a 'global village,' but the average American has moved to the suburbs."
This disinterest in world affairs juxtaposes paradoxically with our eagerness for stories, involving athletes from around the world, as enthusiastic viewers of the Olympic games:
Mike Wise wrote movingly, on multiple occasions, about Tahmina Kohistani, the only woman to represent Afghanistan.
Natalia Jimenez, described Japanese women's soccer player, Aya Miyama's, patient, empathetic effort to comfort French opponent, Camille Abily, after Japan defeated France 2-1 in the semifinal match, in crisp, direct prose.
Tom Hammond painted a laudatory and compelling picture of a primetime NBC viewing audience about Grenada's Kirani James, whose praise, embrace, and exchange of bib numbers with South Africa's double amputee sprinter, Oscar Pistorious, following the 400-meter semifinal heat was described as, "the ultimate show of camaraderie and respect," by Dave Zirin, and "a display of the best aspect of the competitive spirit" by Mary Elizabeth Williams.
When US wrestler, Jordan Burroughs, and his Iranian opponent, Sadegh Goudarzi, put their arms around one another while standing side-by-side on the medal stand, Cavan Sieczkowski, not only bannered it as a moment offering hope, but hailed it as, "the single image to encompass the spirit of the Olympics… a place for nations to come together."
And when China's Liu Xiang, the gold medalist in the 110-meter hurdles in 2004, collapsed after the first hurdle because of the Achilles heel injury that kept him from competing in 2008, removed himself from the track in excruciating pain, only to return so he could cross the finish line by hopping the entirety of the course on one leg, Hungary's Balazs Baji was there to lift his arm in a gesture of triumph. Great Britain's Andy Turner and Spain's Jackson Quinonez were there as well, to support his weight, and escort him off the track with the accolades and dignity he deserved. Through still and moving images, Jack Moore told this story, poignantly characterizing it, "tragedy turned triumph, and… one of the most inspiring moments of the 2012 Olympics."
Yet our eagerness for stories, involving athletes from around the world, as enthusiastic viewers of the Olympic games, juxtaposes paradoxically with our intolerance for our own immigrants' stories, even if those immigrants are athletes who win medals for the US.
Leonel "Leo" Manzano won a silver medal in the men's 1,500-meter final, running the fastest time ever by a US Olympic athlete. Now 27-years-old, he entered the US at the age of 4, as an undocumented immigrant. His father, Jesús Manzano, gained legal residency under the 1986 Immigration Reform and Control Act, but it would take 10 years for the rest of the family to attain this status. Leo Manzano was the first member of his family to graduate from high school, much less go to college. Thanks to his innate talent and hard work, he earned a track scholarship to the University of Texas, and blew the competition away. A five-time NCAA champion and 11-time NCAA All-American, he went on to become the first American athlete to win a medal—of any kind—in the 1500 meters in 44 years. And when he won, he celebrated by carrying the flag of the soil that made him a citizen in 2004, as well as the flag of the one from the soil that first nourished his family tree.
Ruben Navarrette Jr. wrote,
"The misguided and ill-mannered way [Leo Manzano] chose to celebrate his silver medal… As the world looked on, he held up both the U.S. flag and the Mexican flag. Not a good look. And not a good idea… The image didn't warm my heart. It upset my stomach… You don't get to have your cake and eat it, too. Sooner or later, you have to choose which country you're going to represent… This country took you in during your hour of need. Now in your moment of glory, which country deserves your respect—the one that offered nothing to your parents and forced them to leave or the one that took you all in and gave you the opportunity to live out your dreams?"
27,919 people recommended this contribution to CNN's opinion page.
The most popular of the 10,995 comments written beneath it reads, "What this guy did is wrong… He should apologize or leave USA."
I don't need to say anything about the egregiousness of Ruben Navarrette's arguments, the hate populating the comments section beneath his column, or any similarly slanted screeds or pieces of anti-pluralist propaganda, because REBELDES, Esther Cepeda, Maria Burns Ortiz, and many others have already articulated comprehensive, insightful, and passionate responses.
The only thing I must insist, is that hostility toward immigrants in the US and American disinterest in world affairs, need not be.
If we are eager to learn the stories of world's athletes, we can be eager to learn the stories of the world's peoples, including those who have migrated (regardless of documentation). If we can demonstrate enthusiasm for symbolic displays by groups of nations with unique cultures and histories, who welcome coexistence in the same space, at the same time, we can demonstrate enthusiasm for symbolic displays by individuals who welcome belonging to more than one culture and history, in the same space, at the same time.
As Cokie Roberts and Steven Roberts wrote last week,
"More than 40 foreign-born athletes are representing the United States in the London Olympics… And that total does not include the children of immigrants… Their stories reinforce an enduring truth: Our lifeblood is constantly enriched by the infusion of new immigrants. We are a far better country because people come here from all over the world to improve their lives and follow their dreams… As a country, we've always been ambivalent about immigrants. We tear up at the Statue of Liberty and fondly remember our own origins, and then resent the latest wave of newcomers as a threat to American culture and character… Today, our nativist impulse focuses on Latinos and Muslims. Consider Sheriff Joe Arpaio, conducting his own version of the Mexican-American War in Arizona, or five Republican congressmen, insanely accusing an aide to Secretary of State Hillary Clinton of fronting for the Muslim Brotherhood. Those haters were always wrong. And our Olympic team vividly demonstrates how wrong they are today.
In the summer of 2000, Lopez Lomong was 15, a victim of Sudan's civil war living in a refugee camp in Kenya. He had never watched television before and had no idea what the Olympics were. But when he saw American sprinter Michael Johnson line up for the 400-meter run, he had this reaction: 'All I knew was the camera focused primarily on one man, a man with skin the color of mine. Across his chest were three letters: USA. He was about to change my life'… Athletes like Lomong make an impact far beyond their home countries, however. They reveal the huge benefits of globalization, the constant movement of people and capital, ideas and information, across national boundaries… Foluke Akinradewo was born in Canada of Nigerian parents. Raised in Florida, she holds citizenship in three countries… Khatuna Lorig is the first athlete to compete in the Olympics under three different flags: the Soviet Union in 1992, her native Georgia in 1996 and 2000, and the United States in 2008 and 2012… Bernard Lagat… a native of Kapsabet, Kenya, who attended college in Pullman, Wash., under a Chinese coach... lives in Tucson, Ariz., and spends summers training in Tubingen, Germany. His uniform says USA, and we're lucky to have him. But it could also say WORLD."
Stephen M. Walt recently used Benedict Anderson's concept of "imagined community" to explain why we cheer for US athletes even though most of us do not know them personally, and might not like then if we did. We imagine ourselves as part of a common family. When one member succeeds, we all rejoice. When one suffers, we all weep.
This sentiment extends beyond the elation we feel for the team-gold-medal-winning women who represented the US in gymnastics whose roots are Jewish, Catholic, Irish, Lebanese, Puerto Rican, Japanese, Filipino, and African American. And what their success might mean for those who seek to expand access to youth club and travel teams, largely beyond the reach of all but affluent families.
This sentiment of brotherhood and sisterhood is why on September 11, 2001, and the days that followed, people from around the world mourned, prayed, shed tears, lit candles, observed moments of silence, rang bells, wrote letters, donated blood, and flew American flags. Human beings from more than 90 countries perished on that day, yet headlines, columns, and speeches around the world echoed the words of French newspaper, Le Monde: "We are all Americans!"
The American family is an extended one. Our household is strengthened by those whose faiths, cultural traditions, bloodlines, and life experiences, tie them to every corner of the globe. We benefit from migrants, as well as investment in the places they migrate from.
The US alone cannot solve the world's problems. Yet the world's problems are our own. We can solve them if we work in tandem with a preponderance of peoples throughout the globe, if we demonstrate sincere and sustained concern for the wellbeing of those who reside in other nations, those who have been recently displaced, and those who remain perpetually stateless.
This requires more than rhetoric on democracy and human rights. This requires policies in which short-term self-interest is balanced by urgent global need.
Unai Montes-Irueste
Posted: Friday, 17 August 2012