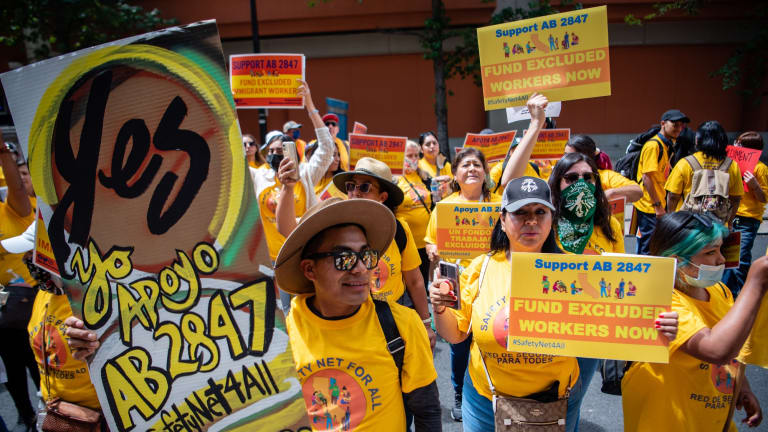 California Needs a Safety Net for Every Worker — Including My Undocumented Parents
If you are undocumented you pay into the system, but you can never access it. Even if you have lost your job through no fault of your own.
When an employed person in California loses their job they likely qualify for unemployment. That money is a lifeline. It's a bridge to the next job and ensures the basics – that Californians can eat and keep a roof over their head.
We all pay into unemployment so that it's there when you need it. But there's a catch. If you are undocumented you pay into the system, but you can never access it. Even if you have lost your job through no fault of your own.
For my family, I saw this contradiction first hand. My father lost his job when the garment factory he worked in sewing clothes closed during the pandemic. He lost his job and struggled to keep food on the table and care for his sick partner.
I come from a mixed status family. Both of my parents are very hard workers, but during the pandemic nothing seemed like enough. It was a chaotic time. My family was scared – about getting sick, but really about survival. It felt like we were falling with nothing to catch us.
But it was also during this difficult period that I found my voice. A simple fix, a safety net for every worker, would have helped my family and I saw how it would help thousands of other Californian families in situations like mine.
A new piece of legislation on Gov. Gavin Newsom's desk awaiting his signature creates a state pilot program for undocumented workers excluded from Unemployment Insurance. The bill is known as AB 2847 and the governor should sign it immediately. When the bill becomes law it will benefit undocumented immigrant workers who have historically been excluded from basic benefits.
Many undocumented people live in a persistent state of fear. They live in the shadows and don't have a clear path to access resources and public benefits. Unemployment payments would have helped us tremendously if my dad had enough money for essentials like food and rent.
During the time that he was out of a job, our family amassed whatever resources we could find. Finally after two months he found a job in the construction industry. He had never worked in construction, but in his mid 40s, he started something new. He is now doing roofing and works seven days a week terrified he might lose his job and be back to where he was.
Over the last two years, I have made calls to my legislators, participated in events like the immigrant day of action and talked to my community to help make unemployment insurance a reality for undocumented California workers. One in 16 workers in our state is undocumented and doesn't have the protections the other 15 have.
I am majoring in sociology with a goal of being a social worker for foster youth who are aging out of the foster system. Many foster youth end up homeless without access to higher education, stable housing or good jobs. Connecting them to resources is key to making sure they can thrive on their own. Everyone needs a little support some of the time. A lesson I learned firsthand fighting for unemployment benefits for undocumented workers.
Every person isn't born with the same privileges, but we all deserve dignity and safety. Earlier this summer, the governor proclaimed June as Immigrant Heritage Month and said: "Generations of immigrants from across the globe have helped shape California's history and progress." The governor was talking about my father and mother and he can make good on that statement by centering the most vulnerable people and giving our community a sense of relief by signing AB2847. To truly value all workers and their labor, California must provide the same protections for everyone.