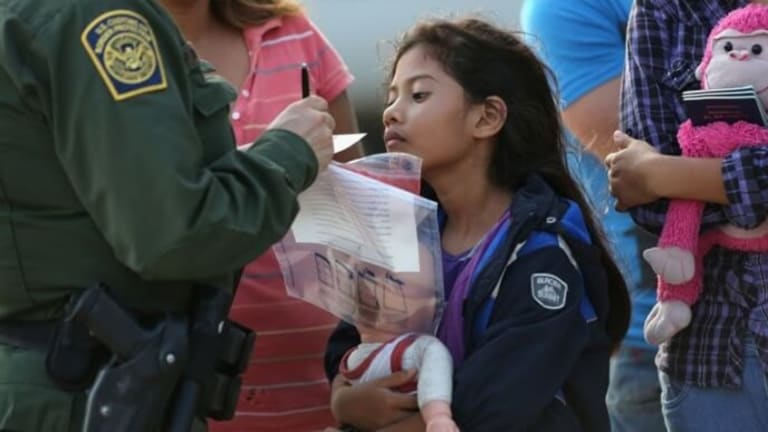 It's Not Where Are the Girls…But Where Are the Contracts?
Tom Hall: Rather than exploring "where are all the girls", I think that people who really care about America, not just "liberals" or "progressives," but ALL who care, should be asking: "WHERE are the contracts?"
Where are all the girls? Pictures from the recent humanitarian raid on the Trump Camp in Walmart, Texas showed lots of boys, but no girls in the cages. There were fewer girls even than actual beds, or school books. There were as few girls as psychological counselors or other types of health care workers.
We can understand the lack of school books. The caged boys are Hispanic, brown, intended for lives of physical labor. They don't need schooling, beyond some essential lessons in obedience, docility and a decent respect for authority. The guards, using truncheons instead of guns, should be able to teach those lessons. Guns leave lasting injuries, reducing the value of laborers.
No school books needed. Like health care facilities, books and notepads, pencils, pens and bandages are expensive. Hispanic children come from Macho cultures. They don't need to be coddled when injured, turning them into social parasites. The ones who want to survive will heal. The ones who are clever will rise above the rest, to become crew bosses in the field or team leaders on the factory floor.
Once the Donald brings factories back to this shore.
But what of the girls? Like their brothers, most will be raised to lives of labor. Someone will need to sew the clothes when the Donald brings clothes making-shops back to our cities. As we know from the aftermath of the Triangle Shirt Waist fire, sewing girls need to start training young, if we expect full production by the time they turn 12 or 14.
And those who are pretty and clever need to start right away on domestic training. Placing them with suitable "foster care" families, as quickly as possible after they've been saved from parents who might be giving them unrealistic notions about "freedom" and "rights" can only be good for them.
We are told that children can't be incarcerated. But it really isn't a matter of what "can" or "can't" be done. America is a Christian nation, and we know that idle hands are the Devil's workshop. So it is for the good of these little girls that we get them into placements where they can begin to learn about their proper roles and duties in life.
As American history has so constantly shown, educating females is never as dangerous as educating little boys. After all, both Coretta Scott and Martin Luther King went to college. But it wasn't Coretta Scott King who stirred up trouble and led his people astray from the righteous path. By placing the separated girls with families and businesses eager to raise them right, we can be assured that those with aptitudes will be given educations that would just be wasted on most.
Michael Master, a North Carolina Republican Party policy and PR wonk, has spent decades trying to raise the alarm about the falling birthrate in the United States. But as years of neo-corporate economic policy have driven real wages down for most workers, he hasn't gotten much traction. Now that we have an opportunity to raise a generation of girls, without interference by their parents, he has spied an opportunity.
His plans are still quite early, but the girls are mostly very young. So we have time. Don't worry - he isn't going to suggest any mixing of the dark skinned with girls with Americans. But if we take the light skinned ones, we can raise them up and train them to bear a generation to overcome our falling birthrate. Michael Master has only suggested that this could be a solution.
He knows that Hollywood has distorted and corrupted the very practical ideas in Margaret Atwood's Handmaid's Tale, to make Gilead look like a terrible place. But think it through. Impoverished girls, fleeing from abusive situations, with no hope for the future, given the chance to be mothers to social leaders and rulers. Taught how to dress and stand, and show respect for people who give their lives meaning.
Rather than exploring "where are all the girls", I think that people who really care about America, not just "liberals" or "progressives," but ALL who care, should be asking: "WHERE are the contracts?"
Michael Master's idea also opens the door to thousands of those girls who don't have the appearance or behaviors necessary to be Handmaid mothers. They can be the nursery workers, and daycare attendants and other support staff for the new mothers. And with the blossoming new population, there will be more work for the boys being raised in cages. And they will then be suitable husbands for the mother-girls, after they have born their children, and lost some of the features that attracted American men in the first place.
Unfortunately, everything above, up to this point is not satire, but truth. Michael Master is a real Republican Party partisan, who has spent years trying to resegregate the U.S. He has made a proposal that can be adjusted to make at least the light skinned Hispanic girls being separated from their parents useful, pleasurable and profitable.
Rather than exploring "where are all the girls", I think that people who really care about America, not just "liberals" or "progressives," but ALL who care, should be asking: "WHERE are the contracts?"
White House chief of staff, General Mike Kelly first proposed separating immigrant children from their families in March 2017! More than a year before the policy went into effect. When the new policy became public, the cages had already been built inside the Walmarts. The tents were ready in the Trump Summer Camps, along with sleeping mats, space blankets, food service supplies and personnel, and of course, fresh guards.
It's all very nice for California's Republican Senator, Diane Feinstein, to introduce a bill prohibiting the separation of families, after the policy was put in place. But over her years in the Senate, the Feinstein household has been deeply involved in government contracting. She knows all the ins and outs, all the hidden closets, and who is making what on which deals.
People who care should be demanding that she use her knowledge and her access to find and publicize the contacts that evolved over the year since General Kelly started planning this program. As citizens, we have a right, and a responsibility to know what corporations are riding this gravy train, and at what expense to US.
And a gravy train we know it is. Think of the thousands of "space blankets" covering the caged children. And the mats which cover concrete floors, rather than beds. You can go to any sports or "surplus" store and see how much they cost. Then consider that purchases by the government are free from risk, and purchases in bulk generally cost less per piece. When we finally pry out the contracts, we KNOW that the corporations will have charged the government double or more the street prices, even though their overhead is only a fraction of retail.
Anyone familiar with the fundraising appeals knows that street missions serve thousands of meals for well under $1 per, including dealing with and cleaning up after drunks and druggies and the mentally ill. And everyone knows that the food service contracts for feeding caged children will turn out to be a few dollars per meal, with separate lucrative contracts for janitorial services.
The work of digging through government paperwork, and filing Freedom of Information Act requests, and fighting the legal battles when Jeff Sessions argues that revealing these gravy train contracts might impair "national security," isn't as sexy as demonstrating, or calling your congressman. But letting people, the real people, the people outraged by family separations, learn who raked in tax dollars, profiting from this policy will have a far greater effect on keeping people motivated to get out in November and vote for a change.
Colonel Kurtz moaned, "The Horror. The Horror."
He had no idea.
Tom Hall