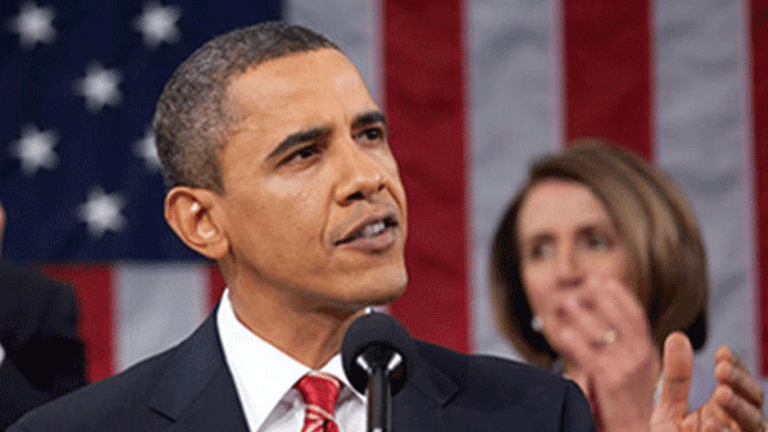 The State of Our Union: Immigration
State of the Union Immigration -- A lack of movement could augur resentment. Latinos might stay home if immigration remains unaddressed.
Inside the Capitol Rotunda, to thundering applause, President Obama said: "leaders from the business, labor, law enforcement, faith communities, they all agree that the time has come to pass comprehensive immigration reform." That was one year ago, when the state of our union, the president said, was "stronger."
Weeks later four Republican and four Democratic senators came together to heed the president's call for action. Months of intense debate followed, and a bill passed in the Senate.
That was the high point of immigration reform, and all indications suggest that the issue is unlikely to be a key point in next week's State of the Union address.
But after a bruising, partisan year, Obama's hands-off approach just might be needed to finally make a difference for more than 11 million lives.
In the summer of 2008, Obama made a promise – that comprehensive immigration reform would be achieved in his first year in office. La Promesa de Obama, as it came to be known in the Latino community, went unfulfilled.
In 2012, the president asked the Latino community to give him another shot at keeping his promise. Now La Promesa hangs over the president's head.
It's time for both parties to feel ownership over the issue.
For Democrats, reform can help balance out the record number of deportations that have taken place under Obama. It's not just that 11 million immigrants live in the shadows but that under this president there have been more deportations than in any other administration.
Close to half of Latinos identify as Democrats. But a lack of movement on immigration in 2014 could augur resentment. Latinos will not migrate en masse to the Republican Party, but they may very well stay home, as they did in 2010, if they feel the issue of immigration remains unaddressed.
For Republicans, the very survival of their party depends on expanding their constituency. Sen. John Cornyn, the Texas Republican, told National Journal, "We can win in 2014 without resolving (immigration). We can't win in 2016 without resolving it."
Republicans are no strangers to the subject. The last major immigration overhaul took place under former President Ronald Reagan. Former President George W. Bush worked on multiple reform efforts that Congress did not follow through on.
The next step both parties need to take should be aimed at putting undocumented immigrants on a pathway to legalization. For many Democrats, that means citizenship. For many Republicans, it doesn't.
A recent PewHispanic Center study shows that while overwhelming majorities of Latinos and Asians want a pathway to citizenship they prefer a non-citizenship option over no reform at all.
A pathway to legalization without citizenship is the lesser of two evils for the Latino community. Coincidentally, after this survey came out Obama shifted his stance from supporting only comprehensive reform to the possibility of a piecemeal approach.
In other words, Obama is open to letting conservative Republicans strike the citizenship clause as long as reform gets done. House Speaker John Boehner has stated his interest in immigration reform and will be laying out the principles of that plan prior to the State of the Union. Obama will likely give Boehner some breathing room and perhaps even give his plan a nod in the State of the Union.
Hopefully that will open the door to real movement. If it doesn't, the president must be ready to not only speak out forcefully again but to find alternative routes of action.
Victoria Defrancesco Soto
Dr. VMDS