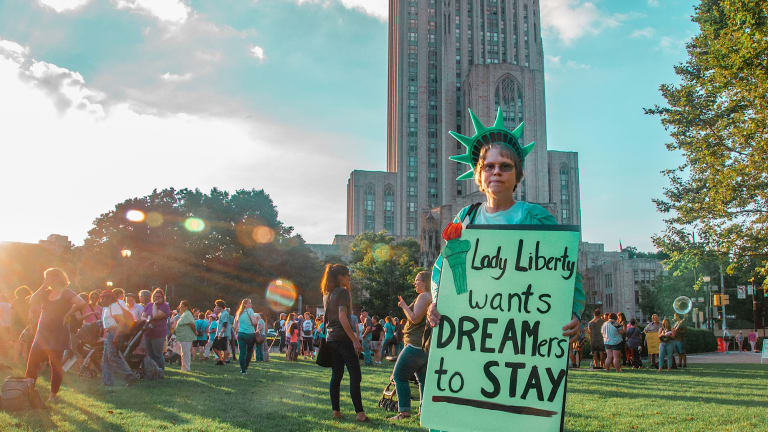 Struggling Undocumented Workers Denied Earned Unemployment Benefits
Without a financial safety net, immigrant workers continued to work during the pandemic. They had no choice, and many were ineligible for unemployment benefits.
When the San Rafael restaurant where he worked was shuttered as COVID rates exploded in March of 2020, Jose Rodriguez felt the pressure closing in. His skills as a waiter and busser were of little use at a time when those businesses were closing their doors and laying off staff. Rodriguez found work as a gardener, but it was here and there, just a few hours at a time.
It is a story like that of other Californians during the pandemic's dire early stages. The state lost more than 2.8 million nonfarm jobs in March and April of 2020 alone. But Rodriguez's case was different: Not only was there little work, but there was no relief coming.
The reason? Documentation.
As an undocumented immigrant, Rodriguez qualified for almost none of the federal and state programs and initiatives that helped support displaced American workers during COVID's grim first year. Despite living and working in California for nearly 15 years, Rodriguez couldn't receive unemployment insurance, federal unemployment enhancements or pandemic stimulus money. Of the roughly $35,000 per person in aid to which unemployed citizens in California were entitled during that time, undocumented workers were eligible for a sliver: about $1,700, according to a report by UC Merced's Community and Labor Center.
"We couldn't get anything," said Rodriguez, now 37, who lives in San Rafael with his wife and two sons. "And there are hundreds of thousands like me, who did not receive any help in the pandemic because of our immigration status, even though we lost our jobs the same as everybody else."
California has a hole in its safety net. More than 1 million members of its workforce — fully 6% of the labor market — are ineligible to collect even temporary unemployment insurance because of their documentation status.
It's a problem that has been hiding in plain sight for years. But at a time when Gov. Gavin Newsom has moved aggressively to extend benefits such as Medi-Cal coverage to all residents of the state regardless of their immigration status, the need to help many of those same people stay afloat during a labor crisis is more obvious than ever.
A bill making its way through the Legislature attempts to address the issue. AB 2847 would create a two-year pilot program to extend benefits of about $300 per week to undocumented workers who lose their jobs or have their hours severely reduced, while placing a cap of 20 weeks on the aid.
With a state budget surplus of nearly $100 billion, almost half of it open to discretionary spending, "We have an opportunity to address a population in California that has proved so important to us," said Assemblymember Eduardo Garcia (D-Coachella), who introduced the measure. "They're our neighbors. They have contributed pre-pandemic and during the pandemic, and they'll continue to contribute post-pandemic. Yet if the parents of these families lose their jobs, they can find themselves in terrible circumstances almost immediately."
According to the UC Merced study, undocumented workers fill about one in 16 jobs in California and contribute $3.7 billion per year in state and local taxes, along with $7 billion per year in federal taxes. (Noncitizen workers overall comprise a much larger share of the state's job market, about 15%, but that total includes those who have work authorizations.)
They also tend to perform lower income jobs: manufacturing, agriculture, food service/restaurant work, construction. More than a third of these workers earn less than $25,000 per year, and nearly 40% of all noncitizen employees exist below the level of a "living wage," the minimum amount that researchers at the Massachusetts Institute of Technology say is needed to avoid chronic housing and food insecurity in California.
"Given that we have the fifth largest economy in the world, there are lots of ways California can close these gaps," said Edward Flores, who directs the UC Merced center that produced the report. "It's a concern going forward, because there will be other emergencies, other stressors. If a worker — any worker — is out of work and cannot receive any assistance at all, everything suffers: their health, their family's health, their ability to buy food."
Although the pilot program would be a first, California is not the only state that has tried to address the strain on its undocumented workforce. Last year, New York established the Excluded Workers Fund, which paid out $2.1 billion in pandemic relief to those who'd been ineligible for federal and state aid, many of whom had performed the kinds of "essential jobs" that kept New York City running in 2020. Most workers who applied received $15,600, but it was a one-time payout and the fund was quickly exhausted. Advocates are pushing for the state to fashion a permanent program.
"It was extremely successful. The only problem was that they ran out of money," said Sasha Feldstein, economic justice policy manager at the California Immigrant Policy Center (CIPC). "Our plan is forward looking rather than backward looking. The pandemic showed us what an absolute lifeline unemployment benefits are during critical times, and we know that we will face critical times again, one way or another."
The New York program pushed benefits out to about 130,000 undocumented workers, Feldstein said, while the California program would reach roughly 144,000. "It's not that big of a difference, although people think about the two places very differently," she said.
AB 2847, the Excluded Workers Pilot Program, calls for $690 million from the state's general fund to be used to run the two-year trial. A request was made for Newsom to include that funding in his May revision of the state budget for the coming year. But the governor's revision made no mention of the program.
"I know that people will say, 'Oh, let's do this first,' like getting Medi-Cal [expansion] done," said Garcia, whose district runs from the California-Mexico border to Riverside County. Three-quarters of his constituents are Latino, a number that he said includes many undocumented workers who barely survived the pandemic.
"We'll keep pushing," Garcia added. "We continue to advocate to members of specific committees. We are leading on this issue based upon California's principles — its values, as the governor would say — of taking care of our own people, who live and work in our state. When we speak about it in those terms, people get it immediately. They understand."
Without a financial safety net, immigrant workers generally continued showing up at their jobs even during the worst of the pandemic. Many felt they had little choice, and many, like Jose Rodriguez, were ineligible for unemployment benefits. That is one reason, according to the UC Merced report, that a majority of the 2020 pandemic deaths in such California industries as agriculture, food processing, manufacturing and warehousing occurred among Latinos and immigrants.
"As a legislative supporter of AB 2847 put it, you cannot have health for all if you don't have a safety net for all," said Flores.
But such support is not free. The bill allocates about $590 million for the actual relief program, with another $100 million to cover the cost of administering it through the state's Employment Development Department. Even in the midst of a massive surplus, nothing is assured. "When it costs $690 million, the fight is in the budget," said CIPC's Feldstein.
Jose Rodriguez said he moved to California from El Salvador in the early 2000s, following members of his extended family. He had worked steadily until the pandemic, when the restaurant where he was an employee shuttered. The owners, unable to reopen despite attempts to remodel, eventually sold the business. Rodriguez was out of regular work for nearly a year.
His family, including sons Jacob, 9 years old, and Elias, 4, was able to get through 2020 mostly because the bakery where his wife Sandra worked experienced a huge uptick in demand. She worked steadily during that time.
"We barely made it," Rodriguez said. "When we were watching the news and saw that people were getting unemployment [relief], we felt good for them. They had their papers. But I had lost my income, too."
Rodriguez, who is still working in landscaping, became active with the Safety Net for All coalition, which is comprised of more than 100 immigrant and worker rights organizations up and down the state and has lobbied for the passage of AB 2847. (The CIPC is a prominent member of the coalition; Feldstein said it offers policy guidance and technical assistance.) In addition, Rodriguez is part of Parent Voices, which advocates for quality, affordable child care.
"I have a permit to work now, but it's temporary. I don't know what the judge will say," he said. "I have to keep working hard. My kids were born here and I want to give them a better future."
Garcia said he has seen that scenario play out repeatedly in his district. "The children of some of these families go on to be valedictorians of their classes, go on to great colleges and great careers," he said. "We're talking about a little help for people in a difficult time. That's the ask. It's all hands on deck."
This article was originally published on Capital & Main.